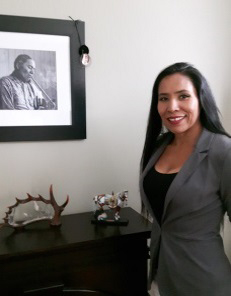 Office: EA3137
Email: glindstrom@mtroyal.ca
Phone: 403.440.5996

Oki! Nitaniko Tsapinaki. Greetings, my name is Dr. Gabrielle Lindstrom (nee Weasel Head) and I am from the Kainaiwa First Nation in Southern Alberta.
Dr. Lindstrom is an assistant professor in Indigenous Studies with the Department of Humanity, Faculty of Arts. She currently teaches Introduction to Indigenous Studies: Canadian perspectives, Introduction to International Indigenous Studies, and Topics in Indigenous Studies: Research Ethics and Protocols. Future course development includes topics around anti-racist and anti-oppressive pedagogy, and Indigenous perspectives on resilience.
Dr. Lindstrom's dissertation research focused on the interplay between trauma and resilience in the post-secondary experiences of Indigenous adult learners. Other research interests include meaningful assessment in higher education, Indigenous homelessness, SoTL: intercultural parallels, Indigenous lived-experience of resilience, parenting assessment tools reform in Child Welfare, anti-colonial theory and anti-racist pedagogy.