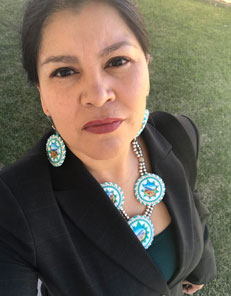 Administrative title: Co-Director, Office of Academic Indigenization
Academic title: Associate Professor, English and Indigenous Studies
Oki! Yá'át'ééh! Tódich'íi'nii éínishłị dóó Kinya'áanii báshíshchíín. Áádóó Tsalagi éí da shichei dóó Táchii'nii éí da shinálí. Naat'áanii Nééz déé' íiyisí naashá. Dóó Calgary, Alberta, Canada di shighaan. Shi éí Renae Watchman yinishyé.
Hello! I am Bitter Water, born for the Towering House. My maternal grandfather was Cherokee from Tahlequah, OK, (from the Bird Clan), and my paternal grandfather was from the Red Running Through the Water clan. I am originally from Shiprock, NM.
Education
PhD (Stanford University)
MA (Arizona State University)
BA (Arizona State University)

Office of Academic Indigenization: T123
Faculty Office: EA3112
Phone: 403.440.5637
Email: rwatchman@mtroyal.ca

Teaching interests
Indigenous storytelling and orality/orature
International Indigenous literature
Indigenous Film & Visual storytelling
Activist/protection narratives
Indigenous women writers
Experiential learning, land-based pedagogies, community service learning, and international and domestic field schools.
Dr. Renae Watchman developed and enjoys teaching ENGL 3353: North American Indigenous Literatures, and FILM 2231: Indigenous Film. Additionally, she created and offered Mount Royal University's first international Indigenous Studies Field School in Spring 2018. Along with Dr. Robert Alexander Innes (University of Saskatchewan), they taught: Indigenous Hawai'i Field School: "Aloha 'Āina & Activism."
For Indigenous Studies, she has taught: INST 1111: Introduction to Indigenous Studies: International Perspectives, taught as "Eat, Pray, Love… Indigenous style!" (Winter 2017, Fall 2016), and INST 2730: Topics in Indigenous Studies taught as "Indigenous Resistance" (Winter 2015) and as "Indigenous Women Creatives" (Fall 2018).
Research Interests
North American Indigenous literature & film studies
Global Indigenous literature and film
Community-service and land-based learning
Culture and language revitalization
Publications
She is currently working on a book manuscript that looks at the displacement of Indigenous stories and their connection to land, landscape and monoliths in visual media, titled: Tsé Bit'a'í. Mars, Myth, & Monolith: Keyah & Indigenous Stories Dislocated in Visual Media.
Along with Hartmut Lutz and Florentine Strzelczyk, Dr. Watchman co-edited Indianthusiam: Indigenous Responses, which is forthcoming in June 2019 with Wilfrid Laurier University Press.
Dr. Watchman also co-authored, with Dr. Robert Alexander Innes, the chapter "Transforming Toxic Indigenous Masculinity: A Critical Indigenous Masculinities & Indigenous Film Studies Approach to Drunktown's Finest," which will be published in Visions of the Heart: Issues Involving Aboriginal Peoples in Canada 5th Edition, edited by David Long and Gina Starblanket (Toronto: Oxford University Press), forthcoming, 2019.
General Interests
When she is not busy working, she enjoys spending time with family and friends. Dr. Watchman's favourite pastimes are hiking, hanging out in coffee shops, watching movies, and traveling.