Writer-in-Residence Program
The Writer-in-Residence Program brings authors of national and international standing to Mount Royal University to work with and mentor students. For the last decade the program has provided "an opportunity for authors, students and faculty to meet, exchange ideas and increase awareness of scholarly and artistic endeavors.... The goal of the program is to allow students, faculty and the greater community access to distinguished and unique voices in the Canadian literary landscape in a personal and professional way that encourages new ideas" (Cope).

Visiting writers hold office hours and meet with student writers. They also visit classes, give public readings/multi-media presentations, and host debates and discussions with other writers. The Department of English, Languages, and Cultures' Writer-in-Residence program forges links between the academic and the creative communities within Calgary and across the country. This gives our students direct contact with their role models and inspires them in all aspects of writing and the study of literature.
2018/19 Writer-in-residence
Billy-Ray Belcourt
March 4-8, 2019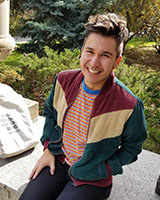 Billy-Ray Belcourt is from the Driftpile Cree Nation. He is a PhD student (though I should *fingers-crossed* be a candidate by the time the residency happens) and 2018 Pierre Elliott Trudeau Foundation Scholar in the Dept. of English & Film Studies at the University of Alberta. His first book, THIS WOUND IS A WORLD (Frontenac House 2017), won the 2018 Canadian Griffin Poetry Prize (making him the youngest winner ever), the 2018 Robert Kroetsch City of Edmonton Book Prize, and a 2018 Indigenous Voices Award. His next book, NDN COPING MECHANISMS: NOTES FROM THE FIELD, is due out with House of Anansi in the fall of 2019.

Past visiting writers