Writer-in-Residence Program
The Writer-in-Residence Program brings authors of national and international standing to Mount Royal University to work with and mentor students. For the last decade the program has provided "an opportunity for authors, students and faculty to meet, exchange ideas and increase awareness of scholarly and artistic endeavors.... The goal of the program is to allow students, faculty and the greater community access to distinguished and unique voices in the Canadian literary landscape in a personal and professional way that encourages new ideas" (Cope).

Visiting writers hold office hours and meet with student writers. They also visit classes, give public readings/multi-media presentations, and host debates and discussions with other writers. The Department of English, Languages, and Cultures' Writer-in-Residence program forges links between the academic and the creative communities within Calgary and across the country. This gives our students direct contact with their role models and inspires them in all aspects of writing and the study of literature.
2018/19 Writer-in-residence
Billy-Ray Belcourt
March 4-8, 2019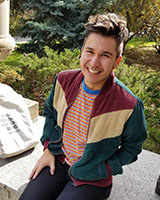 Billy-Ray Belcourt is from the Driftpile Cree Nation. He is a PhD student (though I should *fingers-crossed* be a candidate by the time the residency happens) and 2018 Pierre Elliott Trudeau Foundation Scholar in the Dept. of English & Film Studies at the University of Alberta. His first book, THIS WOUND IS A WORLD (Frontenac House 2017), won the 2018 Canadian Griffin Poetry Prize (making him the youngest winner ever), the 2018 Robert Kroetsch City of Edmonton Book Prize, and a 2018 Indigenous Voices Award. His next book, NDN COPING MECHANISMS: NOTES FROM THE FIELD, is due out with House of Anansi in the fall of 2019.
Find out more about Billy-Ray's talk Red Utopia: New Work on March 7, 2019.

Past visiting writers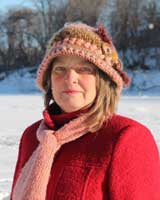 Di Brandt's acclaimed and award-winning poetry titles include
questions i asked my mother
(which was recently re-issued in a 30th anniversary tribute edition with an Afterword by Tanis MacDonald);
Agnes in the sky
;
mother, not mother
;
Now You Care
; and
Walking to Mojacar
, with French and Spanish translations by Charles Leblanc and Ari Belathar. She has collaborated with numerous other writers, musicians and visual artists, including Aganetha Dyck, Kenneth Nichols, Rebecca Campbell and Carol Ann Weaver, Jane Finlay-Young Annie Jacobsen and Barbara Godard. She has lived and worked in Winnipeg, Edmonton, Windsor (ON), Toronto, Berlin and Brandon (MB), and has held Creative Fellowships and Guest Lectureships in Scotland, Switzerland, Germany, Austria, Spain, New York, Colombia and Japan.
Read more
about Di's experience as writer-in-residence.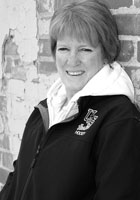 Maureen Ulrich
was born in Saskatoon, but spent most of her formative years growing up in Calgary. She started writing horse stories when she was 11 and historical fiction while attending Milton Williams Junior High and Henry Wise Wood High School. In 1976, she returned to Saskatoon to attend university and graduated in 1980 with an education degree. Her first teaching assignment was in Lampman in the southeast corner of Saskatchewan and she has pretty much been there ever since.Maureen didn't have much time for writing during the '80s because she was too busy getting married, finishing a BA, teaching middle years at Estevan Junior High, raising two wonderful daughters and spending most of her free time at rinks and ball diamonds. However, in 1996, she was asked to write a student production for the junior high, and the floodgates opened. Twenty years later, she is still writing for young people. Samuel French has published two of her plays, and Coteau Books published the Jessie Mac series, a trilogy about girls' hockey and teen issues. In her free time, Maureen loves to watch the Riders and the Jays (although not always in that order) read and write, golf, ski, ride her motorcycle - and of course - talk about writing to just about anyone who will listen.
Read more
about Maureen's experience as writer-in-residence.