Dr. Timothy Haney - Award Winning Research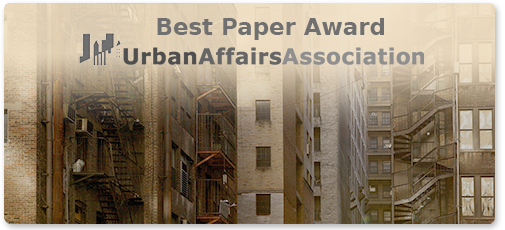 Timothy Haney, Assistant Professor of Sociology, was recently selected as this year's recipient of the "Best Paper Award," from the Urban Affairs Association. The award will be conferred at the UAA's annual meeting in San Antonio, TX in March 2014. It is given each year to the best paper published in the Journal of Urban Affairs, the official journal of the Urban Affairs Association.
Dr. Haney's paper titled "Off to Market: Neighborhood and Individual Employment Barriers for Women in 21st Century American Cities" was published in the August 2013 issue of Journal of Urban Affairs (Volume 35, number 3). For the research, Haney utilized a set of survey data collected from women forced off of public assistance programs following the United States' (1996) "Personal Responsibility and Work Opportunity Reconciliation Act," often referred to simply as "welfare reform." The act forced several U.S. states to drastically reduce their caseloads and force disadvantaged urban women to seek employment, regardless of personal circumstances or the lack of work availability. The original survey included low-income women living in Cleveland, Los Angeles, Miami, and Philadelphia and included two waves of survey data, 1999 and 2001. To augment this rich data-set, Dr. Haney matched each woman in the sample to the census tract where she lived at each wave of data collection. This allowed for an analysis of both the individual barriers (family responsibilities, health, etc.) and neighborhood-based barriers (poverty rate, unemployment rate, access to transportation, etc.) to employment that women faced. In fact, the linking to spatial data from the U.S. Census provided what may be the only longitudinal, multi-city, geographically-linked set of survey data in existence.
Results of the research indicated that several neighborhood characteristics were predictive of women's labor market outcomes, even after taking into account individually measured characteristics. This included automobile access (the proportion of neighbors with vehicles), the percentage of single-parent families in one's neighborhood, joblessness rate, and the neighborhood vacancy rate. All of these contextual effects on employment point to the importance of neighborhood-based social networks for both locating employment and for commuting to work each day. Therefore, results suggest that, regardless of personal characteristics, women will fare better in terms of employment when living in neighborhoods with richer social and economic resources. The research also revealed that the normal measure of neighborhood quality, the neighborhood poverty rate, failed to have a significant effect on employment outcomes. This finding suggests that the literature should move beyond simple arguments that living in a poor neighborhood impedes labor market success. Rather, it is paricular neighborhood characteristics (often correlated with the poverty rate) which actually matter for securing employment. Finally, the research revealed that many of the neighborhood-effects were lagged; that is, they fail to exert an immediate effect on employment, but rather, exert their effect over a longer period of time.
Dr. Haney's research reveals the crucial importance of investing in lower-income urban neighborhoods for the employment outcomes of neighborhood residents. If the U.S. continues to defund its public assistance infrastructure, residents of lower-income neighborhoods will increasingly need this investment. Since Dr. Haney's research helps us to understand the clustering of individual disadvantage, it also opens possibilities for spatially targeted policies aimed at channeling resources into disadvantaged neighborhoods, ostensibly to address individual problems and disadvantages. This could include, for example, funding for low-cost, subsidized neighborhood childcare centers, providing incentives for employers to relocate to higher-joblessness neighborhoods, or the creation of better transportation alternatives to help residents of poor neighborhoods find and secure jobs in other neighborhoods. He concludes that although neighborhood conditions are not the clear and unambiguous problem for employment outcomes, neighborhood initiatives can be the solution.
The project grew out of Dr. Haney's doctoral dissertation research, which was funded by a grant from the United States Department of Housing and Urban Development (HUD).