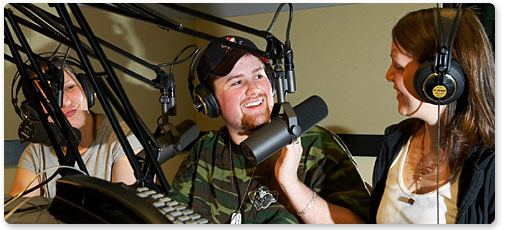 Broadcasting Diploma
Admission to the Broadcasting Diploma program has been suspended
Make your mark on the air waves
Imagine your future…
… as a Radio Disc Jockey, broadcasting the latest music, announcing news and sports highlights and providing commentary about the music scene.
… as a Television Producer , creating documentaries and independent projects or commercials and public service announcements, or writing and editing news program scripts.
… as an Audio or Video Technician, part of the team on a television mobile unit, covering live major sporting events.
  As a future broadcaster, you are out-going, imaginative and self-motivated, thriving in a diverse, fast-paced environment.
Expanding beyond the realm of radio and television, our two-year Broadcasting diploma also equips you with the tools and skills needed to work within the increasingly popular trend of using video and audio technologies in corporate, non-profit and web-based settings.
With a wealth of industry-specific experience, our instructors provide training in both radio and television. You receive the education and experience needed to make an informed decision about the direction of your career.
Your education extends beyond the classroom
With a campus radio station, professional television studios and the latest cutting-edge equipment, you broadcast live radio programs and produce newscasts that air on local television.
You gain experience working with real clients, producing corporate videos, covering local sporting events and creating promotional materials for both college-based and community-wide organizations.
CMRU Radios is streamed live via the internet - listen in on our eclectic mix of music, news and special coverage of college events.
MRUTV contains an expansive library of our student-produced television programs.
Your gateway to a new career
During the first year of the program, you receive a broad spectrum of training in radio, while the second year is dedicated to television. Opportunities are available to specialize in journalism, operations, or commercial writing production. You round off your training with a three-week practicum in a station or production facility.
A generalized curriculum with the opportunity to specialize sets us apart from other broadcasting training instructions across Canada. You gain experience in all aspects of the industry, enabling you to uncover what specific areas are best suited to your abilities.