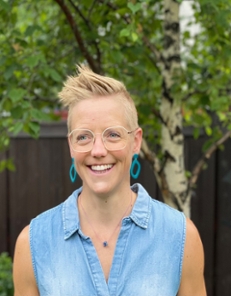 Shannon Kell, PhD
Academic Title: Associate Professor
Education
PhD, University of Regina
MEd, University of Regina
BEd, University of Regina
Contact Information
Office: U243F
Email: skell@mtroyal.ca
Phone: 403.440.6493
Shannon completed her B.Ed. with a Physical Education (PE) major and an English Language Arts (ELA) minor and taught grades 9–12 PE, Health and ELA with Regina Public Schools for eight years. Shannon completed her M.Ed. in Outdoor Education. During this time she was seconded to the Saskatchewan Ministry of Education as the PE Consultant where she wrote curriculum for PE 20 and PE 30. She completed her PhD in Education; Curriculum and Instruction. Currently, at Mount Royal, Shannon teaches in the HPED areas of Core and Physical Literacy, and cross-teaches in Education and in Child Studies. Keenly interested in the benefits of nature, her scholarship interests focus on how we do/not spend time outdoors to recharge and connect to nature. Shannon is the Alberta/NWT Board of Directors representative for the PHE Canada and an active member of the PHE Canada Research Council, HPEC (Health and Physical Education Council of Alberta), and the Outdoor Council of Canada.
Areas of Instruction
Issues in Health and Physical Education
Issues in Physical Literacy (capstone)
Teaching Elementary Physical Education
Practicum (Education and Early Learning)
Taking Well-Being Outdoors
Teacher Wellness 
Areas of Scholarship
Benefits of spending time in nature
Implementing outdoor solo time in schools
Teacher Well-Being
Campus learning spaces + Student well-being
Encouraging everyone to spend time unplugged + outside
Selected Publications
Kell, S. & Gleddie, D. (2017). Physical Education and You: Physical Education for Elementary School Teachers: Foundations of a Physical Literacy Journey (book chapter). Ripon Publishing. Cobble Hill, BC.
Kell, S. (2017). Student Teachers' Perceptions of Teaching Elementary Physical Education. PHE Canada Journal. 83(1).
Kell. S. & Forsberg, N. (2016). The Role of Mentoring in Physical Education Teacher Education: Mentoring in Practice. PHE Canada Journal. 81(3)
Kell, S. (2015). Experiences of Learning to Teach Physical Education: Navigating Tensions. Current Issues in Education. 18(2).
Selected Presentations
Kell, S. & Webster, A. (2019). MRU Learning Spaces and Student Well-Being. MRU Research and Scholarship Days. Calgary, CA.
Kell, S. (2019). Outdoor Solo Time: What Did Elementary Students Think? Physical and Health Education Research Council Forum. Montreal, CA
Dean, Y., Kell, S., Currie, G., Kennedy, A., Motiejunaite, J., & Sehmby, D. (2018). Call to Action: Moving Toward Learning by Reducing Stress and Anxiety. International Society for the Scholarship of Teaching and Learning. Bergen, Norway.
Kell, S. (2017). Unplugging in the Wilderness: Student Perceptions of a Solo Experience. Shaping the Future, Kananaskis, AB.
Relevant Community Service
Board of Directors (AB/NT) for PHE Canada
Liaison for HPEC (Health and Physical Education Council) of Alberta
Conference Steering Committee: AIESEP 2021 (International Association for Physical Education in Higher Education)

President of the Board of Directors for Chestermere Community Playschool 2021-2022

Chair of the School Council for Prairie Waters Elementary School