Mount Royal chosen to take part in a nation-wide study of children's physical literacy
Results to lead to a healthier population and long-term fitness
Mount Royal University physical education researchers are about to take part in a three-year study to gauge the physical literacy of Calgary children between the ages of eight and 12. The goal is to understand what exactly it is that causes children to grow into adults with a dedication to health and fitness.

Coordinated by the Children's Hospital of Eastern Ontario (CHEO) and funded by Participation and RBC, Mount Royal is one of six post-secondary institutions chosen to take part in the nation-wide program. Headed locally by Physical Literacy associate professor Dwayne Sheehan, PhD, the study is the first of its kind and will assess a total of 8,000 children across Canada.

The Canadian Assessment of Physical Literacy has been developed primarily by the CHEO under the guidance of the Director of Healthy Active Living and Obesity Research, Dr. Mark Tremblay, over the last five years.

Physical literacy is a term used to describe people's attitude and willingness to participate in physical activity throughout their lifespan, Sheehan explains.

Over the next few years he will recruit 1,300 children from Grades 4 to 6 to be measured. According to Sheehan, physical literacy starts with young children developing competency and confidence in their personal physical aptitude.

"Those fundamental movement skills are used to build upon as a foundation into other more complex skills," he says.

The groundwork starts with agility, balance and coordination. From there, instructors move on to teaching throwing, catching, leaping and jumping, plus skills in alternate environments, such as swimming and skating. The confidence the children gain leads to more enjoyment in physical activity.

"Physical literacy is not just about the physical domain, either. It's about instilling a positive attitude about being successful in an active environment," Sheehan says. "In other words, do they understand about the importance of daily activity, about things like balanced nutrition and reducing the amounts of sedentary behaviour? Those elements are from the cognitive domain."
Mind, body, spirit - the cognitive, affective and psychomotor domains.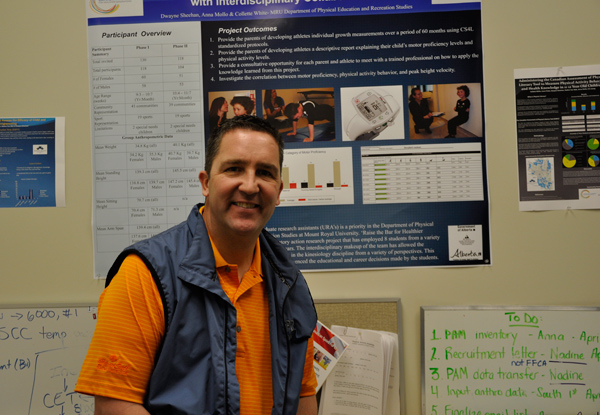 The cognitive, affective and psychomotor domains all make up physical literacy as a whole. The cognitive domain represents how well children understand the importance of exercise, the psychomotor domain describes overall coordination and confidence and the affective domain relates to how social environments are created - where it's fun to be active. These three domains can also be thought of in the more traditional way of mind, body and spirit.

"The notion of developing those (domains) in a holistic way is not new, but the branding of the term physical literacy that is connected with that is fairly new," Sheehan says. "It's a term that has a significant place in the development of children along with literacy and numeracy. Going forward it's critically important."

Sheehan notes an alarming trend towards significant issues with this generation of children with regards to sedentary behavior.

"We're seeing high rates of obesity, high rates of sedentary behavior, health issues that are related to inactivity and poor decision-making," he says.

Problems such as heart disease and Type 2 diabetes are becoming more prevalent in children, something that has not been observed before. Sheehan sees Mount Royal's physical education department and the CHEO study as playing a pivotal part in the future health of all Canadians.

"This is the time that we need, as physical educators, to be called to action. We're developing in this department the next leaders of the future that will help fight back against this alarming trend," he says.

The test group's physical activity behaviours will be measured by studying their results during activities such as navigating an obstacle course, and completing speed, fitness and strength tests. The children will also be asked to use pedometers over a seven-day period, and the results will be included in the final research. The goal for 2014 is to assess 300 children, 2015 will see about 600 kids tested and the final year will round out with about 400 to 500 children observed.

Also involved in the project are Healthy Living - Campus Calgary, Cardel Place Recreation Centre and the Canadian Academy for Healthier Generations (CAHG), an arm of Cardel Place that Sheehan describes as having a bold vision about being able to change the way physical literacy is taught and instructed in a recreation setting.

"Their intention is to use evidence to inform their practice, which is unique in and of itself because recreation centres often use an intuitive-based system to decide on programming," Sheehan says.

The point is, essentially, to figure out what will most encourage kids to become interested in health and fitness for life, and then to use that data to build a working curriculum. The long-term effects could be tremendous for the overall well-being of the population.

The program will soft launch with the CHEO and Participation on May 1.

- Michelle Bodnar, April 24, 2014