Faculty of Business & Communications
Peru Field School 2023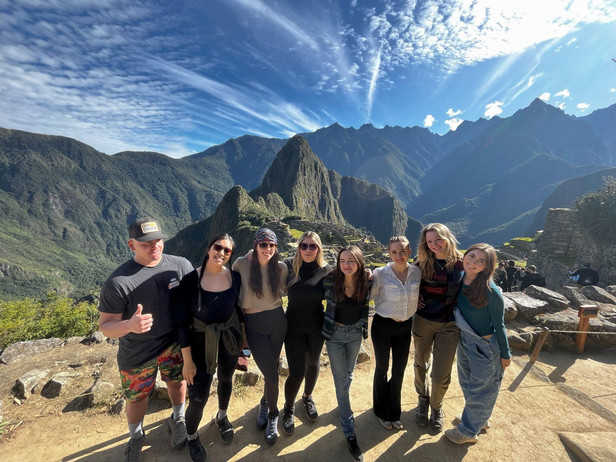 Photo by Erik Ringsmuth on Unsplash. Hiker near Machu Picchu.
The application deadline for the Peru field school has lapsed however there may be spaces still available.  If you are interested in applying, please email the instructors directly to confirm if you are still able to apply. Contact information is available at the bottom of the page.
Description
The Andes, the Amazon rainforest, Machu Picchu, and credit for two courses. That's what you'll get when you sign up for the Peru Field School in 2023. This is a joint Communication Studies and Business field school made up of 12 to 15 students from each school but is open to all MRU students. Participants will study intercultural communication, social enterprise, Spanish, sustainable development and Indigenous culture, resilience, and reconciliation in a high-impact setting away from campus and the classroom. Field schools are often described by their participants as transformative, as one of the most meaningful experiences of their lives. That's the aspiration for Peru 2023.
COVID-19 and International Education Programs
The COVID-19 pandemic continues to affect international travel. International travel at MRU has resumed and the ability to run these programs and have students participate will be dependent on the situation at the time of the program, decisions made by MRU regarding travel-related activities and on the travel advice, warnings and information provided by the Provincial and Federal Government. Host countries and organizations may still have COVID restrictions and mandates in place as well. Field School participants will need to ensure they meet all requirements and restrictions for travel and participation in the program.
The most up to date information on Mount Royal University's response to COVID-19 can be found here.
Courses
For Communication Students
COMM 3799: International Communication Projects - 3 credits
This course focuses on creating media content in an international setting. Students will research, plan, and execute on a portfolio of multimedia stories reflecting their time on the ground in Peru. Participants will collaborate on stories, art, graphics, and images to be potentially published in our human rights magazine, Article 1, and its website. (No Prerequisites.)
COMM 3501: Intercultural Communication (GenEd Tier 3, Cluster 4) - 3 credits
Intercultural Communication examines communication among individuals of different cultural backgrounds, including the study of similarities and differences across cultures. The course will introduce students to key intercultural communication topics: communication and culture, linguistic differences, ecological influences on culture, the dimensions of cultural difference, stereotyping, intercultural encounters, culture shock, and adaptation. As students engage with community partners over the course of the field school, they will consider Peruvian life and culture more broadly. (No prerequisites.) 
For Business Students
INBU 3350: Field School in Business I - 3 credits
Students examine doing business abroad from a cultural context. While abroad, students will participate in a broad array of activities that align with specific field school objectives and may include attending business lectures at universities, touring local companies, meetings with business leaders, engaging in real-world projects, and generally enveloping themselves within the culture of the host countries. Students will develop intercultural competencies through these experiences, and by participating in mandatory pre-departure classes at MRU before traveling abroad.

INBU 3399: Directed Readings (3 credits) - 3 credits

Directed Readings are intended to provide a more flexible approach for students who want to pursue and receive credit in areas of study which are of particular interest to them. Two Directed Reading courses can be used for graduation purposes but they must be in different disciplines. A Directed Reading cannot replicate an existing course. The objectives of the Directed Reading course(s) must be filed in the Office of the Registrar and will be made available to any institution requesting them for evaluation purposes. Arrangements for Directed Readings must be completed on or before the Add/ Drop deadline.
Interested students should confirm their ability to use both courses for credits with their academic advisor prior to joining the field school.
Program Dates
Program dates: Depart April 29, 2023. Field School ends May 28, 2023.
There will be block week classes April 24 to 27, 2023. Pre-departure meeting dates will be announced in early 2023.
Information Sessions
Online Information Sessions
Interested students can also contact the instructors directly by email for more information. For business students - Don Haidey (dhaidey@mtroyal.ca). For Communication students - Brad Clark (bclark@mtroyal.ca).
Application Process
Before applying for a field school, students should ensure they have familiarized themselves with the general field school requirements and policies.
To apply for the Business and Communications Peru Field School, submit the following by the application deadline:
Field School Application Form (with all requested and supporting documents attached in PDF format);
A one-page letter of intent explaining why you would like to be part of the Peru Field School and how you believe it will enhance your education and career goals. This letter of intent should be uploaded to the online application form.
Application Deadline
Completed applications are due by Monday, November 14, 2022 at 4 pm. Applications must be submitted using the online system by this deadline in order to be considered.
Successful applicants will be notified by November 30, 2022 and will need to pay the initial deposit of $500 by December 10, 2022 in order to confirm their spot in the program. Failure to make the initial deposit by this deadline will result in the spot being given to another student. 
Program Costs
Peru Field School Program Fees - $4,636.00
The Peru Field School Program Fees include:
Local ground transportation during the field school;
Accommodations;
Some meals;
All course-related programming, excursions, tours, visits and activities;
Spanish language school;
Contingency fee;
Faculty expenses and MRU administration fees.
Program fees are payable according to the payment deadlines outlined in the following table. Instructions on paying program fees will be provided to participants at time of acceptance.
| | | |
| --- | --- | --- |
| 1st deposit* | December 10, 2022 | $500 |
| 2nd deposit | February 3, 2023 | $2068 |
| 3rd deposit | March 31, 2023 | $2068 |
*Initial program deposit is non-refundable and secures the participant's place in the program. Possibility of refund of subsequent deposits due to withdrawal from the program will be assessed and determined at the time of withdrawal according to the field school refund policy.
Program fees do not include course tuition or additional student expenses (see below).
MRU Tuition & General Fees
MRU tuition and fees for COMM 3799 and COMM 3501 or INBU 3730 and INBU 3399 are in addition to the program fees and will be assessed to each student's account in April, 2023. They are payable to MRU by the spring 2023 fee payment deadline.
Additional Student Expenses
Students are responsible for all additional expenses not included in the program fees such as: airfare,  some meals & incidentals, Out of Country Travel Health and Medical Insurance, passport, personal spending and emergency funds.
Estimates of additional student costs are available at the Information Session(s) and from the instructors or International Education.
Financial Assistance
Peru field school participants will receive a $1,000 grant from the MRU International Mobility Award to use towards the costs associated with the field school. Further information about this, other grants and student loan funding for field schools can be found here.

Contact Information
Don Haidey - Business (dhaidey@mtroyal.ca)
Brad Clark - Communications (bclark@mtroyal.ca)
Trinda Guillet - International Education (tguillet@mtroyal.ca)