Fair Trade Field School - Guatemala 2020: Business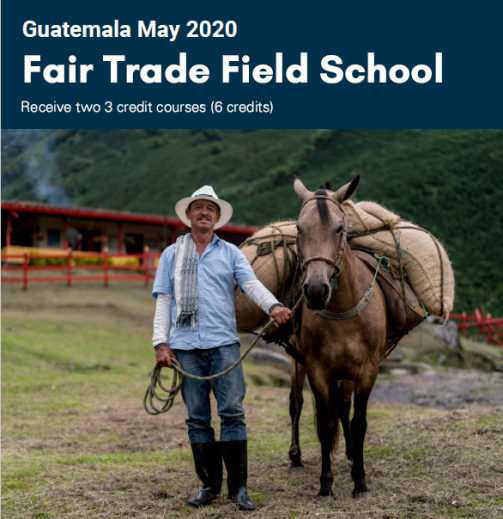 The 2020 Guatemala Field School is a six credit, 4-week field learning experience where participants will examine the economic and community development realities surrounding fair trade. Students will learn about best practices and issues of conducting business in an international context while being immersed in a cross-cultural experience. Highlights of the trip include:
Being immersed in Guatemalan culture;
Exploring local markets, villages and ancient Mayan ruins;
Developing an authentic understanding of Fair Trade and community development while working with local farmers;
Discovering the realities of international business issues and challenges while applying classroom learning.
Information Sessions
To find out more, attend a scheduled information session. If you are unable to attend or if you would like more information, please contact instructor Don Haidey.
| | | |
| --- | --- | --- |
| Thursday, November 14, 2019 | 4:00 pm - 5:20 pm | EB 1022 |
Program Dates
In Guatemala: May 2, 2020 - June 2, 2020

Pre-Departure Preparation Classes: April 27 - May 1, 2020.
Note: Group meetings will be scheduled every second Tuesday in the months between participant selection and trip departure. Meeting dates and times will be provided to successful applicants.
Eligibility
This field school is open to all students. The itinerary and curriculum are designed to be relevant not only to Business majors but to students enrolled in a broad variety of program across the Mount Royal campus. Business issues are examined, but more broadly, student will also be exposed to the issues of community development, tourism health, non-profit organizations, ethics and archaeology.
Course Credit
INBU 3730 - Special Topics in International Business: Fair Trade in Guatemala (3 credits)
INBU 3399 - Directed Readings (3 credits)
Total: 6 credits
Applicants should meet with their academic advisor prior to joining the program to ensure the course offered can be used towards completion of their program.
Application Process
Access the Field School Application Form
Submit the following to the Office of International Education (EB 3005) prior to 12:00 pm on Friday, November 22, 2019:
The completed Field School Application Form;
A one-page Statement of Purpose describing your interest in being part of this opportunity;
An unofficial transcript (printed from the mruGradU8 portal;
The completed Guatemala Field School Participant Agreement.
Application Deadline
Applications are due by 12:00 pm on Friday, November 22, 2019 to the Office of International Education (EB 3005).
Program Costs Guatemala Field School Program Fees -$3,912
The Program Fees include:
Accommodation in Guatemala;
One week of homestay in Spanish classes at the selected Guatemalan Spanish school;
Local transportation;
Faculty expenses;
MRU administration fee;
Contingency;
Activity/entrance fees and guides;
Gratuities.
Program Fees are payable in person at the Office of the Registrar (A101) according to the payment deadlines outlined in the table below.
| | | |
| --- | --- | --- |
| 1st deposit* | November 22, 2019 | $500 |
| 2nd deposit | January 31, 2020 | $1,706 |
| 3rd deposit | March 6, 2020 | $1,706 |
*Initial program fee is non-refundable and secures the participant's place in the program. Possibility of refund of subsequent deposits due to withdrawal from the program will be assessed and determined at the time of withdrawal. Program fees do not include course tuition.
MRU Tuition & General Fees
MRU tuition and fees for INBU 3760 (6 credits) are in addition to the program fees and will be assessed to each student's account in April 2020. They are payable to MRU by the spring 2020 fee payment deadline.
Additional Student Expenses
Students are responsible for all additional expenses not included in the program fees such as return airfare to Guatemala, trip interruption and cancellation insurance, Out of Country Travel Health and Medical insurance, food and drink, immunizations, passport, travel essentials, personal spending, etc. Estimates of additional student costs are available at the Information Session(s) listed above and from International Education.

Financial Assistance
Guatemala field school participants will receive a $1,000 grant form the MRU International Mobility Award to use towards the costs associated with the field school. Further information about this, other grants and student loan funding for field schools can be found here.
Contact Information
Don Haidey
Trinda Guillet (International Education)