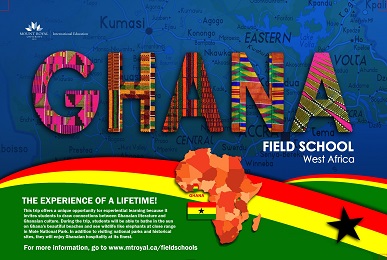 The field school to Ghana, Africa offers students a unique opportunity to spend 21 exciting days exploring Ghana, Africa while earning 6 MRU credits.
Participants will learn to relate text to context by being immersed in the Ghanaian culture, experiencing Ghanaian hospitality, meeting some of the Ghanaian writers that will be studied and visiting important cultural and historical sites. Participants will have an opportunity to do volunteer work in the country and will also have the opportunity to see wildlife like elephants at close range during a visit to Mole National Park and enjoy the beautiful beaches of Ghana.
Courses
ENGL 3900 - Travel Studies in Literature: Words & Ideas (Cluster 2, Tier 3 GNED)
ENGL 4900 - Travel Studies in Literature: Texts & Contexts (Cluster 3, Tier 3 GNED)
Information Sessions
To find out more, attend a scheduled information session. If you are unable to attend or if you would like more information please contact international@mtroyal.ca
| | | |
| --- | --- | --- |
| Tuesday, September 19 | 2:00 - 2:50 PM | EA 1055 |
| Tuesday, October 24 | 3:00 - 3:50 PM | EA 1055 |
Program Dates
In Ghana: May 23, 2018 - June 14, 2018
Pre-Departure Classes: May, 2018 (exact dates TBC)
Eligibility
The field school is open to all students. Recommended preparation is a 2000-level English course or its equivalent. This pre-requisite may be waived.
Interested students should confirm their ability to apply the two courses either as ENGL credits or GNED credits with their academic advisor prior to joining the the field school.
Application Process
Access the Field School Application Form.
Submit the following to the Office of International Education (EB 3021) prior to the application deadline:
The completed Field School Application Forms (with all supporting documents)
A one-page Statement of Purpose (letter) describing your study abroad goals and interest in participating in the Ghana Field School
Application Deadline
Completed application packages are due by 4:30 PM at the Office of International Education (EB 3021) on November 15, 2017.
Program Costs
Ghana Field School Program Fees - $1,747
The Program Fees include: accommodation in Ghana, Ground Transportation in Ghana, faculty and assistant expenses, MRU administration fee, field trips, activity/entrance fees and gratuities.
Program Fees are payable in person at the Office of the Registrar (A101) according to the payment deadlines outlined in the table below.
| | | |
| --- | --- | --- |
| 1st deposit* | November 15, 2017 | $500 |
| 2nd deposit | January 17, 2018 | $750 |
| 3rd deposit | March 7, 2018 | $497 |
*Initial program deposit is non-refundable and secures the participant's place in he program. Possibility of refund of subsequent deposits due to withdrawal from the program will be assessed and determined at the time of withdrawal. Program fees do not include course tuition or additional student expenses (see below).
MRU Tuition & General Fees
MRU tuition and fees for ENGL 3900 and ENGL 4900 (total: 6 credits) are in addition to the program fees and will be assessed to each student's account in April 2018. They are payable to MRU by the spring 2018 fee payment deadline.
Additional Student Expenses
Student are responsible for all additional expenses not included in the program fees such as return airfare to Ghana, passport, tourist visa, trip interruption and cancellation insurance, travel health and medical insurance, food and bottled water, immunizations, travel essentials, personal spending, etc. Estimates of additional student costs are available at the Information Session and from the Office of International Education.
Contact Information
Yaw Asante (Field school Instructor)
Trinda Guillet (International Education)