Spring 2018 Field School to India: Dimensions of Social, Cultural & Personal Development - TRIP FULL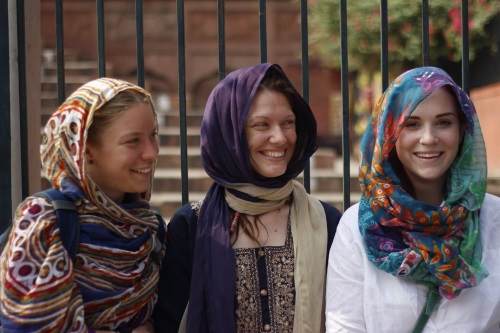 The spring 2018 India field school is full. We are no longer accepting applications.

Taking part in this field school offers an exciting experiential learning opportunity to combine course credits with international experience during your time as a student at Mount Royal.
Participants will earn 6 credits in general education eligible courses: INTS 3331 (International Community Development) and COMM 3501 (Intercultural Communication) .
The 24 days in India include staying at an Ashram and our partner university, lessons in Yoga, Punjabi & Hindi dancing, and cultural visits to:
The Taj Mahal
The Golden Temple
The mountain city of Dharamsala
The Hindu holy city of Haridwar on the River Ganges
India's historic capital city: New Delhi
Please see the information sheet for further information.
To view projects from India 2012, 2014 and 2016 go to www.mruindia.ca
Join us on Facebook at MRU India Field School
For detailed program and budget documents and application procedures for India 2018 go to www.jtimes.ca
Program Costs
India Field School Program Fees - $3,670.00
The Program Fees include: accommodation, meals at the Ashram, local transportation in India, MRU administration fee, activity/entrance fees, faculty expenses, and a contingency fee. Program fees are payable in person at the Office of the Registrar (A101) according to the payment deadlines outlined in the table below.
| | | |
| --- | --- | --- |
| 1st deposit* | May 1, 2017 | $250 |
| 2nd deposit | October 1, 2017 | $1,720 |
| 3rd deposit | March 1, 2018 | $1,720 |
*Initial program deposit is non-refundable and secures the participant's place in the program. Possibility of refund of subsequent deposits due to withdrawal from the program will be assessed and determined at the time of withdrawal. Program fees do not include course tuition.
MRU Tuition & General Fees
MRU tuition and fees for INTS 3331 and COMM 3501 (total: 6 credits) are in addition to the program fees and will be assessed to each student's account in April, 2018. They are payable to MRU by the spring 2018 fee payment deadline.
Additional Student Expenses
Students are responsible for all additional expenses not included in the program fees such as return airfare to India, meals when not at the Ashram, trip cancellation and interruption insurance, travel health and medical insurance, passport, visa, travel essentials, personal spending, etc. Estimates of additional student costs are available from the Field School Instructors and the International Coordinator.
Contact Information
Yasmin Dean (Instructor)
Sally Haney (Instructor)
International Education