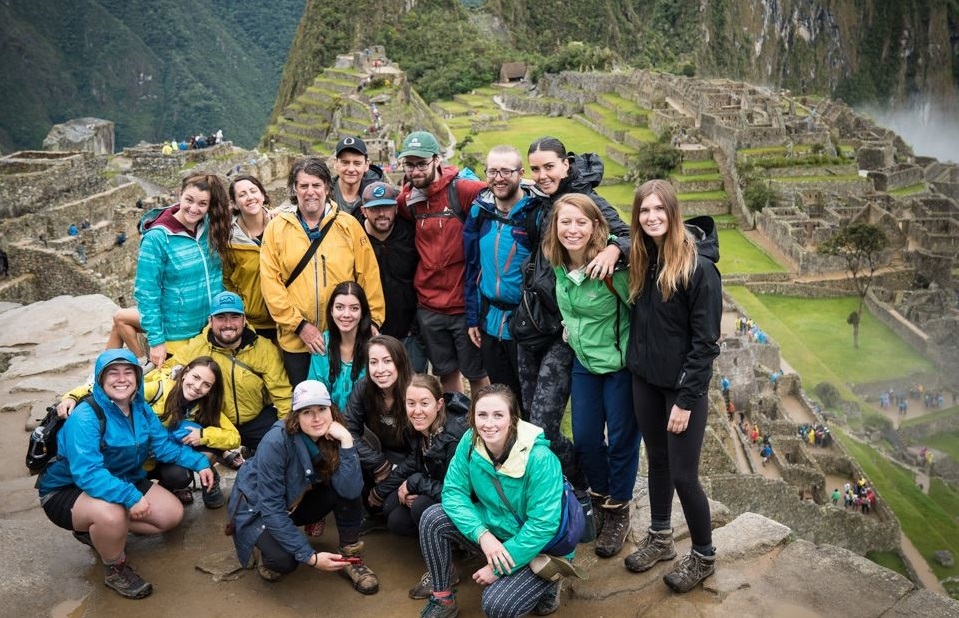 The Peru field school is a unique opportunity to immerse yourself in a completely different world to learn new ways of living, working and business. You will experience a balance of independent work with facilitated learning; city and remote rural life; and Andes mountains and Peruvian Amazon. You will experience all this in a strong group atmosphere and faculty lead. It will allow you to re-think the way you live and work.
Program Dates
Departure Date: May 6, 2019
Conclusion Date: June 4, 2019
Participants must be available for on-campus lectures at MRU before the actual travel dates. Participants will be given the meeting schedule after being accepted in to the program.
Course Credit
Participants will be enrolled in the following course for the field school:
HPED 4711 - Field School B (6 credits)
This course is a Cluster 3, Tier 3 GNED course.
Information Session
To find out more, attend the scheduled information session. If you are unable to attend, please review the Peru Student Information Package and contact field school instructor Joe Pavelka: jpavelka@mtroyal.ca.
| | | |
| --- | --- | --- |
| Tuesday, October 30, 2018 | 4:00 PM - 5:30 PM | Y 214 |
Application Process
To apply, submit the following to Joe Pavelka in U 241 by the application deadline:
Completed Peru Field School application form
A one-page letter of intent explaining why you would like to be part of the Peru field school and how you believe it will enhance your education and career goals
Unofficial Transcript (printed from MyMRU GradU8) - highlight any Spanish courses you have taken and if you would be willing to take a Spanish course in the winter term
Payment Strategy - Outline how you intend to meet the financial commitment of participating in the field school
Note: Successful applications will need to complete the International Education Field School Registration Package after acceptance in to the program.
Application Deadline
Completed applications are due by 4 p.m. on November 1, 2018.
Applications should be submitted directly to Joe Pavelka in U 241.
Successful applicants will be notified by November 5, 2018 and will need to pay the initial deposit of $950 by November 15, 2018 in order to confirm their spot in the program. Failure to make the initial deposit by this deadline will result in the spot being given to another student.
Program Costs
Peru Field School Program Fees - $4,271.00
The Peru Field School Program Fees include one week in the Spanish school in Peru, accommodation, local transportation, all field school activities and entrance fees, a required burner phone, instructor and assistance expenses, costs towards the instructor's reconnaissance trip, contingency fee, gratuities and MRU administration fee. Program fees do not include course tuition or additional student expenses as outlined in the following sections.
Program fees are payable in person at the Office of the Registrar (A 101) according to the payment deadlines as outlined in the table below:
| | | |
| --- | --- | --- |
| 1st Deposit* | November 15, 2018 | $950 |
| 2nd Deposit | January 25, 2019 | $1,661 |
| 3rd Deposit | March 8, 2019 | $1,660 |
*Initial program deposit is non-refundable and secures the participant's place in the program. Possibility of refund of subsequent deposits due to withdrawal from the program will be assessed and determined at the time of withdrawal according to the field school refund policy.
MRU Tuition & General Fees
MRU tuition and fees for HPED 4711 (6 credits) are in addition to the program fees and will be assessed to each student's account in April 2019. They are payable to MRU by the spring 2019 fee payment deadline or prior to departure for the field school should the participant be departing prior to the fee deadline.
Additional Student Expenses
Students are responsible for all additional expenses not included in the program fees such as return airfare to Peru, trip interruption and cancellation insurance, travel health and medical insurance, passport, some meals, snacks and incidentals, travel essentials and gear, personal spending, etc.
Estimates of additional student costs are available at the Information Session or directly from the instructor or International Education.
Financial Assistance
All field school participants will receive a $1,000 grant from the MRU International Mobility Award to use towards the costs associated with the field school.
Further information about this grant will be provided to successful program applicants.
Contact Information:
Joe Pavelka: jpavelka@mtroyal.ca
Trinda Guillet (International Education): tguillet@mtroyal.ca