Sri Lanka Field School 2023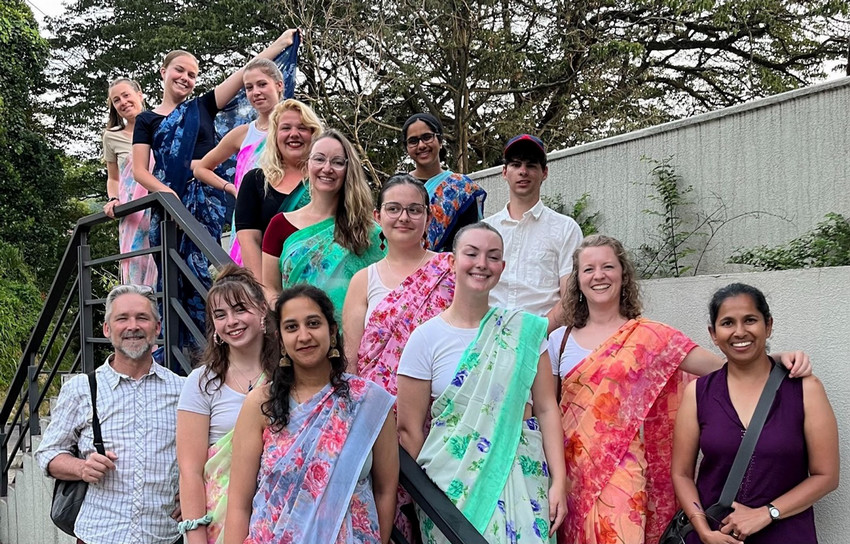 Travel to the beautiful island of Sri Lanka for an experiential learning opportunity of a lifetime...Program Dates - Spring 2023
Classes at MRU: Late April - Early May (dates TBD)
In Sri Lanka (three weeks): May 14 - June 3,  2023
Conclusion of academic components: Early June
Participants must be available for:
The Mandatory Pre-Departure Orientation ( in February 2023 - date TBD)
Mandatory Host Culture Orientation (in May 2023 - date TBD)
On-campus Lecture Days before the actual travel dates (early May 2023)
Completion of final academic components - online (early June 2023)
Field School Showcase (Fall 2023 - date TBD)
Participants accepted in to the field school program will be provided with the detailed meeting schedule and itinerary.
Course Credit
Participants will be enrolled in the following two courses for the field school. Both courses have GNED designation.
ANTH 2121 - Field Studies in Anthropology (3 credits) (GNED - Cluster 3, Tier 3)
SLGY 2731 - Selected Topics: Social Problems (3 credits) (GNED - Cluster 3, Tier 3)
Interested students should confirm their ability to use both courses for credits with their academic advisor prior to joining the field school.
Information Session
In person:
Tues Nov 8, 2022 - 10:00 - 10:50 am.  in Room E145 (during International Education Week)
On Google Meets:
Link:  meet.google.com/oku-dftf-erq
Thu Nov 10, 2022 - 4:00 -4:50 pm.
Mon Nov 14, 2022 - 4:00 - 4:50 pm.
Review Sri Lanka Field School Information Package for details.
Application Process
Submit the completed Sri Lanka Application form including (1) your unofficial mruGradU8 transcript and (2) Statement of Intent, by the deadline below.
Application (Google Form): Sri Lanka Field School Application Form
Application Deadline
November 23, 2022 before 4 pm -  online
Successful applicants will be notified after review of their application.
Note: Successful applicants will need to complete the online International Education Field School Registration Package after acceptance into the program (see below).
Registration Deadline
Within 5 business days of acceptance
Successful applicants will:
Complete the online International Education Field School Registration Package and submit it online within 5 business days of their notification of acceptance
Pay the first deposit (1st deposit) in order to confirm their spot in the program. Details on how to make the deposit will be provided to successful applicants. 
Failure to submit the Registration Package and the initial deposit by the indicated deadline will result in the spot being given to another student.
Program Costs
Sri Lanka Field School Program Fees - $2991
The Sri Lanka Field School Program Fees cover accommodation in double/triple/dorm rooms for 21 days, most meals, local transportation, all field school activities and entrance fees, instructor travel and program delivery costs, honoraria, gratuities, contingency fee, and MRU administration fee.
Program fees are payable according to the payment deadlines as outlined in the table below:
| | | |
| --- | --- | --- |
| 1st Deposit* | Within 5 business days of acceptance | $791 |
| 2nd Deposit | February 16, 2023 | $1,000 |
| 3rd Deposit | March 30, 2023 | $1,200 |
*Initial program deposit is non-refundable and secures the participant's place in the program. Possibility of refund of subsequent deposits due to withdrawal from the program will be assessed and determined at the time of withdrawal according to the field school refund policy.
Program fees do no include course tuition or additional student expenses. These are outlined in the following sections.
MRU Tuition & General Fees
MRU tuition and fees for ANTH 2121 and SLGY 2731 (6 credits total) are in addition to the program fees and will be assessed to each student's account in April 2023. They are payable to MRU by the spring 2023 fee payment deadline.
The fees for the two academic courses (6 credits) should be considered as part of the regular student university academic expenses. These Spring credit courses representing full-time study are student loan eligible.
Tuition and general fees for the courses will ideally be part of the student's academic program budget allocated to complete graduation requirements. It is the student's responsibility to check with their advisor as to how these courses would fit into their individual program's graduation requirements.
Additional Student Expenses
Students are responsible for all additional expenses not included in the program fees such as return airfare to Sri Lanka, trip interruption and cancellation insurance, immunizations, travel health and medical insurance, passport, Sri Lanka Visitor Visa, some meals, snacks and incidentals, travel essentials, personal spending, etc.
Estimates of additional student costs are available at the Information Sessions.
Financial Assistance
Successful field school applicants will receive a $1,000 grant from the MRU International Mobility Award to use towards the costs associated with the Sri Lanka 2023 field school. Further information about this, and other grants will be provided to successful applicants.
COVID-19 and International Education Programs
The COVID-19 pandemic continues to affect international travel. International travel at MRU has resumed and the ability to run these programs and have students participate will be dependent on the situation at the time of the program, decisions made by MRU regarding travel-related activities and on the travel advice, warnings and information provided by the Provincial and Federal Government. Host countries and organizations may still have COVID restrictions and mandates in place as well. Field School participants will need to ensure they meet all requirements and restrictions for travel and participation in the program.
The most up to date information on Mount Royal University's response to COVID-19 can be found here.
Contact Information:
Dr. Samanti Kulatilake: skulatilake@mtroyal.ca
Dr. Tom Buchanan: tbuchanan@mtoryal.ca
Trinda Guillet: tguillet@mtroyal.ca