Sri Lanka Field School in Bio-Cultural Anthropology 2018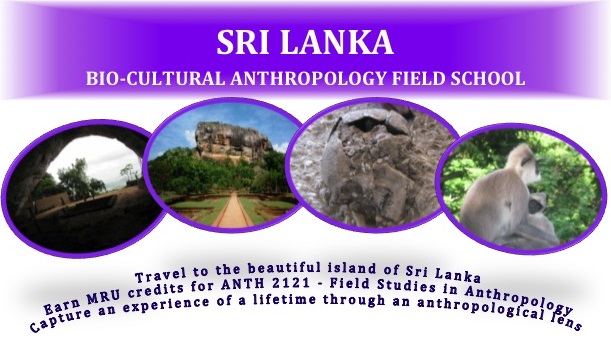 The Spring 2018 Sri Lanka Field School is Full. We are no longer accepting applications.
The field school to Sri Lanka provides a unique learning opportunity for Mount Royal students. Participants will travel to the beautiful island of Sri Lanka and learn about the biological and cultural diversity of Sri Lankans. Participants will have the opportunity to:
Earn MRU Credit for ANTH 2121 - Field Studies in Anthropology (GNED Credit Cluster 3 - Tier 3)
Spend three fascinating weeks in Sri Lanka learning about its people and their past
Explore prehistoric caves, UNESCO World Heritage archaeological sites and museums
Observe primates in their natural habitat and appreciate Sri Lanka's biodiversity
Attend lectures and training providing by leading Sri Lankan anthropologists and archaeologists
Connect with undergraduates from Sri Lankan universities
Experience the sights, sounds, aromas and tastes Sri Lanka has to offer
View the Spring 2018 Sri Lanka Field School brochure
Information Sessions
To find out more, attend a scheduled information session. If you are unable to attend or if you would like more information, please contact international@mtroyal.ca. Review the information session Presentation.
| | | |
| --- | --- | --- |
| Thursday, March 16, 2017 | 2:00 - 2:50 PM | EA 1057 |
| Wednesday, September 20, 2017 | 3:30 - 4:30 PM | EB 1011 |
Program Dates
In Sri Lanka: May 13, 2018 - June 3, 2018
Pre-Departure Classes: early May, 2018
Post-Field School Classes: mid-June, 2018
Note: Participants will attend on-campus lectures at MRU both before and after the actual travel dates. Participants must be available May 1 - June 13, 2018.
Eligibility
The field school is open to all students. Recommended preparation is a 1000-level or 2000-level anthropology course.
Application process
Access the Field School Application Form.
Submit the following to the Office of International Education (EB 3021):
The completed Field School Application Forms
A 300-400 word Statement of Purpose describing your interest in being part of this opportunity
An unofficial transcript (from the mruGradU8 portal)
Applicants must be familiar with:
Following departmental assessment, successful applicants will be notified to proceed with deposit payment. The initial deposit must be paid at time of acceptance in to the program.
Recruitment is ongoing. Applications will be accepted until all spots are filled or until October 20, 2017. Apply early!
Program Costs
Sri Lanka Field School Program Fees - $2,995
The Program Fees include: all accommodation in double/triple/dorm rooms, local transportation in Sri Lanka, some meals, bottled water, faculty and assistant expenses, MRU administration fee, honoraria for guest lecturers, activity/entrance fees and gratuities. Program fees are payable in person at the Office of the Registrar (A101) according to the payment deadlines outlined in the table below.
| | | |
| --- | --- | --- |
| 1st deposit* | Upon Acceptance | $500 |
| 2nd deposit | September 11, 2017 | $1,250 |
| 3rd deposit | December 11, 2017 | $1,245 |
Students accepted in to the field school after September 1, 2017 will pay their program fees according to the payment deadlines outlined in the following table:
| | | |
| --- | --- | --- |
| 1st deposit* | Upon Acceptance (before Oct. 27, 2017) | $500 |
| 2nd deposit | November 28, 2017 | $1,250 |
| 3rd deposit | January 19, 2018 | $1,245 |
*Initial program deposit is non-refundable and secures the participant's place in the program. Possibility of refund of subsequent deposits due to withdrawal from the program will be assessed and determined at the time of withdrawal. Program fees to do not include course tuition.
MRU Tuition & General Fees
MRU tuition and fees for ANTH 2121 (3 credits) are in addition to the program fees and will be assessed to each student's account in April, 2018. They are payable to MRU by the spring 2018 fee payment deadline.
Additional Student Expenses
Students are responsible for all additional expenses not included in the program fees such as return airfare to Sri Lanka, trip interruption and cancellation insurance, travel health and medical insurance, passport, Sri Lanka visitor visa, food not covered in the program fee, immunizations, travel essentials, personal spending, etc. Estimates of additional student costs are available at the Information Session(s) listed above and from the Office of International Education.Contact Information
Dr. Samanti Kulatilake
Dr. Tom Buchanan
Trinda Guillet