Inbound Exchange to Mount Royal University


Mount Royal University welcomes students from around the world to study at our state of the art Lincoln Park Campus, with breathtaking views of the Rocky Mountains. We are certain that our reputation for excellence in teaching and learning, as well as our multinational and multicultural diversity will enrich your Mount Royal experience and offer an unforgettable study abroad experience.


---
Why choose Mount Royal University for your exchange semester?

From the classroom to the Rocky Mountains, Mount Royal University can provide an exciting, enriching, and well rounded exchange experience for everyone! Studying abroad is all about connecting with new people, exchanging ideas, and trying new things. We provide plenty of opportunities for these experiences.
Connect with Canadian and international students in our International Student Support Centre (ISSC), the vibrant hub of the international community at Mount Royal University. The ISSC is a space on campus that is open to all students to hang out, study, and exchange cultures, languages, and stories.
Try a new sport, like rock climbing or bubble soccer, at Recreation. From drop in fitness classes to intramural sports teams, Rec has something for everyone.
Study with breathtaking views of the Rocky Mountains or cozy up with a book next to the fireplace in our new Riddell Library and Learning Centre.
Feel the energy and school spirit as you cheer on the Cougars with us at a home game.
Exercise your creativity and experiment with new tools and technologies, ranging from sewing machines to 3D printers, in the Maker Studio located inside the Riddell Library and Learning Centre.
Experience the world renowned Rocky Mountains with your new friends from all over the world.
Connect with Mount Royal University students through the Student Association of Mount Royal University's many clubs and learn about what they love to do outside of school.
Maximize your academic experience by engaging with professors in our small classes.
---
A snapshot of a semester at Mount Royal University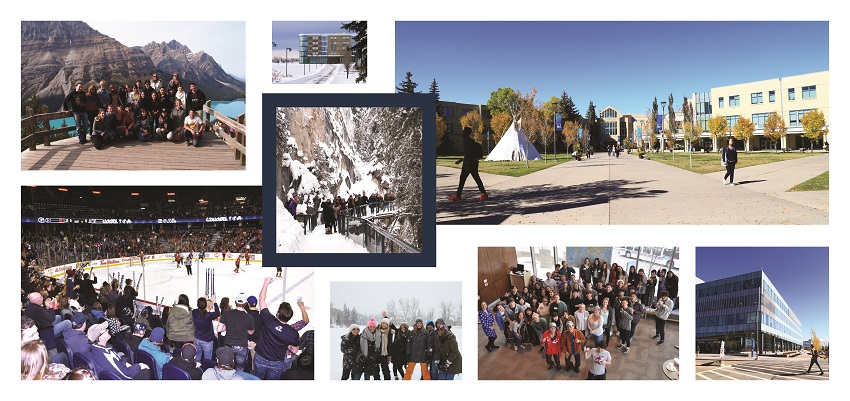 ---
Supports for exchange students at Mount Royal University
As soon as you arrive on campus you will see how welcoming and supportive the Mount Royal community is. Studying abroad is exciting and should push you out of your comfort zone. In addition to the International Education office, Mount Royal University offers a wide variety of supports for students to excel both academically and personally.
---
Hear from students who have spent a semester at Mount Royal University
To learn more about why you should choose Mount Royal University, visit Why MRU?


---
How to apply for an exchange at Mount Royal University

We accept exchange students from all our partner institutions, including our bilateral partners and CONAHEC partners.
See a list of all of our partner institutions here:
If you are interested in coming to Mount Royal University for an exchange semester, follow these steps to begin the application process:
Visit your study abroad office at your home University and find out how to apply to your home University study abroad program.
Your home University will nominate you for exchange to MRU through our nomination process (see Nominate a student above).
The Mount Royal University Exchange Programs Coordinator will confirm the nomination with the Partner and send the student the formal application package with details via email.
Submit all required and supplementary documents by the specified deadline. Documents can be scanned and sent via email. Required documents include:


English Proficiency
Letter of Recommendation
Exchange Application completed
Current transcripts
Note: If documents are not received on time the student may need to defer their exchange to the following semester.
---
Information to help you plan your exchange to Mount Royal University

Timeline of important dates for students.