International Student Centre Promotes International Connections on Campus
Mount Royal Students, now more than ever, are being offered opportunities for exposure to international activities without even leaving campus thanks, in part, to such initiatives as the International Student Centre (ISC) and the Student Ambassadors for International Students (SAIS) Volunteer Program.
Located in E140, the ISC was established in January 2014 as a space for MRU local students, inbound exchange students and other MRU international students to come together, share information, learn and socialize in an informal environment on campus.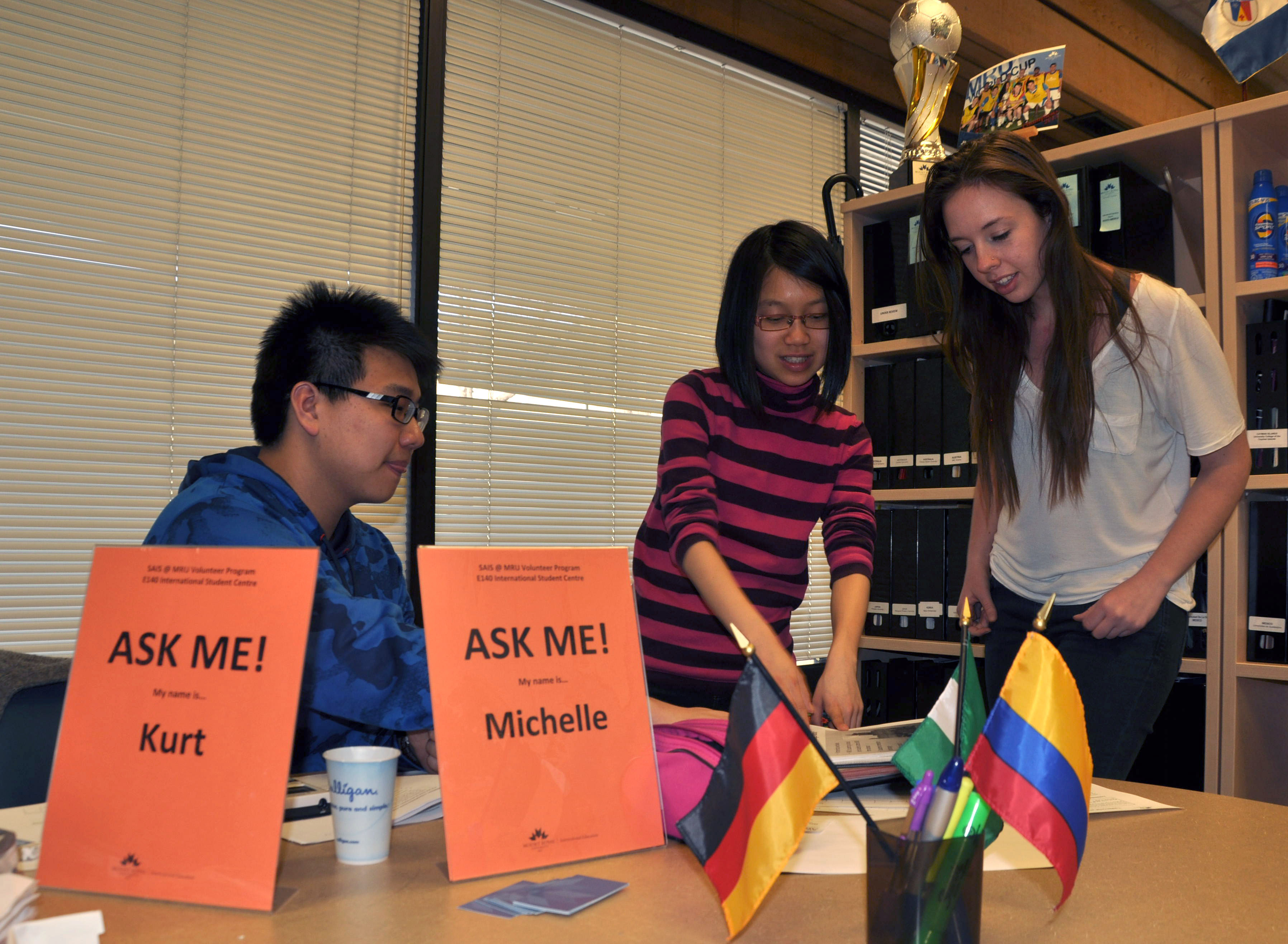 Student Ambassadors, Yuweii (Kurt) Tang and Michelle Yuan, assist Montana Albrecht at the International Student Centre.
"The International Student Centre targets most of the student body at MRU in some way or another," says Kyla Sinclair, International Projects Coordinator responsible for the creation of the ISC and its day to day management. "It's an open social environment where students can get to know each other, learn from and support one another."
A World of Opportunities
The ISC offers Mount Royal students opportunities to get involved in the International Education experience. Prospective outbound exchange students can browse through print resources on the many countries and partner institutions they could travel to and study at through the MRU Student International Exchange Program. Exchange Information Sessions are held regularly at the ISC to promote the program and explain what is involved and how to apply.
In addition to exchange programs, the centre offers information on other travel abroad opportunities, such as work and volunteer abroad.
On any given day, inbound exchange students and other international students can be found visiting the ISC, whether for support and information, to practice their English or just to meet up and make new friends.
Zewei (Kurt) Tang, an international student currently studying English who hopes to obtain his bachelor's degree in Calgary, noticed the ISC, located across from his English language classroom, one day and is now an avid volunteer there.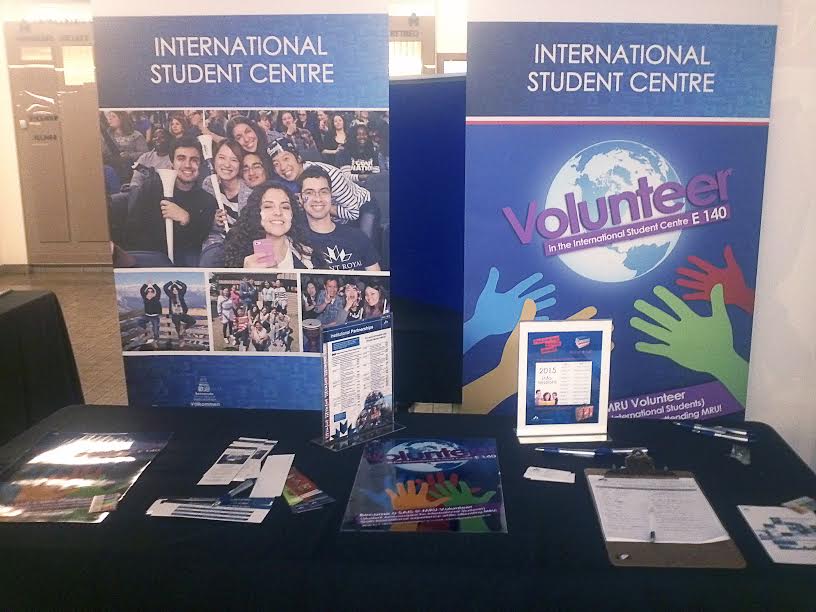 International Education display booth promotes the International Student Centre and its volunteer opportunities.
"Being a volunteer here has been very valuable and great for my personal development," says Tang. "I am able to help other Chinese students who have a language barrier, and I am improving my communication skills in English, as well."
The ISC is a great place for local MRU students to meet these international students from around the world who are studying at Mount Royal, and learn about their respective countries and cultures. The benefits have a positive impact on students about to embark on an upcoming exchange, field school or study tour, and those returning exchange students who would like to continue to stay connected with their experiences abroad.
Michelle Yuan, a student volunteer in the ISC, thinks that the centre benefits Mount Royal students in so many ways.
"The ISC provides a friendly and welcoming place for students to learn about exchange programs, or have their questions answered," says Yuan. "It's also a place where friendly relationships amongst students are built."
Volunteer Student Ambassadors
The Student Ambassadors for International Students (SAIS) Program, established in the Fall 2012 semester, is housed at the new International Student Centre. The program began with only seven students volunteering, but has grown to 16 committed volunteers for the Winter 2015 semester, and with a total of 80 participants involved in the program since its inception.
Every year, MRU students who have a strong interest in international activities can apply to work as volunteer student ambassadors with SAIS. Volunteers must commit to two hours per week throughout the credit semester, and their primary focus is to create an inviting and friendly environment for everyone who comes through the ISC door.
Volunteers are involved in a number of initiatives which support internationalization at Mount Royal. They assist Mount Royal students and staff members looking for information on studying, working or volunteering abroad. Volunteers also welcome new international exchange students and provide support to them as they transition to life at Mount Royal and in Calgary. Student ambassadors help organize and promote social events which engage the MRU community, and participate in special events such as International Education Day and study abroad fairs.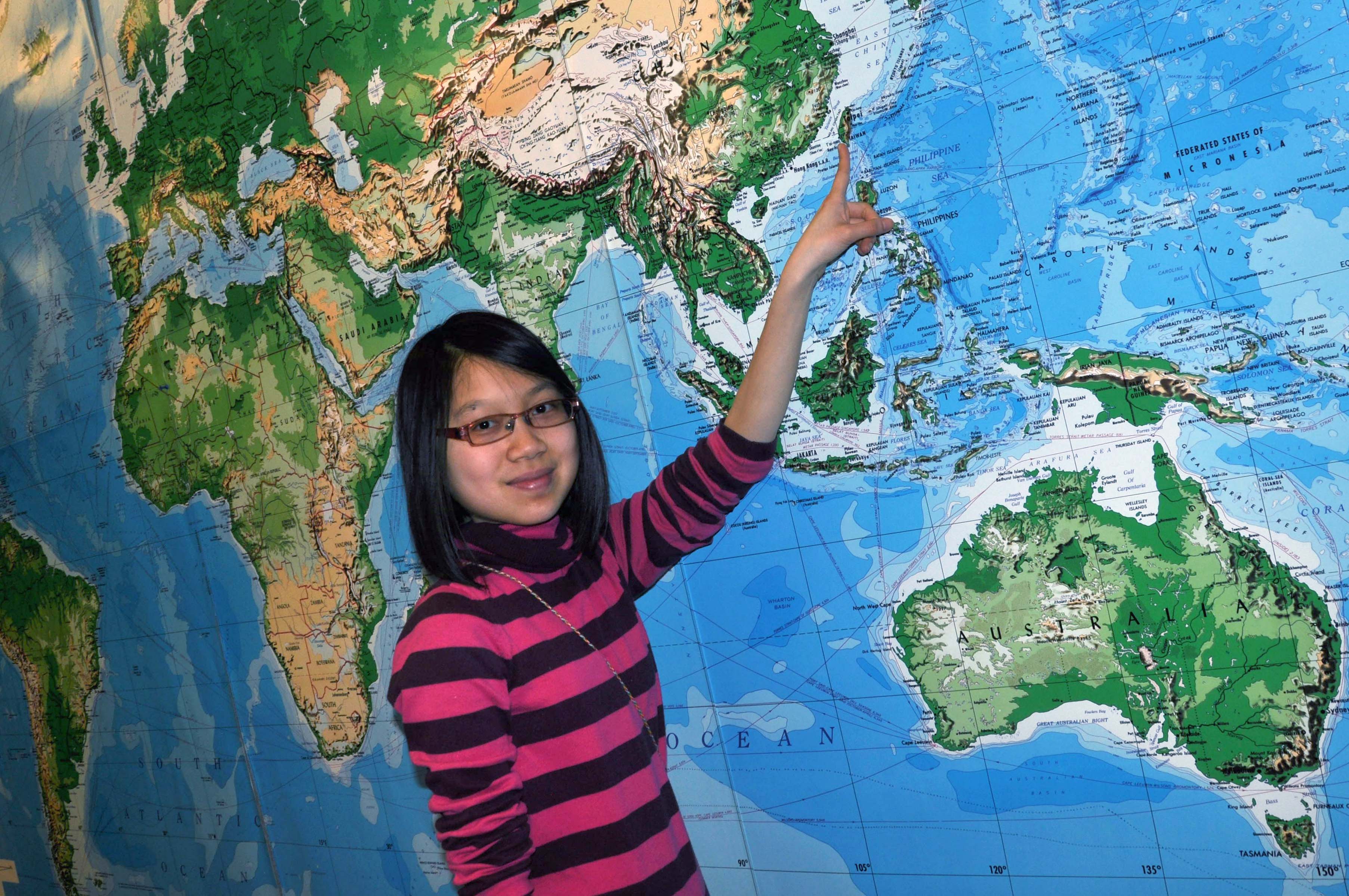 Student Ambassador, Michelle Yuan, points to where she is from at the International Student Centre
Yuan has always wanted to study or work abroad. She is volunteering her time to learn more about International Education, but also to help others.
"I am actually an immigrant from Taiwan who moved to Canada about seven years ago," explains Yuan. "I have received lots of support and help from others over the years, so I want to give back to the community; I want to make a difference in people's lives."
Selected volunteers receive appropriate training in the form of a new and improved three-hour interactive workshop, and are given a certificate of participation and a letter of reference upon completion of their volunteer work at the end of the semester.
Funding for ISC Programming
New this year, two International Ambassador Leader positions were created, and students may apply each year. These volunteer leaders must be willing to commit to their role for the entire academic year, working 80 hours per semester. Both working closely with the Office of International Education and the International Projects Coordinators, one position focuses on International Social Engagement, the other on International Exchange Promotions.
Thanks to a generous three-year private donation from the "Colleen Griffin Fund for Innovation" which will support programming at the ISC, International Ambassador Leaders each receive a $1000 honorarium per semester for their dedication.
For more information on the International Student Centre and the SAIS program, visit Mount Royal University's International Education web pages.
Marisa Norona, March 2015