Ethiopia-Canada Maternal, Newborn and Child Health Project: Senior Midwives Tutor Training Program -2015
Ethiopia has one of the highest rates of maternal and newborn mortality in Africa. Through the Millennium Project, established by the United Nations (UN), eight Millennium Development Goals (MDGs) have been put forth to address extreme poverty and gender, education and environmental sustainability issues around the world. Goals four and five are to reduce the child mortality rate and the maternal mortality ratio by two thirds and three quarters, respectively, between 1990 and 2015. Ethiopia has been working hard to reduce those rates.
In 2013, the Faculty of Health and Community Studies at Mount Royal University joined with the Faculty of Medicine & Dentistry at the University of Alberta on a five-year project to reduce maternal and newborn deaths, illness and disease in Ethiopia in support of these Millennium Development Goals.
With 35 years of experience, first, as a maternal child nurse and later as a Certified Nurse Midwife and Registered Midwife, Susan Jacoby, Assistant Professor in the School of Nursing and Midwifery at Mount Royal, is pleased to finally see midwives recognized by the worlds' authorities as being important and crucial to providing maternity care services that have been shown to decrease maternal and neonatal mortality.
"At the World Health Organization's meeting in Geneva on February 23, 2015, Dr. Margaret Chan reported that the application of midwifery practices improves as many as 56 health outcomes, and heads of organizations and ambassadors from many countries spoke passionately about how investing in more educated midwives improves maternal/neonatal care worldwide," says Jacoby. "This is what Ethiopia has done, and our team is happy to support them."
The project is in collaboration with Canadian and Ethiopian partners and funded by the federal government, through the Department of Foreign Affairs, Trade and Development Canada.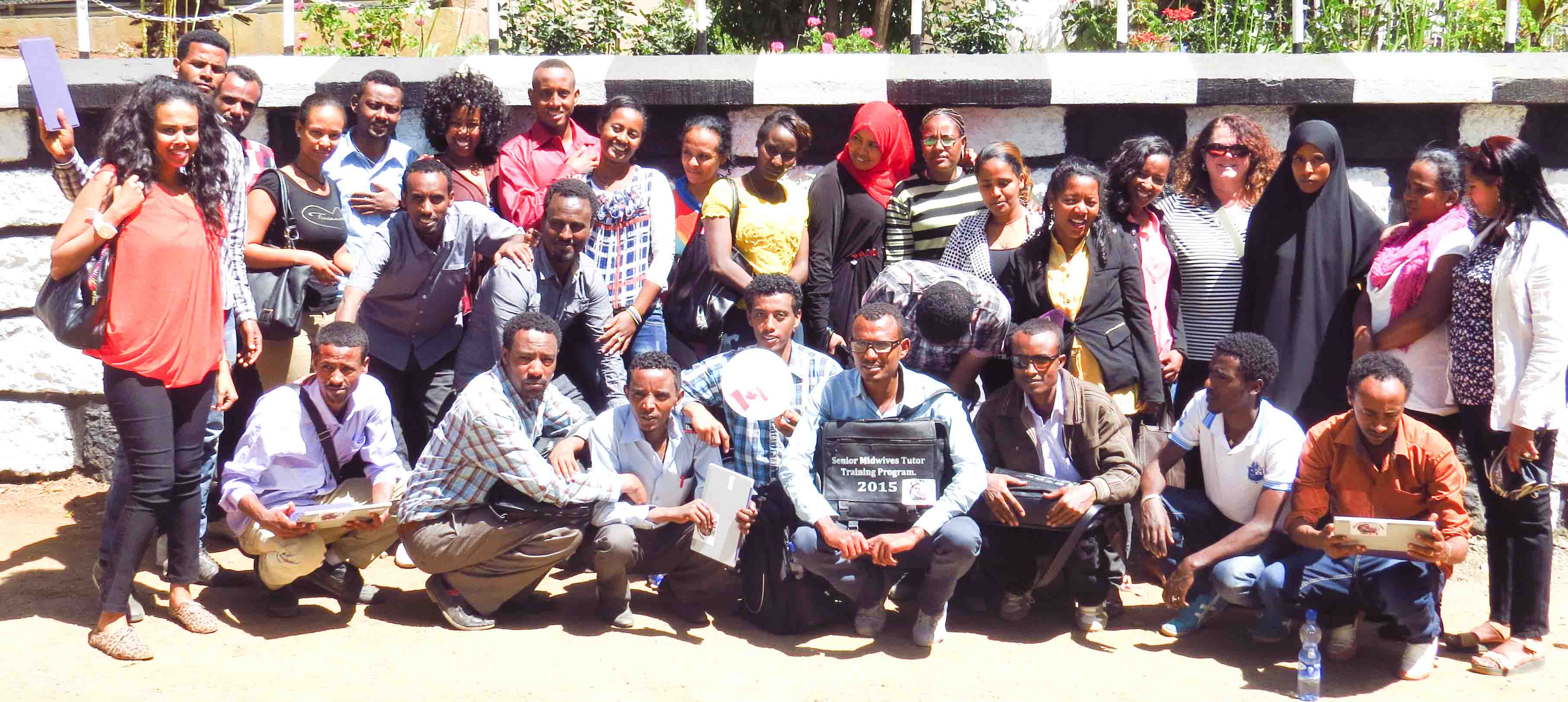 2015 Senior Midwives Tutor Training Program participants
Midwives Training Midwives
As a part of the larger project, Mount Royal's Faculty of Health and Community Studies and team members from across the institution have created and implemented the Senior Midwifery Tutor Training Program (SMTTP), an education program for Ethiopian midwives who were selected to tutor other Ethiopian midwife instructors. The training upgrades the pedagogical and clinical skills of senior midwives so they can tutor others and ultimately enhance the quality of care for maternal and child health.
"Birth attendants need better information," explains Pam Nordstrom, Interim Associate Dean and Director of the School of Nursing and Midwifery at Mount Royal. "Ethiopian midwives need to be informed and experienced teachers so that they can teach other birth attendants, thereby helping to impact the death rate of babies and mothers."
The course will run for four consecutive years, at St. Paul's Hospital Millennium Medical College (SPHMMC) in Ethiopia's capital city, Addis Ababa. Each year's course lasts four months, taking place February to May, with the Mount Royal team being on-site, teaching and training, for six of those weeks.
The SMTTP has five components: a four-week session of classroom work focused on teaching and learning principles, a workshop named "Helping Babies Breathe", a month-long clinical refresher, five weeks back home putting new skills into practice, and an additional three and a half weeks to share their teaching experiences with each other and to participate in a course on micro-research techniques.
Upon completing all five components of the course, students graduate and return to their home institutions to serve as models and mentors to their fellow instructors. The program continues to support them with a series of continuing education activities, continued monitoring and information gathering.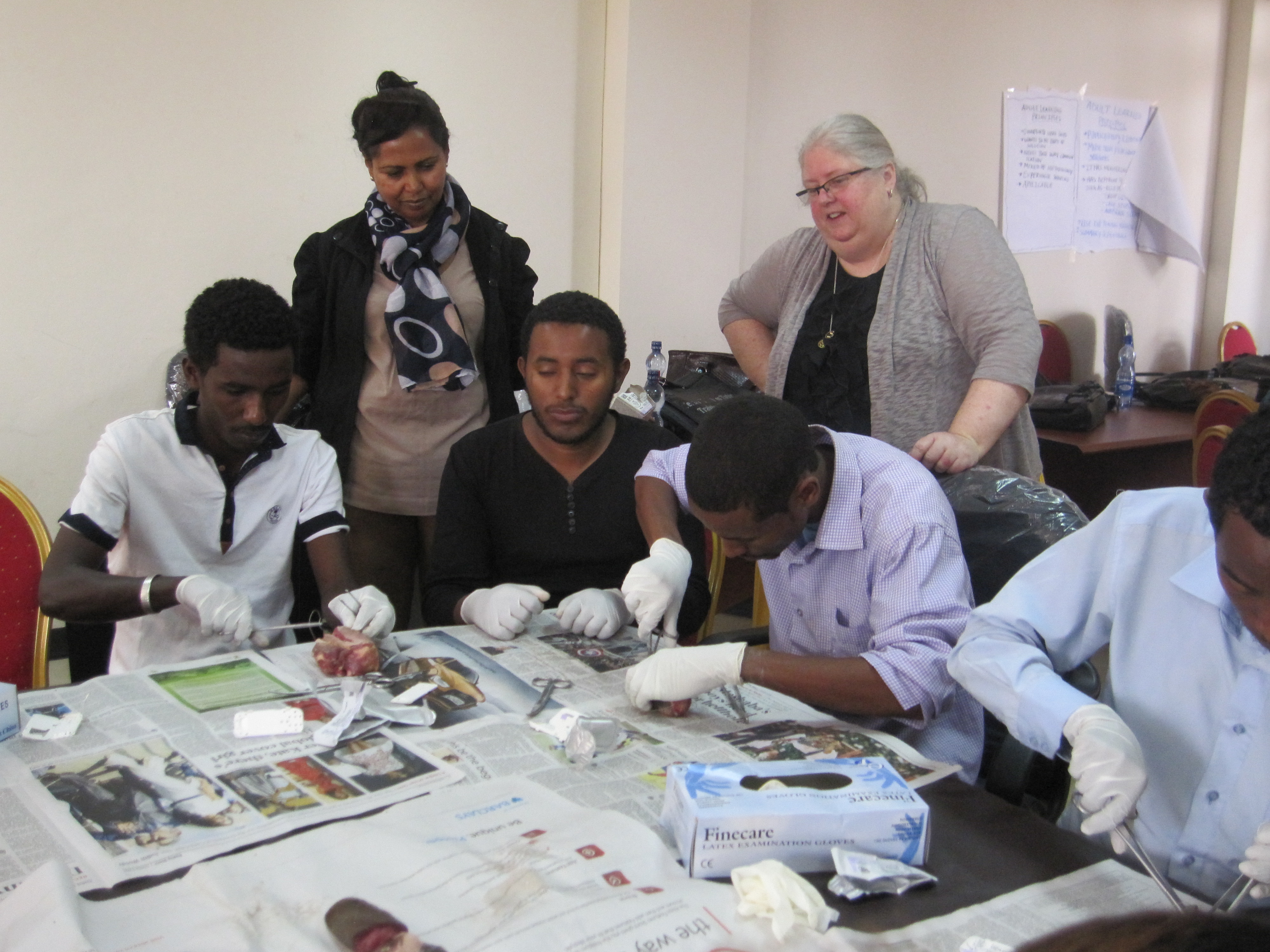 Senior Midwifery Tutors reviewing skills with MRU instructor Debbie Duran-Snell
The Mount Royal Team
A team of 12 dedicated Mount Royal team members are involved in the development, implementation and delivery of the Senior Midwifery Tutor Training Program, fitting the extra work into their regular duties as full-time faculty, practicing midwives and staff.
Team members include:
• Vince Salyers (Interim Associate Vice-President, Research)
• Dianne MacDonald (Manager, International Projects, Office of International Education)
• Pam Nordstrom (Interim Associate Dean; Director, School of Nursing and Midwifery)
• Maggie Quance (Chair, School of Nursing and Midwifery)
• Heather McLellan (Program Coordinator, Advanced Studies in Critical Care Nursing)
• Mary Landsiedel (Program Coordinator, School of Nursing and Midwifery)
• Susan Jacoby (Assistant Professor, School of Nursing and Midwifery)
• Pattie Pryma (Associate Professor, School of Nursing and Midwifery)
• Julie Booke (Associate Professor, Physical Education & Recreation Studies)
• Margot Underwood (Assistant Professor, School of Nursing and Midwifery)
• Deepa Upadhyaya (Assistant Professor, School of Nursing and Midwifery)
• Wendy Wood (Preceptor, Bachelor of Midwifery)
The team has been preparing content, creating modules, delivering the course, developing pre and post-tests and collecting demographic information for research purposes.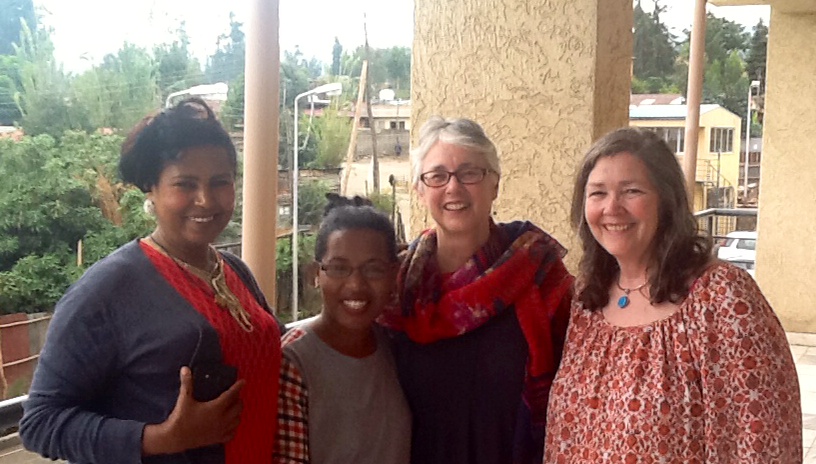 Senior Ethiopian midwives, Asegedech Befikadu and Mehiret Abate with MRU instructors Maggie Quance and Susan Jacoby
Train the Trainer Model
"Train the trainer" is a key concept to the SMTTP. The course was primarily developed and implemented by Mount Royal University colleagues with input from University of Alberta collaborators and SPHMMC partners. But, over the four years, it will be taken over and organized by SPHMMC with a continuing support and assistance role from Canada.
This year, two senior Ethiopian midwives, Asegedech Befikadu and Mehiret Abate, were hired in Addis as new project members to begin to work towards this goal of having the program run entirely locally by the end of year four.
"It is exciting to help Asegedech and Mehiret begin to assume the leadership and teaching roles they are heading towards," says Heather McLellan, Associate Professor in the School of Nursing and Midwifery at Mount Royal, "and to know that this important work will carry on beyond us."
2015 Course
Round two of the SMTTP began in Addis Ababa, Ethiopia, at SPHMMC February 2-17, 2015. Twenty-six midwives (nine women and seventeen men) were chosen by the Ethiopian Ministry of Health from hospitals and colleges around the country. McLellan and project consultant and midwife, Meseret Desta, a member of the Ethiopian diaspora now living in Edmonton, joined Asegedech and Mehiret in Addis to launch the second year of activities.
In addition, University of Alberta faculty Dr. Roger Turnell, maternal fetal medicine specialist, and Dr. Khalid Aziz, a neonatologist, participated in clinical skills, teaching Helping Babies Breathe, quality improvement and micro research education.
A second visit by Maggie Quance and Susan Jacoby of the School of Nursing and Midwifery is taking place May 1-16. They will focus on evaluating the students' teaching demonstrations, previously performed and videotaped at their home institutions, and conduct focus groups with them to evaluate the effectiveness of the teaching techniques learned.
"We will bring the information found back to MRU and perform statistical analysis to guide our program," Jacoby explains.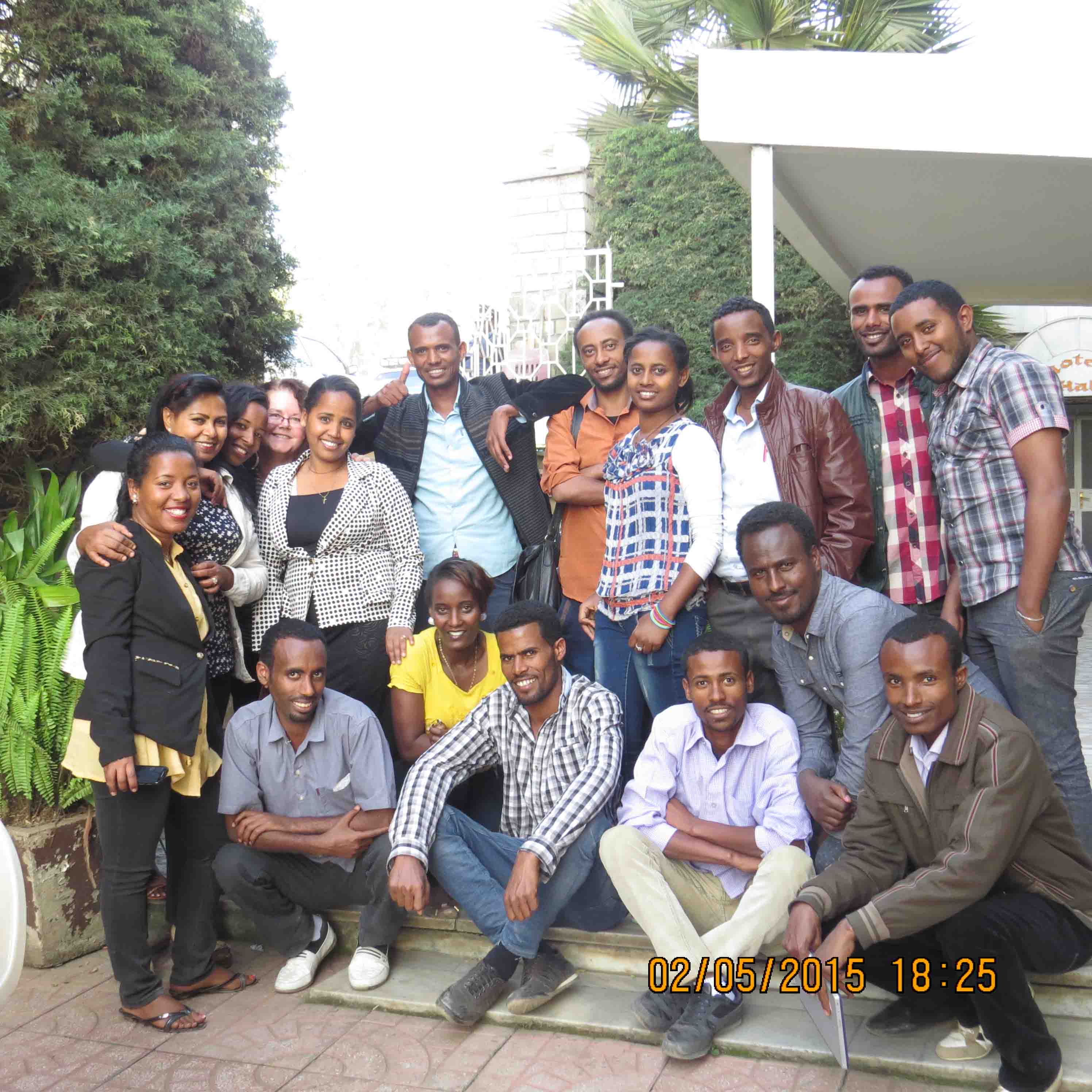 2015 students taking a break with MRU instructor Heather McLellan
Research Focus
An important focus for the MRU team is the on-going research work that is taking place alongside the tutor training program. The team has been collecting demographic data such as where students studied, number of years studied, years of practice, where students teach, and teaching resources available to them. They have also administered tests of knowledge before and after the midwifery tutors completed the MRU portion of the SMTTP. Team members also conduct focus groups about the students' experiences with the MRU program and their confidence levels before and after the program is delivered. This allows the MRU team to get a good snapshot of the students going through the program and to measure the program's impact on midwife tutors' capacity to teach.
"This five-year longitudinal research study is an important component of the SMTTP because it assesses the extent to which our interventions have affected teaching confidence and the inclusion of new teaching behaviors into daily midwife practice," explains Salyers. "This research will inform and enhance our own teaching practices; therefore, there is reciprocal benefit for the MRU team."
Cultural Learning Opportunity for Faculty
While the Ethiopian midwives are learning and gaining experience through the tutor training program, so too is the MRU group. Working in partnership with the Ethiopian Government has offered the opportunity for cultural learning, understanding and flexibility from both sides. The MRU team has needed to adjust teaching based on many different cultural and environmental factors.
"Flexibility due to transport, lack of water, supplies and power, different beliefs, male leaders, a long strong historic faith - we have had a lot to learn," says Margot Underwood, Assistant Professor in the School of Nursing and Midwifery at Mount Royal. "Participatory learning expands our understanding of the world and builds another skill set for faculty."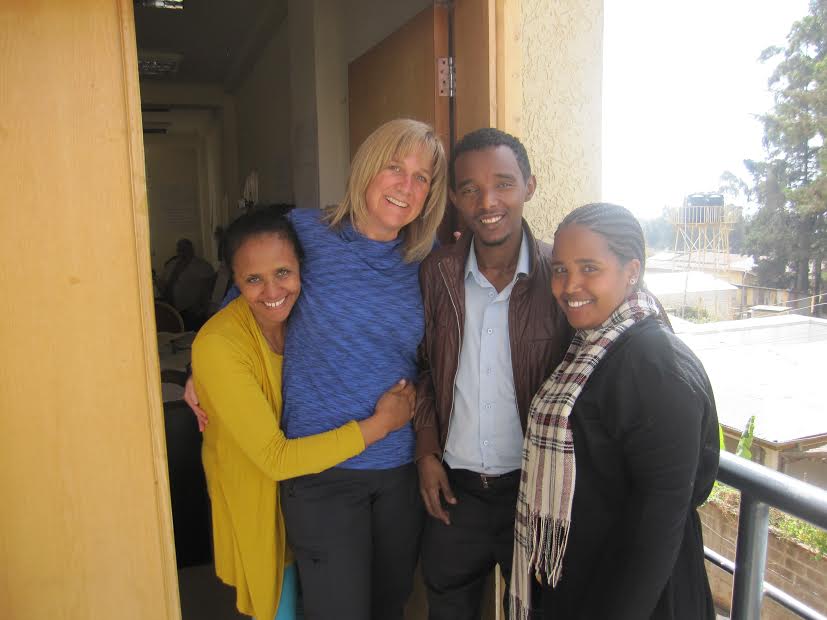 Senior Midwifery Tutors with MRU midwife Wendy Wood
Impact for MRU students
Although not directly involved in the SMTTP, MRU students benefit from the program in many ways. Teaching how to teach and doing it in another country provides faculty with further insights and increases their own teaching expertise which they can then relay to their students in classrooms at MRU. Faculty members are able to impart students with insights related to the issues and challenges faced in Ethiopia. They can offer international exposure to students by showing videos and commenting on their practical experiences there. Faculty involvement in Ethiopia also shapes how they develop curriculum at Mount Royal.
Please visit the University of Alberta's Office of Global Health's website to learn more about the Maternal, Newborn and Child Health Project and the Senior Midwife Tutor Training Program (SMTTP).
Marisa Norona - May 2015