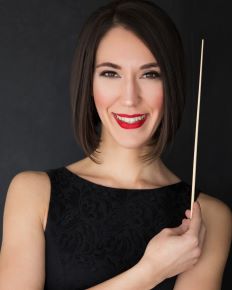 Janna Sailor is firmly established as a conductor, violinist, and musical innovator of extraordinary scope and versatility.
As founder and Artistic Director of the Allegra Chamber Orchestra, Janna leads one of the only all-female classical orchestras in the world; an ensemble dedicated to creating opportunities for women and minorities in the music industry, with a mandate of social action through music. The orchestra has been featured on CBC Radio, Radio ICI, The Walrus, The Strad magazine, The Violin Channel, The Hub, and public radio stations across Germany and France, amongst other international media.
In addition to guest conducting the major orchestras in Canada, Janna enjoys a diverse career as violinist, delving into contemporary, world and early music, improvisation, and solo engagements.
As an enthusiastic musical educator, Janna has held positions with the Vancouver Youth Symphony Orchestra and the Vancouver Academy of Music. Janna is passionate about social action initiatives that use music as an element of change within communities and has been involved with numerous sistema based musical education programs for underprivileged youth. Janna has recently relocated to Calgary, and is looking forward to working with the students and faculty here at Mount Royal!
Private Lesson Rate: $79.00 per hour.