The Research Portal is flexibly designed with different workflow and template rules accommodating form or administrative unit differences. Homepage quick links help highlight priorities, such as applications with requested revisions or upcoming deliverables due with automatic email notifications to workflow roles as applications progress through their prescribed workflows.
The web interface eliminates the need for researchers, or signing authorities and reviewers, to be physically present to gain or grant approvals. No more running around, missed connections, or toting countless paper copies to satisfy institutional requirements. Over time, administrative bottlenecks are reduced, and a complete audit trail highlighting data entry and workflow histories is secured in file logs.
---
ROMEO users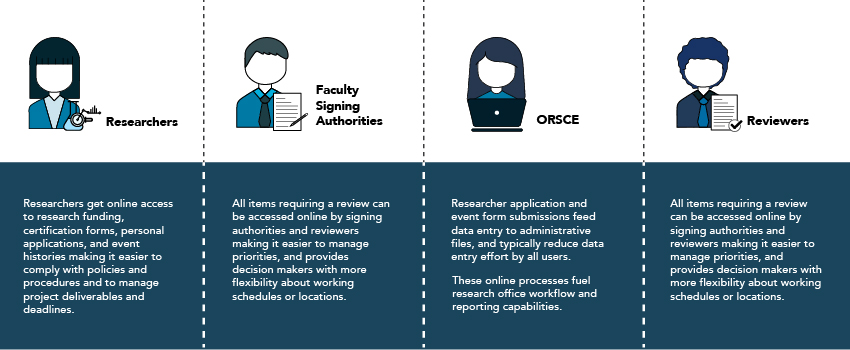 ---
Homepage
---
Event FormsEvent forms are designed to capture research funding or certification data, subsequent to an original application (for example, progress or final report or modification requests). Related event forms are found via the Applications: Post-Review links on your home page, or via the My Reminders link when an event form submission is due within 30 days.

The system administrator controls event form content and availability. In addition to the default tabs, the system administrator can add custom tabs and questions.
Note: The Event Tabs functions similarly to the Application Tabs. If you wish to know further details about each Tab, refer to the Application Tabs above.