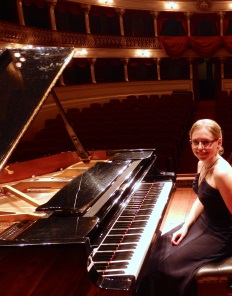 Julia Haager
Piano Faculty
On leave for the 2018/2019 Season.
Born in Calgary, German-Canadian pianist Julia Haager is an alumna of the Mount Royal University Conservatory, having studied with the late Janice Waite and participating in the Academy Program for Gifted Youth. She went on to study at the Conservatorium Maastricht (Netherlands) as well as the Cleveland Institute of Music (USA), and upon returning to Canada, spent a year in The Banff Centre's Career Development Residency Program.
An avid chamber musician, Ms. Haager is a member of the Calgary-based Duo Polaris, a professional cello/piano duo with her husband Kirill Kalmykov. Together they frequently perform internationally as well as locally at The Banff Centre, University of Calgary's Contrasts Festival, Instrumental Society of Calgary and the ProArts concert series. Ms. Haager has performed in concert with violinist Ning Feng, pianist Anton Kuerti, clarinettist Chen Halevi, violist Henk Guittart of the highly acclaimed Schoenberg String Quartet, and has received artistic guidance from world-renowned musicians such as Sergei Babayan, Colin Carr, Angela Cheng, Marc Durand, Lee Kum-Sing, Antonio Pompa-Baldi, Menahem Pressler, Thomas Sauer, Jean-Paul Sevilla, as well as members of the St. Lawrence String Quartet, the Cleveland String Quartet and the Cleveland Orchestra.
Ms. Haager is a recipient of numerous awards and scholarships, including two CBC Rising Stars Galaxy Awards and Louise McKinney Scholarship, and is grateful to the Alberta Foundation for the Arts for its generous support of her career.
A passionate educator, Julia Haager has been on faculty at the Conservatory since 2008 as piano instructor, collaborative pianist and chamber coach, where she enjoys teaching and mentoring young artists of all ages.
From 2016 - 2018, she held the position of Co-Program Administrator of the Academy, Advanced Performance and Choral Programs at Mount Royal University Conservatory.