One program could change everything
Grad shares how continuing education program changed his career for the better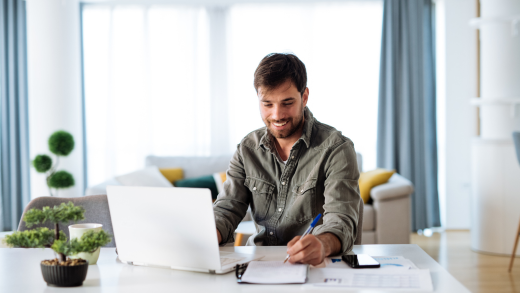 Brett Bernakevitch (not pictured) is a professional mechanical engineer in the oil and gas manufacturing industry, who earned an Extension Certificate in Professional, Technical, Business and Scientific Writing (now the Technical Writing Extension Certificate) in 2020.
Though taking your career in a new direction is a risk and isn't often easy, it doesn't have to be drastic; it can start with learning new skills that are outside of your "comfort zone". Brett started in 2019 when he began his technical writing studies at Mount Royal and is moving at ever increasing momentum toward a full-time career in technical writing.
Read on to learn more about Brett's experience at Mount Royal and what he's doing now.

Why did you decide to take the Technical Writing Extension Certificate?
The program's curriculum seemed to cover several practical, applicable subjects that would be useful for starting this new career path. I checked a couple online programs for technical writing, and this one looked like the best choice.

Was the program building on your current career path, or were you looking to start something new?
I really needed a change from my product design focused mechanical engineering job. My heart and skills just weren't in that, and the manual writing I'd done as part of that job seemed like a lane I could lean into and thrive in.

What did you enjoy most about the program?
The interaction with the instructors and fellow students was really nice. I liked getting prompt, human, helpful feedback on how I was doing and insight on how others approached the subjects. And though doing the bulk of this online was nice, I loved the suggested extra on-campus courses. They taught me tons of useful skills that I apply every day.

Do you feel like the instructors offered a good blend of theory alongside more practical knowledge?
Yes, definitely. The course material was great for introducing subjects and then giving practical examples of them using subjects people new to the field would be familiar with.

What are your future career goals? Did this Extension Certificate influence or help you to reach your goals?
I love the technical writing job I'm in now! I've also done a couple freelance jobs and I'd like to lean further into that to broaden and sharpen my skills. This certificate program sure helped me gain the knowledge I'd need to pull this career transition off. I'd done Word and manuals work, but these courses helped me focus that work on making documents more marketable.


What would you tell someone interested in taking this program but aren't sure if they should actually "go for it"?
This program will teach you great background knowledge and skills about producing professional documents. I think I was very lucky in coming across my current engineering-adjacent technical writing job, so I won't claim an "Anyone can do this: Just look at my success!" statement. However, this program teaches widely-applicable skills you can enhance your professional output with and use to stand out amongst your peers.

Continuing Education courses and programs are open for registration! Get started on learning a new skill in the next few weeks! Browse all courses and programs on Mount Royal's Faculty of Continuing Education website.