Transitional Vocational Program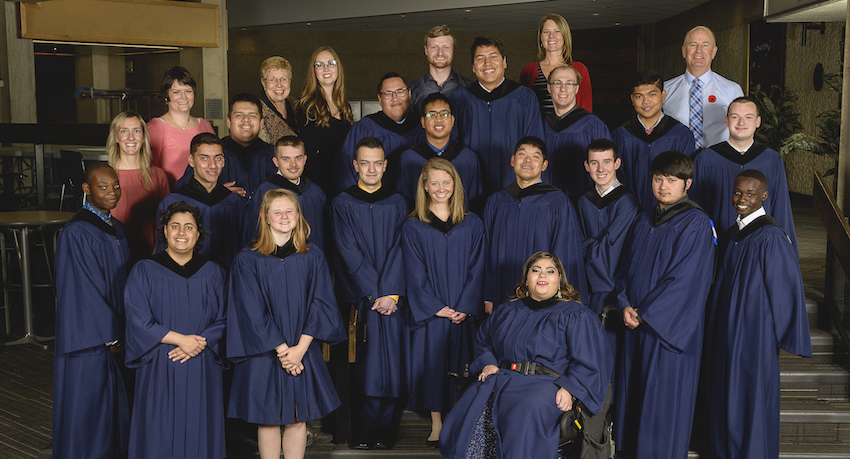 Celebrating more than 40 years of excellence!
Since 1980, the Transitional Vocational Program at Mount Royal University has been providing a variety of post-secondary programs to adults with developmental disabilities.
Read about TVP's history in this story celebrating four decades of empowerment, teamwork, professionalism, accountability and respect.
The Employment Preparation Certificate program was also established in 1980 and has, with continuous development, evaluation and change, supported students to find and maintain competitive employment. Through excellence, innovation and leadership, the full-time Employment Preparation Certificate program has become highly regarded and socially valued. Entrance into this program can be very competitive.
The Transitional Vocational Program also offers part-time studies. Courses include Functional Literacy and Math; Computers, Tablets and Smartphones; Learner's Licence Test Preparation; Life Skills; Introduction to Computer Coding; Graphic Design; Basic Living Skills; Personal Safety; Understanding the World Today; The Wonderful World of Music; Standard First Aid (accommodated), and Eating Right, Living Right. All courses are taught by certified instructors and focus on individual student learning goals. 
What's Next! - Free Virtual Info Session for TVP and IPSE on January 18th at 7pm
Join us virtually on January 18th, 2023 at 7:00pm to learn more

about the variety of programs and courses available to adults with developmental disabilities offered through the Transitional Vocational Program and Inclusive Post Secondary Education at Mount Royal University

.
Click here to RSVP.
TVP values: Empowerment, Teamwork, Professionalism, Accountability and Respect.
Contact us
Transitional Vocational Program
Room M 200 (Main Building)
Mount Royal University
4825 Mount Royal Gate SW
Calgary, AB T3E 6K6
403.440.6872
Email: tvp@mtroyal.ca