Scale AI Funding
Scale AI is a consortium of private entities, research centres, academia and high-potential startups that forms the central pillar of Canada's AI ecosystem.
As Canada's AI supercluster, Scale AI identifies cross-sector collaborative projects and provides funding and expert guidance to help Canada stay ahead of the AI curve.
Through their work, Scale AI supports working individuals who want to fast-track their AI training and skills development through a generous grant up to 50% of the tuition fees* for accredited training courses.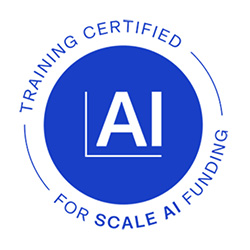 Eligible courses for Scale AI funding
The following courses in the Applied Machine Learning training program in the Faculty of Continuing Education at Mount Royal University are eligible for Scale AI grants:
Foundations of Machine Learning (XMLE 10001)
Machine Learning Models - Classification and Regression (XMLE 10002)
Deep Learning, Natural Language Processing and Computer Vision (XMLE 10003)
Machine Learning Applied Business Project (XMLE 10004)
More information about these courses can be found at mru.ca/AML.
Eligibility criteria
Students who, at the time of participating in the Applied Machine Learning training program, meet the following criteria are eligible to receive Scale AI funding:
Is employed in Canada by an employer who has a registered office in Canada.
Has not received, nor expects to receive, any other government financial assistance related to the tuition cost of the training program and its courses.
Gives consent to the Faculty of Continuing Education to release personal information (obtained from the application process and the individual's course performance data) to Scale AI and Canada's Minister of Innovation, Science and Economic Development, for the purposes of administering and reporting on the grant program.
Approval process
A member of Mount Royal's Faculty of Continuing Education will confirm your eligibility based on program criteria and the information provided by you. We will notify you of the decision by email within three to five business days. This form is considered a self-declaration form that indicates you confirm that you are eligible for Scale AI funding. Note: Students deemed ineligible for funding by Scale AI will be required to pay the full tuition fee balance owing to Mount Royal University.
Per the Canada Revenue Agency (CRA), the Scale AI grant is considered a taxable benefit and you will receive a T4A slip from Mount Royal University in the year following your enrolment.
Additional information
You must complete one Scale AI grant application form PER COURSE.
We are only able to process the Scale AI funding for students who have been notified of grant approval prior to registration and payment. Please ensure you are approved for the Scale AI grant prior to registering for any courses. Full course tuition will be payable otherwise.
This Scale AI grant is available to students until March 22, 2023 or until all the available funding is awarded.
How to apply
If you meet the eligibility criteria listed above and consent to sharing your personal information, please begin the application process.
Apply now

*Any grant awarded covers direct tuition fees only. Payment of HST, if applicable, is solely the responsibility of the student to pay.