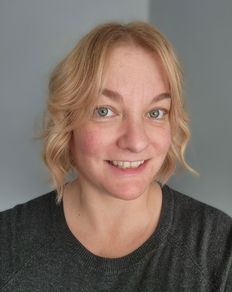 Fleur Hughes
 
Music Therapy Instructor (MMT,MTA, MT-BC) 
Fleur completed a Master's in Music Therapy degree at the University of West England in 2015. She is working towards a PHD focusing on improvisation, wellbeing and mental health. She is passionate about lifelong learning and developing awareness for the profession. She has developed education courses about a variety of music therapy topics.

Fleur has presented at various provincial,national and international conferences and symposiums. These include: World Congress of Music Therapy (2020), The Immigrant Education Society (TIES),  Conference (2020), Online Conference for Music Therapy (OCMT) (2017 and 2019), Canadian Mental health Association "We are Stronger" Conference (2018).
Fleur also volunteers on the board  of our provincial association (MTAA) serving as the Ethics Director.  She was a recipient  of the advocacy award from the Canadian Association of Music Therapists (CAMT) in 2020.