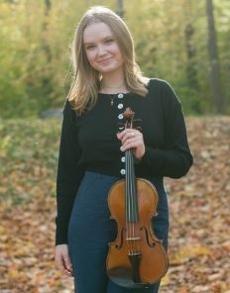 Georgia Vogeli

Violin Instructor

Email: gvogeli@mtroyal.ca

Canadian violinist Georgia Vogeli has been recognized as a bright, refined and sensitive musician. She is an imaginative performer, collaborator and educator who seeks to make music more accessible to local communities and to promote holistic music education. Georgia has performed extensively across Canada and recently was the recipient of a 2020/21 Alberta Foundation for the Arts Award.
 In 2018, Georgia toured with Opera on the Avalon to present the Canadian premiere of As One in Newfoundland where audience members called it "amazing", "inspired" and "fulfilling" [Business and Arts, NL]. Having participated in masterclasses and festivals across North America, Georgia has played for artists including Noah Bendix-Balgley, Teng Li, Régis Pasquier, Ning Feng, the Pražák Quartet, the Rosamunde String Quartet and the St. Lawrence String Quartet.
 Georgia's involvement in the Montréal music community includes concerts with Serenata at St. John's, Orchestre Philharmonique et Choeur des Mélomanes and Ensemble Urbain, among others, as well as outreach at local elementary and high schools. She has recorded for various albums in both Montréal and Calgary, most recently recording strings for the 2020 Busty and the Bass album, Eddie.
 Georgia holds a Bachelor of Music, with honours, from the University of Toronto where she was a recipient of the Ethel Berney Jackson, Sound Post and Kathleen Parlow scholarships. She recently earned a Master's degree from McGill University's Schulich School of Music as a recipient of the Schulich Scholarship. In 2021, Georgia will complete her Artist Diploma at Schulich, where she is a recipient of the Robin MacLennan Graduate String Award. Georgia's primary teachers have been Jonathan Crow, Denise Lupien and Axel Strauss.
Being an alumna of Calgary's MRU Academy program and the Calgary Youth Orchestra, Georgia's teachers were Mary Jane Vandekerkhove, Michael van der Sloot and William van der Sloot. Georgia has performed with the Calgary Civic Symphony and in 2019 she was an instructor at the Calgary Music Academy summer program.
Georgia would like to express her gratitude to the Alberta Foundation for the Arts for their support.

Private Lesson Rate: $79.00 per hour, $39.50 per half-hour.