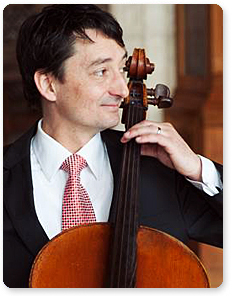 Nigel Edmonton-Boehm
Dip. Perf., B.Mus., M.Mus.

Strings Faculty
Laureate of the 2002 Debut Competition held in Montreal, Mr. Boehm was featured in a CBC sponsored recital in the spring of 2003, and nationally broadcasted on the radio program Music from Montreal. An active performer, Nigel continues to participate in many recitals and chamber music series, as well as featured soloist on two occasions with the Lethbridge Symphony Orchestra. He has served as an adjudicator and juror, instructor of cello at the Valhalla Summer Music Festival (Silverton, BC), and cello teacher and coach at Mount Royal College Academy and Conservatory. Mr. Boehm is currently Assistant Principal cello with the Red Deer Symphony, Principal cello with the Bow Valley Chorus Orchestra, a regular substitute with the Calgary Philharmonic Orchestra, and active as a freelance musician with orchestras in British Columbia, Quebec, and Montana.
Over the past four years, Mr. Boehm has balanced a career in performance along with working as a consultant and dealer for Wilder & Davis Luthiers Inc. in Montreal, Qc, specializing in the restoration, fabrication, and sales of fine stringed instruments. Nigel is responsible with managing a workshop in Canmore Alberta where he also continues his apprenticeship in the Luthier craft.
Mr. Boehm has been recognized for his musical achievements through his participation and success in many competitions and awards. Notably, he was the string finalist in the Canadian Concerto Competition (2000), and a prizewinner in the 4iemme Concours International d'Orford (1999).
Following his formal education, Nigel Boehm spent two terms as an artist in residence at the Banff Centre for the Arts, performing and studying with many distinguished international musicians. Mr. Boehm holds a Performance Diploma completed at Mount Royal Conservatory or Music, a Bachelor of Music from McGill University in solo performance, with a minor in Music History and Musicology, and a Masters of Music in solo performance also completed at McGill University.