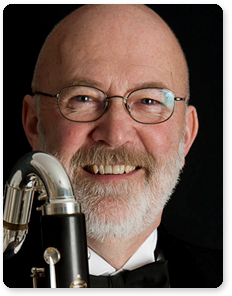 Stan Climie
B.Mus.
(Clarinet)
Stan Climie is regarded as one of the foremost performers of the modern bass clarinet repertoire. He has championed works by composers from around the world and is especially known for premiering new works written for solo bass clarinet.
Stan has earned distinction as one of Calgary's most versatile musicians. For over thirty years he has been bass clarinetist with the Calgary Philharmonic Orchestra. He has also performed with the Red Deer Symphony, the Royal Winnipeg Ballet Orchestra, the Banff Festival Orchestra, the Edmonton Symphony, and the Regina Symphony.
Known for his gregarious spirit, Stan is highly acclaimed as a chamber musician and plays a wide spectrum of music for a variety of combinations of instruments and performance venues. In his work as a founding member of Ensemble Resonance, he explores his passion for the unique and the unusual with performances/masterclasses throughout western Canada and at the Cantai Festival of the Arts in Taipei, Taiwan.
An enthusiast for music and the stage, Stan regularly performs in the pit for productions with Theatre Calgary, Alberta Theatre Projects, touring musical productions, StageWest and recorded the soundtrack for Old Trout Puppet Theatre's Don Juan.
A dedicated teacher, Stan inspires students of all levels at the University of Calgary, Mount Royal University and as a clinician in area schools.
Private Lesson Rate: $79.00 per hour.