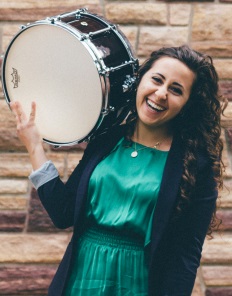 Nia Devetzis is a percussionist driven by the vivid and vast world of contemporary music, whether as a soloist or chamber musician. As a teaching artist, she is dedicated to education through performance and instruction, leading by example and questioning audience expectations by asking, what exactly is percussion?
Notable performances include solo engagements with the Calgary Philharmonic Orchestra, and Calgary Wind Symphony, as well as Calgary's contemporary music and sonic arts festival, Forms of Sound and the Stratford Summer Music Festival. As a chamber musician, she is dedicated to the support of new music in Calgary as a core member of Timepoint Ensemble and has made appearances with The Rubbing Stone Ensemble and Land's End Chamber Ensemble. Other chamber music experiences include collaborating with TorQ Percussion quartet at their annual summer seminar, and performing with So Percussion at Princeton University. 
Nia's creative work expands across disciplines. She has been a collaborator for devised theatre works at the University of Calgary, including Conduct, Pierrot's Gender Reveal Party and Just like the Moon performing as musician/actor. This work continues with Mudfoot Theater on Yabber, where she has built instruments and musical puppets alongside story and music development.
Along with her duties as an instructor at the Mount Royal Conservatory, Nia is an active educator and clinician in Calgary. She completed a Master of Music in Percussion Performance with Rod Squance at the University of Calgary. In addition Nia is a member of the creative faculty at the Banff Centre for Arts and Creativity for the annual youth orchestra symposium.
Private Lesson Rate: $69.00 per hour.