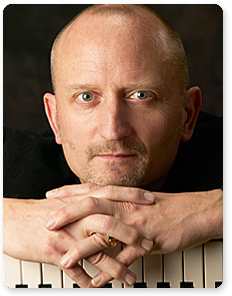 Derek Stoll
B.Mus. (Comp.)

(Keyboards)
Private Lesson Rate: $110.00 per hour, $55.00 per half-hour.
Derek Stoll obtained a Bachelor of Music (Composition) from the University of Calgary in 1983. Since then he has been involved in numerous facets of the music business. He toured with the showband Pegasus for almost four years throughout North America and Japan. He has taught science and music in the BC school system and is a co-founder of Musician Development Workshops.
He was the Managing Director of the Alberta Summer Music Workshop Association (Musicamrose) from 1989 - 1995, during which time he performed regularly on low brass and bass with performers such as Bob Stroup, Tommy Banks, PJ Perry and Bob Tildesly.
Since moving back to Calgary in 1995, Mr. Stoll has performed extensively as a jazz pianist and bassist, working with musicians including Bob Day, Ralf Buschmeyer, Vicky Oveson and Pa Belliveau. He performs/has performed with groups including: Verismo, Terrain, Masacote, the Bob Day Quartet, the Prime Time Big Band, and the Real Deal, often backing up international performers such as: Phil Woods, Oliver Jones, Phil Nimmons, Lew Tabackin, Guido Basso, Jens Lindemann and Hugh Fraser.
He has been the lead consultant, and is an examiner, for Conservatory Canada's new Contemporary Idioms Syllabus. He has lectured across the country introducing piano teachers to the new system.
Mr. Stoll has taught music for almost three decades. As an educator, one of his primary motivations is to facilitate students' innate creativity, which he does by imparting a thorough knowledge of musical structure, harmony and style and by allowing students to explore musical creativity, which he believes is an integral part of the learning process. He has been an instructor at the Mount Royal Conservatory since 2001.