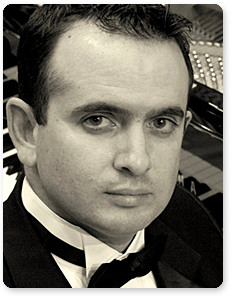 Ariel Gonzalez
B.Mus., M.Mus.

Accompanist
Piano Faculty
Ariel Gonzalez is a native of Cuba now living in Calgary, Canada. He started his career as a musician at an early age, attending specialized music schools in his home country. He graduated from the National School of Music of Cuba in 1994. Mr. Gonzalez holds a Bachelors' Degree in Piano Performance and Chamber Music from the Higher Institute of Art of Havana, Cuba where he graduated with the highest honours (Summa Cum Laude) in 1998. He studied with important and well-known Cuban pianists such as Ileana Bautista, Andres Alen, and Ignacio Pacheco. Mr. Gonzalez came to Canada in 1999 after being accepted on a full scholarship to study the Master's Degree in Piano Performance Program at the University of Calgary, Canada where he studied under the guidance of Professor Charles Foreman, graduating in 2001.
Mr. Gonzalez received several awards in numerous piano competitions in his native country during his years as a student in both the National School of Music and the Higher Institute of Arts of Havana, Cuba. He has also performed as a soloist and as a member of chamber ensembles in Cuba, Italy, Switzerland, and Canada.
Mr. Gonzalez currently teaches piano at Mount Royal University in Calgary where he has been a faculty member since 2001, as well as in his private studio. He has also been invited several times to participate in the Mountain View Connection Festival of Song and Chamber Music, held every summer in Calgary. Mr. Gonzalez has also been an adjudicator for festivals and competitions on several occasions. He frequently performs throughout his home city, keeping a busy performance schedule as a soloist and as a chamber musician.