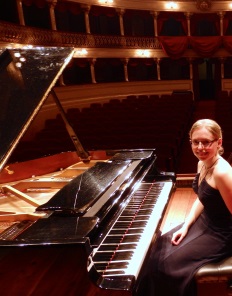 Julia Haager
Piano Faculty
Online Instructor

An artist of great intuition and depth, pianist Julia Haager enjoys a successful international performing and teaching career.

Born to German parents in Calgary, Canada, Ms. Haager began playing the piano at the age of four and later went on to study at the Conservatorium Maastricht in the Netherlands and the prestigious Cleveland Institute of Music in the United States. She studied with world-renowned pianists Avi Schönfeld, Antonio Pompa-Baldi and Sergei Babayan and over the years also received artistic guidance from Colin Carr, Angela Cheng, Pietro de Maria, Menahem Pressler, Dan Zhaoyi, Donald Weilerstein, members of the St. Lawrence String Quartet, Cleveland String Quartet, and the Cleveland Orchestra, among others. She is a recipient of multiple awards and career development grants from the Government of Alberta, whose support also led to further studies at the Banff Centre for the Arts and Creativity. 

Ms. Haager is an avid recitalist and chamber musician and has performed in concert with violinist Ning Feng, pianist Anton Kuerti, clarinettist Chen Halevi, violist Henk Guittart of the highly acclaimed Schoenberg String Quartet, to name a few. As a member of the Haager-Kalmykov Duo, a professional chamber ensemble with her husband Kirill Kalmykov, she performs extensively throughout North America, Europe, Russia, and the Middle East, most recently having completed a concert tour of Germany, Poland, and Russia in February 2020. 

A passionate educator, Ms. Haager divides her time between Canada, Europe, and the Middle East. She is currently Head of the Piano Department of the Edward Said National Conservatory of Music (Palestine), and has been on faculty at the Mount Royal University Conservatory in Calgary (Canada) since 2008, where she also held the position of Program Administrator of the Academy, Advanced Performance, and Choral Programs from 2016 to 2018. Additionally, she is much sough-after throughout Europe as a guest teacher as well as collaborative pianist for international festivals and competitions. A firm believer in creating equal opportunity for all, she is committed to cultivating a deep and sincere love for music, an appreciation for excellence, as well as promoting the importance of raising compassionate and socially responsible young artists. 
Private Lesson Rate: $89.00 per hour.