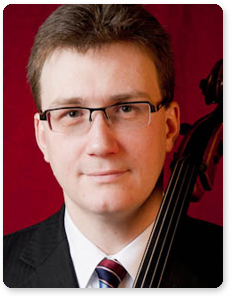 Kirill Kalmykov
B.Mus, M.Mus (Cello Performance)
String Faculty (Cello), Online Instructor
 
Known for his expressive style and thoughtful interpretations, Russian-Canadian cellist Kirill Kalmykov has appeared in concert throughout the former USSR, Europe, the Americas, Japan, and the Middle East, being equally at ease as a soloist, chamber musician, and orchestra player. 
Born in St. Petersburg, Mr. Kalmykov received his professional music training in Russia, the United States, and Canada. Over the years, he has also worked with many world-renowned artists such as Valentin Berlinsky, Colin Carr, Henk Guittart, Rudolf Jansen, Menahem Pressler, Mstislav Rostropovich, and Donald Weilerstein, among others. 
With over thirty years of international performing experience, Mr. Kalmykov has shared the stage with amny distinguished musicians and ensembles, including Rudolf Jansen, Pavel Kolesnikov, Andrey Shibko, Minsoo Sohn and Olivier Thouin, as well as the St. Petersburg Cello Ensemble, Moscow String Quartet, the University of Calgary String Quartet, and the Kensington Sinfonia. He has collaborated with countless arts organizations including the Davos, Beauvais, and Kanonji festivals, Calgary Bach Society, Calgary Opera, Instrumental Society of Calgary, Banff Centre for Arts and Creativity, and the Honens Festival. As a member of several European and North American orchestras, including the St. Petersburg Philharmonic (Russia) and the Calgary Philharmonic (Canada), he has worked with many distinguished conductors such as Yuri Temirkanov, Mariss Jansons, Hans Graf, and Sir Neville Marriner. 
Since 2005, Kirill Kalmykov and his wife, German-Canadian pianist Julia Haager perform as the Haager-Kalmykov Duo. Praised for its artistry and creative programming, the duo is a recipient of numerous career grants and regularly concertizes in North America, Germany, Poland, Portugal, Russia, and the Middle East. 
For more than two decades, Mr. Kalmykov has enjoyed a successful international teaching career. In addition to being on faculty at the Mount Royal University Conservatory (Canada) and the Edward Said National Conservatory of Music (Palestine), he frequently coaches the Portuguese Youth Orchestra, and is in high demand as an adjudicator as well as cello, chamber, and orchestra guest instructor. Additionally, Mr. Kalmykov held the position of Program Administrator of the Academy, Advanced Performance and Choral Programs at Mount Royal University from 2016-2018. 
Mr. Kalmykov currently divides his time between Canada, Europe, and the Middle East, where he enjoys immersing himself in diverse musical and cultural traditions, helping people connect through music and creating a dynamic learning environment in which music education is accessible to everyone. 
Private Lesson Rate: $89.00 per hour.