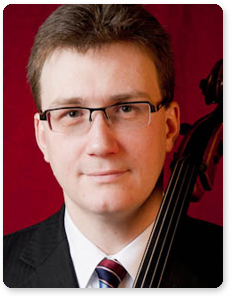 Kirill Kalmykov
B.Mus, M.Mus (Cello Performance)
String Faculty (Cello)
On Leave
Praised for his expressive style and thoughtful interpretations, Russian-Canadian cellist Kirill Kalmykov has appeared in concert throughout the former USSR, Europe, Latin America, Japan, the United States and is equally at ease as a soloist, chamber and orchestra musician.

Born in St. Petersburg, Mr. Kalmykov received his training in Russia, the United States and Canada and holds a Bachelor of Music degree summa cum laude and a Master's degree in Cello Performance. Kirill has also received professional training and has been highly influenced by many world renowned artists such as Menahem Pressler, Colin Carr and Henk Guittart, among others.

Over the years, Mr. Kalmykov was a full-time member of several symphony orchestras including the St. Petersburg Philharmonic (Russia) and the Calgary Philharmonic, and has worked with many distinguished conductors, including Yuri Temirkanov, Hans Graf and Sir Neville Marriner.

Mr. Kalmykov is a passionate chamber musician, performing in Canada and internationally with chamber groups and art organizations including the St. Petersburg Cello Ensemble, the Moscow String Quartet, the University of Calgary String Quartet, Kensington Sinfonia, Instrumental Society of Calgary, the Mountain View Connection and the Esther Honens Festival. He has appeared in concert with Edmond Agopian, Charles Foreman, Rudolf Jansen, Pavel Kolesnikov, Christie Reside, Minsoo Sohn and Olivier Thouin, among others. In 2005, Mr. Kalmykov and his wife Julia Haager formed Duo Polaris, a professional Calgary-based cello/piano ensemble that frequently performs internationally and locally at The Banff Centre, the Mountain View Festival, the University of Calgary's Contrasts Festival and the Instrumental Society of Calgary concert series.

Mr. Kalmykov enjoys a successful teaching career and is on faculty at the Mount Royal University Conservatory. In addition to being on faculty at the Conservatory's Academy Program for Young Artists, Mr. Kalmykov has also taught at The Banff Centre's CelloFest and Calgary's Cello Symposium, and has adjudicated festivals and given masterclasses across Western Canada.

From 2016 - 2018, Mr. Kalmykov was Co-Program Administrator of the Academy, Advanced Performance and Choral Programs at Mount Royal University Conservatory.