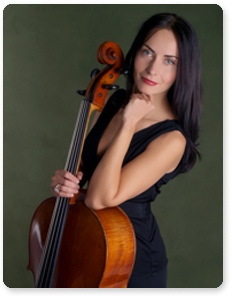 Olena Kilchyk
Dip. Mus., M.Mus.
Strings Faculty;
Early Childhood Faculty (Early Childhood Strings)
Olena Kilchyk, native of Odessa, Ukraine, graduated from the Odessa State Music College and the Odessa State Conservatory. While in Ukraine, she was a principal cellist and soloist of the Academia Odessa Chamber Orchestra, and Virtuosos of Odessa Chamber Orchestra. She also worked for the Odessa State Philharmonic and Odessa Opera.
After emigrating to Canada, Olena received a Master of Music degree in Cello Performance from the University of Calgary. She had the opportunity to study with such renowned cellists as Shauna Rolston, George Niekrug, Tania Prochazka, Raphael Woolfish, Aldo Parisot, and Amanda Forsyth. Olena was invited to perform at the Banff Summer Festival, Resound Festival, Enbridge Festival, Orford Summer Festival, U of C Chamber Music Festival, Mountain View Festival and Bach Festival.
Olena has been a member of the Prince George, Okanagan and Red Deer symphony orchestras, Calgary Philharmonic Orchestra, Sinfonia Alberta Chamber Orchestra, Baroque Modern Chamber Orchestra, Players Chamber Ensemble and Saint Crispinus Chamber Ensemble.
Ms. Kilchyk toured extensively throughout Russia, Europe, Canada, and China. She is a co-founder of Sempre la Musica Chamber Ensemble, Helia Chamber Ensemble, Denali Duo and Bel Canto Strings. Many of her performances have been broadcast on the CBC and other radio and television networks.
In addition to her performing schedule, Olena has a very busy teaching studio. She is a faculty member and Off-Campus Instructor of the Conservatory at Mount Royal University.
Private Lesson Rate: $79.00 per hour.