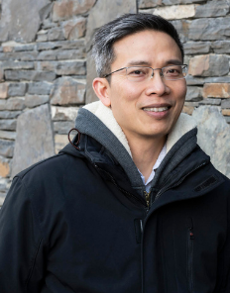 Malcolm Lim
B.Mus. w. Distinction

Percussion Faculty

Malcolm Lim (Singapore-born) studied orchestral percussion at McGill University and L'Universite de Montreal. With the support of the Alberta Foundation and the Canada Council, he has enhanced his training in New York City and Rio de Janeiro, Brazil. His teachers include Pierre Beluse, D'Arcy Gray, and Louis Charbonneau (Orchestral percussion), Paul Walker (drum set), Glen Velez (frame drums), Michel Mirhige (Arabic percussion), Marcos Suzanno (Brazilian percussion), Alessandra Belloni (Italian percussion), and Trichy Sankaran (S. Indian percussion).
Mr. Lim has performed with the Calgary Philharmonic Orchestra, Calgary Opera, and the Red Deer Symphony Orchestra. He has taught at the Escola de Musica of the Federal University of Rio de Janeiro (Brazil), the Federal University of Bahia (Brazil), the University of Lethbridge, Augustana University College, Red Deer College Conservatory, and The Banff Centre for the Arts. Malcolm has published several articles in Percussive Notes, the journal of the Percussive Arts Society. His work has been broadcast on CBC.
Malcolm is exploring the intersection of music, the martial arts, and leadership and has worked at The Banff Centre Leadership Development as  creative faculty since 2002.
Private Lesson Rate: $79.00 per hour.