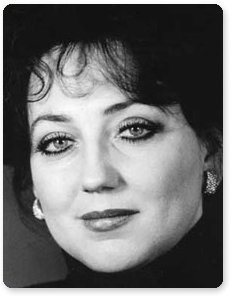 Heather Meyers
M.Mus.
Vocal Arts Faculty, Advanced Performance Program
Heather Meyers, contralto, has performed with many of the most eminent opera companies throughout the United States, Canada, and Europe, including: La Scala, Milan, Lyric Opera of Chicago, Washington National Opera, San Francisco Opera, Opera Company of Philadelphia and Oper Bonn. She made her Carnegie Hall debut in Mendelssohn's Elijah and has also been heard in New York at Alice Tully Hall and at Teatro San Babila, and La Scala Teatro Piccolo in Milan, Italy.
Ms Meyers has sung as soloist with the Mostly Mozart Orchestra (New York), WDR Orchestra (Cologne, Germany) , Boston Symphony, Baltimore Symphony and most recently, Edmonton Symphony. She has performed with such distinguished conductors as Sir Andrew Davis, Donald Runnicles, Raymond Leppard, Marco Armiliato and Seiji Ozawa. After having sung for Maestro James Levine, Ms Meyers was contracted for eight productions at the Metropolitan Opera. Other concerts and recitals have taken her to Brazil, Washington D.C., Vienna, Cologne, and Canada.
Ms Meyers has won numerous awards and competitions worldwide, including: The Metropolitan Opera Council, The Enrico Caruso Competition in New York, The International Vocal Competition in Rio de Janeiro, Brazil, The Puccini Foundation, The Wagner Society of New York and The Matheus Sullivan Foundation of New York.
Ms Meyers has studied with some of the greatest pedagogues and artists of our time, including: Mr. Edward Zambara, Hans Hotter, Guilietta Simionato and John Wustman. She earned a Master of Music degree with Mr. Edward Zambara at the St. Louis Conservatory of Music and continued her studies with Mr. Zambara in the highly selective Artist Diploma program at the New England Conservatory of Music in Boston. She is also an alumna of the world's foremost school of Lieder, the Franz-Schubert-Institut in Baden bei Wien, Austria.
Ms Meyers is the founder and director of the Vocal Arts Institute of Alberta (VAIA), based in Calgary, Canada. VAIA is a non-profit organization with a commitment to excellence and a mission to serve music, the community, and to provide opportunities for young musicians at the highest international standards. In 2013, VAIA became affiliated with the Franz-Schubert-Institut.
During the summer of 2014, Ms Meyers was on the music faculty at the institute with such distinguished master teachers as Christa Ludwig, Helmut Deutsch, Julius Drake, Roger Vignoles, Robert Holl and Elly Ameling.
Ms Meyers is a dedicated teacher and lecturer whose students have performed on such world stages as the Metropolitan Opera, Lyric Opera of Chicago, Glyndebourne Festival, Glimmerglass Opera, L'Opera de Montréal and the former New York City Opera. Her students have won regional and international competitions including: Operalia,Wagner Societies of New York and Washington, D.C., Metropolitan Opera National Council Auditions and the Merola Opera Program. Many of her students have attended distinguished schools and programs worldwide. She is a specialist in teaching Bel Canto and Lyric Diction and has twelve years of experience directing and administrating opera programs, classes in music history, chamber music and vocal repertoire.
Ms Meyers has given numerous masterclasses and lectures and raised funds for worthy charities and arts organizations. She has taught at Barnard College in New York, University of Hartford Connecticut as a guest lecturer and master teacher and assisted the distinguished opera director, Colin Graham at the St. Louis Conservatory of Music. She has taught at the University of Lethbridge, the University of Alberta, Camrose and at Grant McEwan University Alberta College Conservatory and is the Founder and Director of the Vocal Arts Institute of Alberta Summer Chamber Music Festival which focuses on German Lieder and the music of J.S. Bach. She has served on numerous juries and boards and continues to work tirelessly to create events and programs that educate and inspire audiences and the next generation.