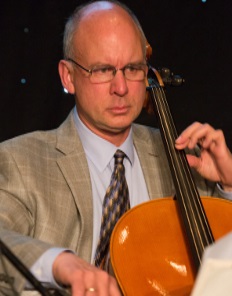 Tom Mirhady
B.Mus., M.Mus.
Strings Faculty;
Off-Campus Instructor, Cello (Rosemont)
Originally from Vancouver, Tom Mirhady has degrees from McGill (B.Mus.) and Juilliard (M.Mus.).
He was a member of the Calgary Philharmonic 1979-2018. Before joining the CPO in 1979 he was a member of the Edmonton Symphony, and played with the Vancouver Symphony during the 85-86 season. He has performed chamber music most years in Calgary, including solo recitals and much of the trio repertoire with the Springbank Trio. He was a member of Kensington Sinfonia and played concerts in recent seasons with Rohub Persian Music.
He launched an adult symphony appreciation courses for the Calgary Board of Education and the University of Calgary, taught at the Suzuki Talent Education Society and continues to teach privately, at the MRU Conservatory and the Amici Strings Program.
He teaches students of all ages, gearing the teaching style to their personal goals.
He and his wife, Barbara Lane have two grown daughters, Brenna and Vera.
Private Lesson Rate: $79.00 per hour, $39.50 per half-hour.