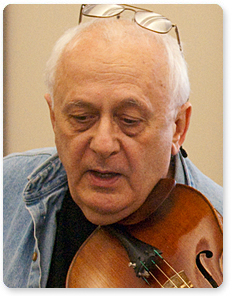 Nick Pulos
B.Mus., M.Mus.

Strings Instructor (violin/viola)


Born in Calgary, Nick Pulos studied with Ranald Shean in Edmonton and later at the University of Alberta with Thomas Rolston. At the Royal Academy of Music in London he worked with Frederick Grinke and also spent a year studying with Stephen Kondaks at McGill University.
He was a founding member of the National Arts Centre Orchestra, and also played with the Edmonton Symphony as principal violist and guest soloist, the Royal Philharmonic, the Welsh Philharmonia, the Swiss Radio Orchestra and the Calgary Philharmonic Orchestra. He served as principal second violinist of the Alberta Baroque Ensemble for many years and performed as a violist and violinist with numerous chamber ensembles throughout Alberta, British Columbia, England and Switzerland. During the 1980s he was principal violist of the ITV In Concert Orchestra that was featured in numerous world-wide television specials with pop artists such as Harry Belafonte, Tony Bennett, Ray Charles, Henry Mancini, and others.
Nick Pulos has given many premieres, including the first performance in North America of Malcolm Arnold's Concerto for Viola and Orchestra, and has been heard as a soloist on CBC Radio. As a conductor, he was music director of the Calgary Youth Orchestra from 1988-1992, and has conducted the Calgary Philharmonic Orchestra, the Alberta Baroque Ensemble, the Edmonton Symphony Orchestra, the Edmonton Youth Orchestra, the Vancouver Academy Orchestra and string orchestras at MRU and the Banff Centre. Besides teaching viola and violin for the Conservatory, Mr. Pulos is a faculty member of Morningside Music Bridge where his duties include teaching, chamber coaching and conducting.
His students have continued their studies at music school in Canada and abroad, including the Conservatory of The Hague, Glenn Gould School, Juilliard, McGill, Oberlin, Yale, University of Calgary, University of Michigan, and the Vancouver Academy; others are now professional players playing with orchestras in Calgary, Edmonton, Holland, Japan, Montreal, New York, Quebec City, Stockholm, Winnipeg, etc.