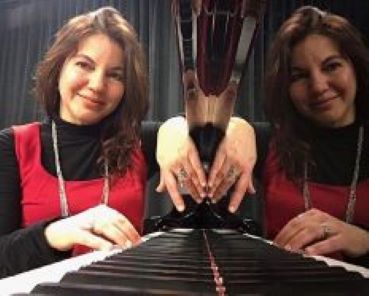 Ariana Rodriguez
B.Mus, M.Mus
Piano Faculty


Ariana Rodríguez was born in Havana Cuba, into a professional musical family (Nilo Rodríguez/ Composer; and Elvira Fuentes/ Ear Training Teacher). She started her academic piano instruction and musical education at the age of seven. During the first years of musical education, she attended two specialized schools of music in Havana: the Conservatory A. G. Caturlas first, and later on, the National School of Music. In 1991 she graduated with distinction at the Higher Institute of Art, Havana, with a degree in Piano Performance. Miss Rodríguez took regular piano lessons from important Cuban pianists such as Mercedes Esteves, Ninivska Fernadez-Brito, Andrés Alén, and Victor Rodríguez. In masterclasses, she received instruction from well known local pianists (Jorge Luis Prats and Frank Fernandez) and from foreign pianists visiting Cuba (Stanislav Pochekin, Konstantin Sherbakov, Ricardo Requejo). From 1991-98, Ariana Rodríguez taught Piano and Piano Literature at the Higher Institute of Art in Cuba. Continuing her professional career, she participated in several important music concerts and festivals throughout Cuba, performing as a soloist (both in piano recitals and with symphony orchestras); and as a chamber musician.
She came to Calgary in 1998, after receiving a scholarship from the University of Calgary. In April 2000 she completed her Masters in Piano Performance at the University of Calgary, where she studied with Vladimir Levtov, Charles Foreman and Patricia Jewell. While completing her degree in Canada, she took part in several festivals and concerts, being among the winners of the Concerto Competition for 1999. During the period of 1999 to 2004, she worked actively as a vocal coach and accompanist. In 1999 Ariana found her own piano studio in Calgary (Ariana's Piano Studio). In 2002, Miss Rodríguez joined the teaching staff at Mount Royal University Conservatory. She is also the music director of Saint Martin's Anglican Church and has adjudicated for local music festivals. A musician of wide interests, she is active as an accompanist and soloist, as well as a composer and arranger. She is the pianist and co-founder of Très Belles Trio and Harmonia Trio. In her spare time, Ariana plays and sings with several salsa bands in the city of Calgary.
"Ariana Rodríguez has a mature understanding of pianism and exhibits a keen ear, especially for repertoire that is highly colored and nuanced. She brings a very personal stamp to the music and balances the syntax and organization of the musical elements with expressive details".
Malcolm Edwards
Professor and Head
Department of Music, University of Calgary
 Private Lesson Rate: $79.00 per hour.