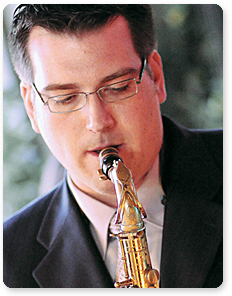 John Roggensack is a saxophonist who is a native of Edmonton now residing in Calgary. He is a versatile musician, leader, sideman, composer, and arranger and jazz educator. John is a graduate of Grant MacEwan Community College in Edmonton, and completed his studies at the Liverpool Institute for Performing Arts in Liverpool UK. While in the UK, John held a residency with DJs Alex Laverly and Lewis RV for two years at Liverpool's top club, The Zanzibar, where they re-introduced the clubbing generation to live improvisation.
Since his return from the UK John has made a home for himself in Calgary, and is an in-demand clinician and adjudicator in local schools and festivals. He is the jazz coordinator at Bishop Carroll High School in Calgary.
Over the years John could have been seen backing up artists like The Coasters, The Drifters, Little Anthony and the Imperials, Mary Wilson, Mike Cowie, Jamiroquai, Bob Mintzer, Doc Severson, Allen Vizzuti, Ingrid Jensen and Chris Snell, to name a few. When not playing with Calgary's premiere R&B band, The Real Deal, John can be found in the lower Bow River wearing waders stalking trout with a fly rod.