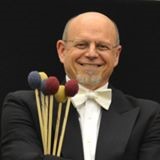 Mike Schuett
B.Mus., M.Mus.

Early Childhood, Percussion Faculty
Mike Schuett is well-known as a percussionist who offers extensive expertise in a broad spectrum of musical styles and genres. Since 1982, he has appeared regularly with the Calgary Philharmonic Orchestra as a classical percussionist. In demand as a freelance musician, Mike performs with the Calgary Opera, Alberta Ballet, Stage West, the Dixie Knights and several choral groups including the Bach Festival Society and Catherine Glaser-Climie's children's choirs. Mike is currently a percussion instructor at the Mount Royal College Conservatory, an examiner for the Toronto Royal Conservatory of Music, and is revising the percussion syllabus for the Toronto Royal Conservatory.
He has gained even wider recognition within music education circles through the publication of several articles on mallet percussion techniques. Mike has been an adjudicator for music festivals throughout Alberta, a clinician for percussive arts at the Banff Centre, and an artist/instructor for the Calgary Board of Education. On occasion, he has been known to take "work" on the cruise ships in the Caribbean.
Private Lesson Rate: $89.00 per hour.