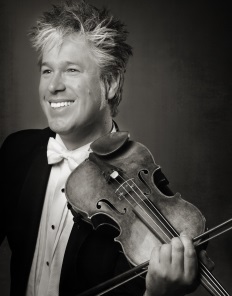 Donovan Seidle
B.Mus, M.Mus
Donovan Seidle is a versatile musician; working steadily as a composer, arranger, orchestrator, violinist, teacher, and coach.
He holds a BMus in Performance and Composition from the University of Calgary (studio of Edmond Agopian, violin; and William Jordan, composition) and an MMus in Performance from Northwestern University (Roland and Almita Vamos, violin). His upbringing here in Calgary had him heavily involved with the Academy program, the Calgary Fiddlers and the Calgary Youth Orchestra within the Conservatory.
Since 2003, he has served as one of the three concertmasters of the Calgary Philharmonic Orchestra, which has included soloing and new works commissions. He is an active participant in the municipal artistic community, participating regularly in chamber ensembles and multi-disciplinary projects outside of the orchestra, including having been the Artistic Director of Calgary's own Kensington Sinfonia for 13 years. He travels to contribute with the I Musici Chamber Orchestra of Montreal, and Vancouver Symphony Orchestra. Past projects have included the inaugural YouTube Symphony Orchestra project at Carnegie Hall, the Opening and Closing Ceremonies of the Vancouver 2010 Olympic Winter Games, and the Aspen Contemporary Ensemble, amongst numerous recording sessions, summer festivals and guest-solo spots locally and internationally.
Donovan continues to be a commissioned composer/arranger writing for various media. He has successfully delivered original commissions to several orchestras, produced soundtracks for television and film, live theatre, orchestra shows, and the concert stage; and spent his 09/10 sabbatical from the Philharmonic as Associate Music Director for the Emmy Award-winning ceremonies of the Vancouver 2010 Olympic Winter Games. Since then, he has written for such production shows as the 2011 Pan-Arabian Games in Qatar, and the Guinness Record-breaking projection shows Moscow City Day. He has held multi-year commissioning contracts with the GlobalFest International Fireworks Festival, supplying the 'required piece' that each international team must incorporate into their presentation. He is actively exploring interactive and video-game music production projects in addition to his regular writing work.
Donovan encourages his students to set, check and evaluate goals regularly in order to succeed in hitting targets; emphasizing structure and processes. His holistic approach values fitness, balance, and mental focus. Additionally, he is enthusiastic about incorporating new technology into the practice room and teaching studio: Regular recording (video and audio); audio analysis (pitch recognition and tempo manipulation for analysis); motion capture and VR, and more.
Private Lesson Rate: $110.00 per hour.