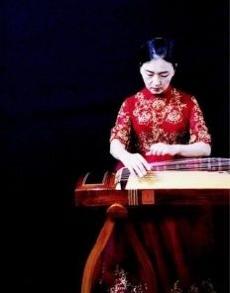 M. Ed
Wei Chi Vicky Su is the founder and President of the Alberta Chinese Zither Association. Vicky earned a Master of Education degree in Educational Leadership from the University of Calgary and a degree in Chinese GuZheng (Chinese Zither) Music from the National Taiwan University of Arts (formerly known as the National Taiwan Academy of Arts). She has represented her country on the world stage in Germany, Hungary, Australia, Singapore, Canada, USA, and other countries in promoting Chinese GuZheng music.
Before immigrating to Canada in 1997, she was the principal GuZheng performer of the BCC (Broadcasting Corporation of China) Chinese Music Orchestra in Taipei, Taiwan. (The BCC Orchestra has the longest history of any Chinese orchestra founded prior to the Chinese Civil war of 1949.) As a soloist, Vicky has been invited to perform "Autumn Yearning" by the Dresser (妆台秋思) with Master of Chinese Flute ( Dizi ) Yu Xunfa 俞遜發, the first Chinese flautist to perform at the National Theatre and Concert Hall in Taipei, Taiwan. She has also performed at State Banquets of the Republic of China (Taiwan), recorded GuZheng as background music for movies and TV dramas, and been invited to adjudicate for national high school music class auditions in Taiwan.
Since moving to Calgary in 1997 Vicky has done many GuZheng performances, including debuting her compositions and performing in events such as school presentations, as well as speaking about Chinese traditions and music at conferences.
She is a creative and enthusiastic educator, having begun her GuZheng teaching career at the age of 19 shortly after her performance at a the Dr. Sun Yat-Sen Memorial Hall, a national concert venue. Aside from music education, Vicky held a position for many years as principal and teaching instructor at the Chinese School of Calgary and the University of Calgary, disseminating knowledge of Chinese culture and language.
In 2019, Vicky performed an improvised set at the Moon Festival with GuZheng alongside Swapan Da and Juwell, who performed the Sitar and Tabla, respectively. 
In her daily life Vicky enjoys studying religion, philosophical works such as those of Lao Zi, Chinese literature and poetry, and Cha Dao (The Way of Tea).