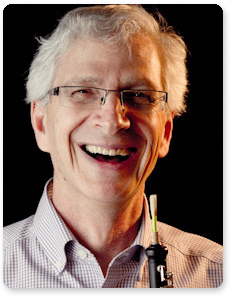 David Sussman
B.Sc., M.Mus.
Winds Faculty
David Sussman has served as Assistant Principal Oboe and English horn in the Calgary Philharmonic Orchestra since 1981. Calgary audiences know him for his expressive playing on all the members of the oboe family (oboe, oboe d'amore, and English horn). He has appeared as soloist with the Alberta Baroque Ensemble, the Kensington Sinfonia, the Calgary Bach Festival Society and of course, on many occasions with the CPO. He has been featured soloist for the Bio-Mechanical World Congress and twice has performed at annual conventions of the International Double Reed Society.
He has performed with the Mount Royal Wind Quintet and the chamber groups Rosa Selvatica, Aubade and Land's End. He has commissioned a new work for oboe and been heard many times on CBC Radio Two.
David is a dedicated and enthusiastic educator. He has taught oboe students of all ages and coached chamber music at the Mount Royal University Conservatory, the University of Calgary and the University of Lethbridge. For several years, he taught the adult education course entitled 'Symphony Anyone?' for the Calgary Board of Education. During the past decade, he has been known as a friendly voice from the orchestra through his dozens of articles in CPO's Prelude magazine. He has also spent several summers teaching adult learn-to-sail classes.
Private Lesson Rate: $89.00 per hour.