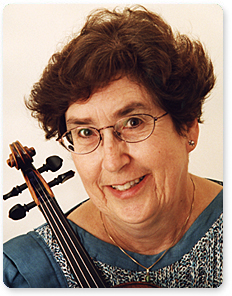 Elisabeth Szojka
Dip. Mus.

Violin Instructor

Elisabeth Szojka's continuing teaching career is long and distinguished. Many of her former students are now professional musicians, members of major orchestras in Canada and the USA. One need look no further than to the Calgary music scene to see evidence of her influence. The talented young composer, Arthur Bachmann, presently a violist with the Calgary Philharmonic, whose works are frequently premiered by that orchestra, is a former Szojka student.
Born in Switzerland, Elisabeth Szojka received her Violin Diploma from the Conservatory of the Basel Music Academy, where she studied violin with Rodolfo Felicani, concertmaster of Paul Sacher's renowned Basel Chamber Orchestra. Her coach in chamber music was Hans-Heinz Schneeberger. Elisabeth was privileged to have studied 20th-century composition and music literature with three of the past century's towering giants of composition, Pierre Boulez, Hans-Werner Henze, and Karlheinz Stockhausen. After graduation from the Basel Music Academy, she joined a chamber orchestra, which toured Switzerland and recorded.
Upon leaving that orchestra, Elisabeth Szojka immigrated to Canada, spending two years in Victoria, BC before moving to Calgary, AB. In Victoria, she was a member of the Victoria Symphony Orchestra, performed with several chamber ensembles and was a violin instructor at the Victoria Conservatory.
Elisabeth moved to Calgary to join the violin section of the Calgary Philharmonic Orchestra, playing both First Violin and Assistant Principal Second. She was very active at this time as a chamber music musician, performing with various chamber music groups and even forming her own trio. She soon joined Mount Royal University's Conservatory of Music faculty. She expanded her teaching knowledge by working with the American pedagogue, Paul Rolland at the University of Illinois at Urbana, IL.
At present, Elisabeth Szojka is a violin instructor at the Mount Royal Conservatory, where she oversees a large class of individual students, gives masterclasses, holds student recitals and coaches chamber music. Elisabeth remains active as a performer and is a member of the Calgary Musicians Association and the Alberta Registered Music Teachers' Association. Recently a few of Elizabeth's students have been selected to play at an international string competition where they performed at Carnegie Hall in New York City.

In 2016, Mount Royal University Conservatory honoured Elisabeth Szojka with the Distinguished Teaching Award.
Private Lesson Rate: $79.00 per hour.