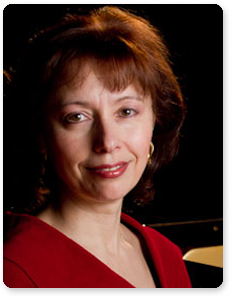 Iryna Zayarny
B.Mus., M.Mus.

Piano Faculty
Pianist Iryna Zayarny immigrated to Canada from Ukraine in 1998. She was a student of Victoria Lozova, the great Ukrainian Romantic pianist, at the Kharkiv Kotlyarevsky University of Arts. There, Iryna received her Bachelor's and Master's Degrees of Music and specialized in pedagogy as well as chamber, vocal and instrumental accompaniment. She has taught piano to students of all ages, from beginners to advanced students, for over 30 years in both Canada and Ukraine.

Iryna is known for her perfectionist methods and her demanding attitude toward her students. Iryna gladly works with students of all ages and always manages to uncover and develop their musical talent. Her goal is to integrate the commitment and excellence of the Russian School into her teaching platform, and she expects and provides high standards for her students. Because of this, her students are ever-present as award and scholarship winners at Kiwanis Festival and frequently achieve Honours with Distinction grades at examinations.

Iryna has been much sought after as an accompanist since she moved to Calgary. In 1999 she joined Mount Royal University as an Academy accompanist and has played extensively for such organizations as the University of Calgary, Canadian Music Competitions, C3 Competition, and the Calgary Performing Arts Festival.

For the past 10 years, Iryna has pursued a spectacular second career as a visual artist. Her paintings have been exhibited at such high-class events as the Calgary Stampede and Canadian Institute of Portrait Artists, as well as having been chosen for prestigious international competitions throughout North America. Her works reside in private collections as far as China, Ukraine, and the United States.
Student Feedback
"Ms. Iryna Zayarny is a very passionate piano teacher..."
"She is always prepared for her lessons and expects the same of her students..."
"Her personal love of music is genuinely invested in each student..."
"Iryna's teaching style is methodical, structured and precise - for her, it is more than a musical discipline but a true art form."
"In the end, her students achieve more than musical literacy but rather a true understanding of their own character through musical expression that Iryna helps cultivate."
Private Lesson Rate: $79.00 per hour.