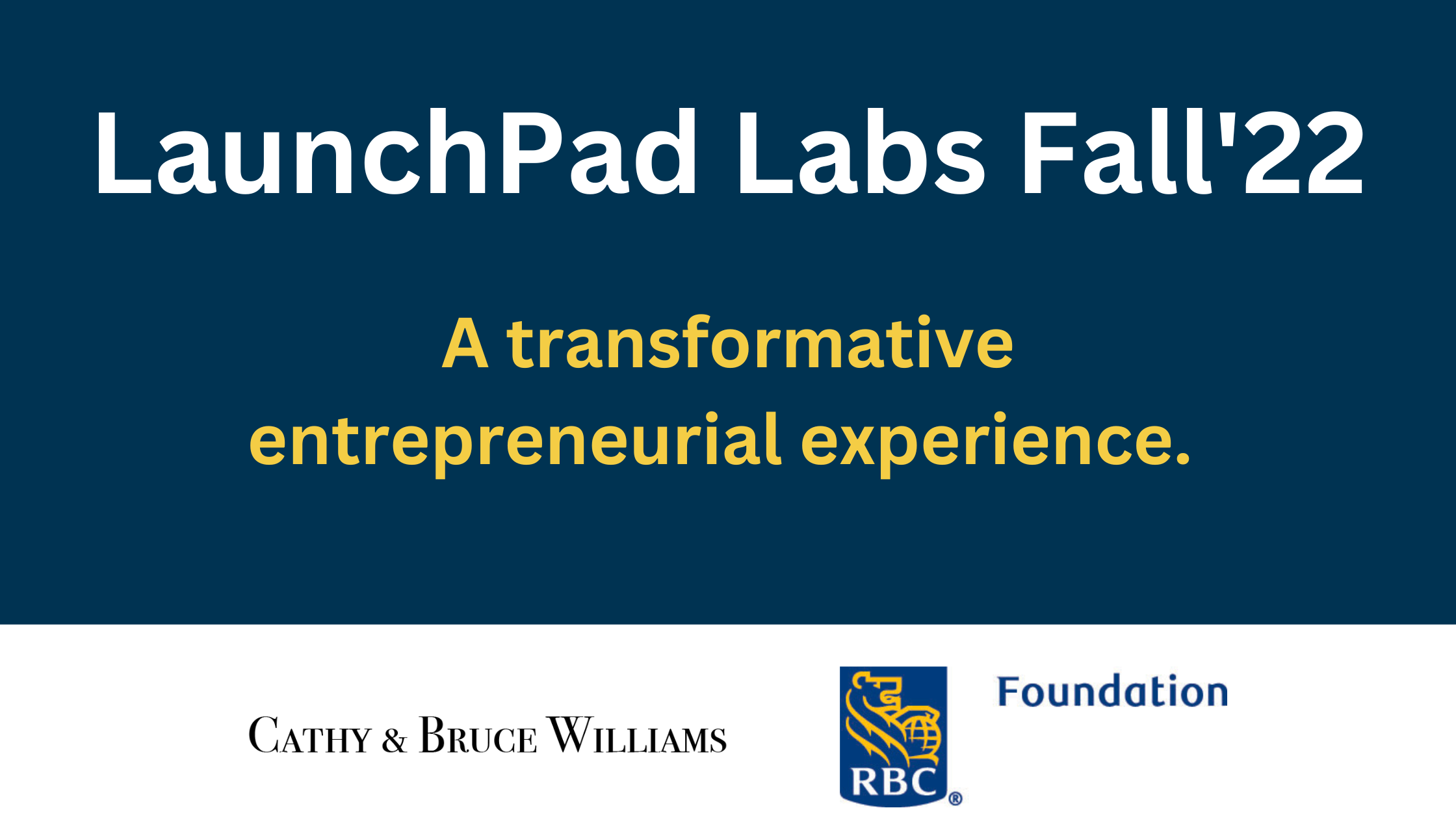 The Next Wave of MRU Student Entrepreneurs 
Building a business is a challenging process that requires patience, grit, and passion. Building one while also in university requires an even greater level of all three. For 8 weeks this fall, 7 Mount Royal students demonstrated all three of these entrepreneurial characteristics during our bi-annual LaunchPad Labs program. 
About Labs
LaunchPad Labs is an 8-week extracurricular program that provides student founders with the skills and resources required to build great businesses. Research shows that the success rate of businesses can be improved by following a methodical process. LaunchPad Labs' methodical approach provides the necessary base to optimize learning for these student entrepreneurs.  Many Labs alumni go on to pitch their businesses at the coveted JMH LaunchPad Pitch Competition, a capstone event for the MRU community.  
Students undergo a rigorous 8-week learning experience, focused on validating their problem, building low-fidelity prototypes, failing often, and learning to overcome challenges. The majority of LaunchPad Labs is centered around customer discovery, the necessary process of validating your problem through customer conversations. 
The Cohort
LaunchPad Labs Fall 2022 was filled with a diverse array of students and business ideas. The students came from a variety of faculties, including Arts, Business, and Health, Community & Education. Their business ideas tackled a range of problems from providing better tutoring services for parents of children with learning disabilities to building an augmented reality fitness platform for individuals with mobility issues. 
Highlights
LaunchPad Labs was "eye-opening, challenging, but very doable. You don't know what you don't know and I definitely learned a lot!" - Talis Aurini, Founder of XRFit.
Every week presented new highlights for our incredible Fall 2022 cohort, however, some key elements must be highlighted. 
Kaydan Pring, a 2nd year Business student developing a relationship building app for the polyamorous community dubbed Free Range Unicorns, demonstrated that customer discovery is a never ending process. Kaydan, in an effort to get closer to his target customer, spent hours at local bars and clubs talking to individuals within the polyamorous community to learn about the unique problems of this group. In total, Kaydan conducted over 100 customer discovery interviews. These insights have helped build his next steps.
Aliya Abdallah, a third year Business student developing a better-for-you athletic supplement company, proved that a minimum viable product (MVP) can be launched and pre-orders can be secured in just 8-weeks! Aliya learned an immense amount about aligning product benefits to customer needs and building a brand around these respective needs. 
Carman Lim, a 4th year business student building LookMa!, a content creation platform that connects businesses to content creators, demonstrated that running a beta version can provide immense learning opportunities.
Despite not highlighting all founders and businesses, we are so impressed and proud of this Labs cohort and the progress they made over the 8 weeks! Bring on Labs Winter 2023!