Applied changemaking to tackle 21st century challenges
What is connectFirst Social Entrepreneurs? 
Are you curious about how to address complex challenges facing people and the planet? Climate action, food insecurity, income inequality and affordable housing to name a few. connectFirst Social Entrepreneurs is a program designed for senior-level students seeking to create real change using economic tools to address complex social change. Students receive a $500 cash stipend and certificate of completion upon successfully completing all 7 sessions of the program. 
Turn ideas into action and break down complex problems with the support of leading social entrepreneurs and changemakers. Tackle complex problems while gaining valuable skills, knowledge, and meaningful resume experience in the social innovation space. Set yourself apart when applying for your dream job post-graduation. 
During this work-integrated learning experience, you will gain the critical skills to begin to understand social issues through an economic lens, work in small groups with other students and experienced community members, ideate solutions, and receive actionable insight on how to move forward as a changemaker. 
Applications for Winter 2022 are now closed. Please check back during Fall 2022 for the next application dates. 
10 students will receive a $500 cash award upon completing the program thanks to connectFirst Credit Union

What You'll Achieve
Tackle complex real-world challenges

. Learn how to apply economic tools to create social change from leading social entrepreneurs and changemakers.

Work with a diverse team.

Learn alongside community members and fellow students as you develop an understanding of the connection between the local economy, people and the planet.

Develop future-proof skills.

Learn the tools of social innovation and ideation to use in your future career.

Expand your network and future career opportunities

.

Build relationships and connect with others creating positive social impact.
A $500 cash award payment

upon successfully completing the program
"Taking Economics of Social Change as a student was a great experience, not just because of the opportunity to meet community members off-campus interested in the economics of social change, but also as a way of being introduced to the idea of economics. I was captivated by the way the instructors covered history, theory, and practice through a social lens."
~Mackenzie Johnson, BCMM Info Design
Session Details
Dates: Thursday, January 13 – Thursday, April 7th, biweekly. 2:00 pm – 5:00 pm
Location: In-person in the Mount Royal University Riddell Library & Learning Centre
Successful applicants must attend all 7 sessions and be prepared to work hard, lean into discomfort, and contribute fully to receive the final stipend.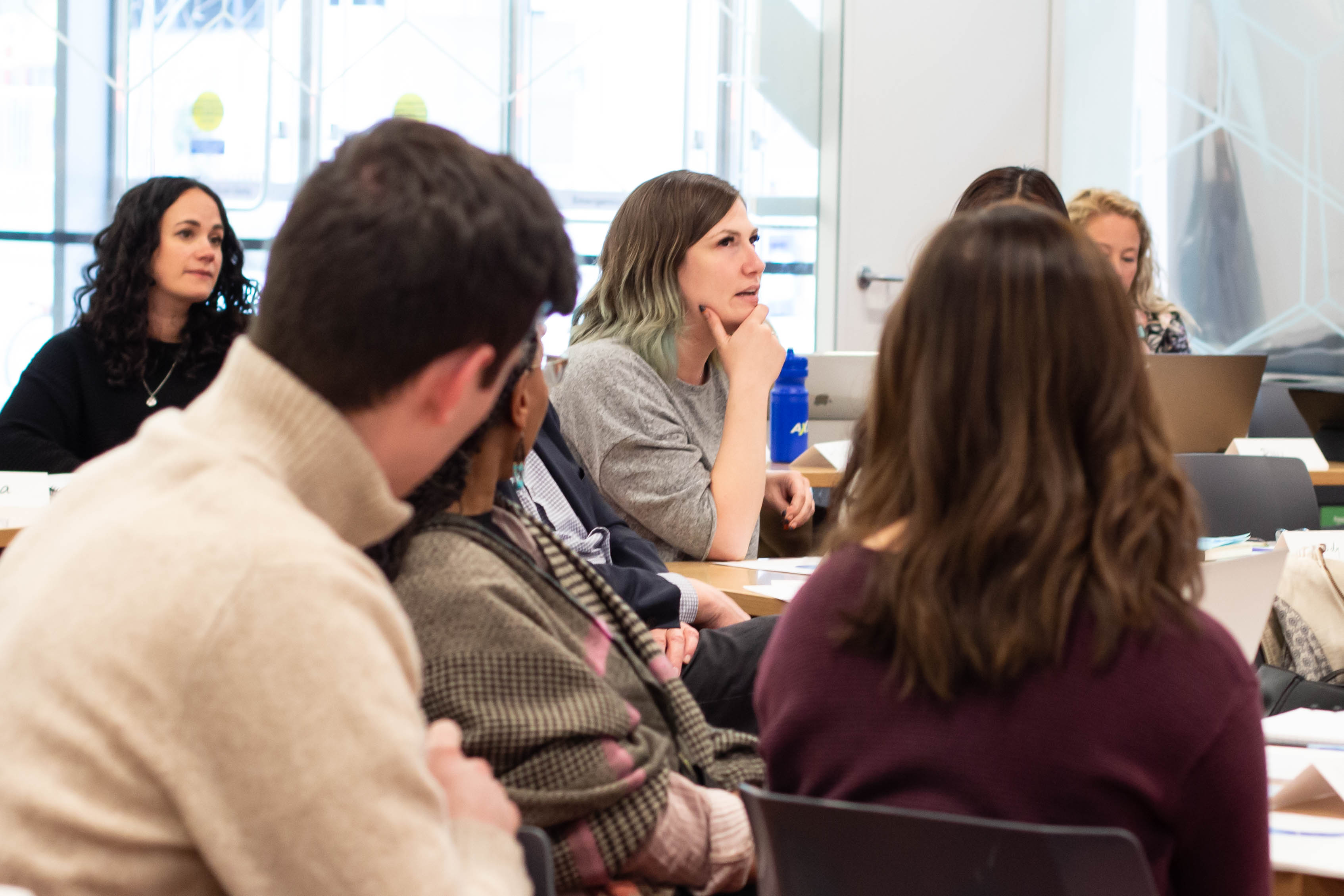 Program

Participants are required to watch a pre-recorded video (approximately 30-40 minutes in duration) alongside pre-readings in advance of each session. 
| | | | | |
| --- | --- | --- | --- | --- |
| Date | Time | Session | Facilitator | Session Details |
| January 13, 2022 | 2:00 pm - 5:00 pm | The Solutions Economy | James Stauch  | The global pandemic, climate crisis, and rising inequality have shone a light on the cracks, inadequacies and injustices within our current systems, impacting both people and planet. Communities around the world are looking to the local economy as a means of addressing growing social and environmental issues. This workshop will explore the history of how the economy has evolved and the growing imperative to build a new economy focused on local solutions to create social change. |
| January 27, 2022 | 2:00 pm - 5:00 pm | Economic Reconciliation | Latasha Calf Robe | Faced with growing income inequality and stubbornly high levels of poverty in communities across Canada, Reconciliation offers a path forward to build a local economy that works better for more people. In this workshop, learn about the historical context affecting Indigenous peoples' inclusion in the economy, how Indigenous worldviews intersect with community-based economic development and the opportunities to build a shared understanding that creates jobs and builds communities. |
| February 10, 2022 | 2:00 pm - 5:00 pm | The Changing Nature of Business | Barb Davies | There is a growing responsibility worldwide for businesses to go beyond financial return to shareholders to seek a greater community benefit that prioritizes people and place. As a result, new ways of doing business are emerging. This workshop will explore the changing nature of business and the role of social enterprise and cooperatives in addressing issues impacting our local community including income inequality, food insecurity, economic inclusion and more. |
| February 24, 2022 | 2:00 pm - 5:00 pm | Systems Change for Community Economies | Jeff Loomis | Building inclusive community economies often requires systems change to enable more community-based economic development. This workshop will explore the current opportunities to affect policy change towards a more just and equitable society for all. Learn how localizing spending and fostering community ownership build inclusive community economies. |
| March 10, 2022 | 2:00 pm - 5:00 pm | Financing Social Change | Danielle Gibbie | The field of social finance is rapidly expanding with new ways to use money to generate social good. This workshop will explore what financing tools exist that can help to diversify your organization's revenue and scale its impact. We will also explore how you can invest your own money for good. Learn how community organizations and individuals are using social finance to prioritize people and the planet. |
| March 24, 2022 | 2:00 pm - 5:00 pm | Innovation Workshop | Diana Grant-Richmond | During the Innovation workshop you will learn the tools to ideate, innovate, and move forward with your solution. Gain critical skills used in the most innovative industries to solve and action complex problems mindful of complex systems and impacts. |
| April 7, 2022 | 12:00 - 5:00 pm | Shaun Loney Innovation to Action Workshop | Shaun Loney | Work with seasoned social entrepreneur Shaun Loney to integrate the skills of changemaking and innovation, and turn ideation into action and lasting impact. |
Senior-level students in degree-granting programs are eligible to apply. Students with a demonstrated connection to a social issue or who are working on an enterprising initiative to address a social problem will be prioritized. 
This program is open to any full-time student in any program, except for those in Open Studies or Continuing Education.
There are only 10 spots open each semester. If you're wondering how to improve your application or want it looked over before submission, email our Entrepreneur Development Officers for assistance or with questions: