Behind
the
Lens
Media that matters
Fall 2016 issue

Words by Jonathan Anderson and Bryan Weismiller
Mount Royal alumni Ryan Varty, Melissa Renwick and Jeremy Hunka have taken their camera skills to all four corners of the earth, delivering the stuff people really want to see. They entertain, earn awards, trigger change and shift perspectives along the way.
RYAN VARTY
Cameraman, TSN Sports
TSN cameraman Ryan Varty is responsible for delivering highlights from premier sporting events to Canadians from coast to coast. It's a job that requires flying in excess of 110,000 kilometres and sleeping in hotels for more than a third of the calendar year.
Varty, or "Varts" as he's known to colleagues in the sports media fraternity, has been working behind the lens as a respected camera operator for the past 18 years. Delivering the visuals for North America's most prominent sports competitions, Varty has filmed the green jacket presentation at Augusta for the Masters, and was on the floor seconds after the buzzer-beater shot at the NCAA's (National Collegiate Athletic Association) Final Four Championship.
He credits the hands-on technical learning and mentorship he received in the Mount Royal Broadcasting diploma program for getting him to where he is today. Thirsty for knowledge and experience, a vital link to his eventual success came from former instructor (and also an alumnus of the Broadcasting diploma program), Irv Ratushniak. Varty and fellow student Pete Stewart, who is now the control room manager for the Calgary Flames, were walking down Mount Royal's Main Street when Ratushniak stopped them with an opportunity.
"Irv told us the CBC was offering two practicum positions and asked us if we wanted them."
They leapt at the chance and Varty says the CBC was the best place to hone his craft in the late '90s.
"I targeted those guys because of the talent they had demonstrated," says Ratushniak.
With TSN since 2013, Varty admits that the World Junior Hockey Championships were on his radar as something he really wanted to take part in. In his youth, he recalls getting up early each Boxing Day to watch the tournament. Even for this seasoned veteran, the experience was an overwhelming whirlwind.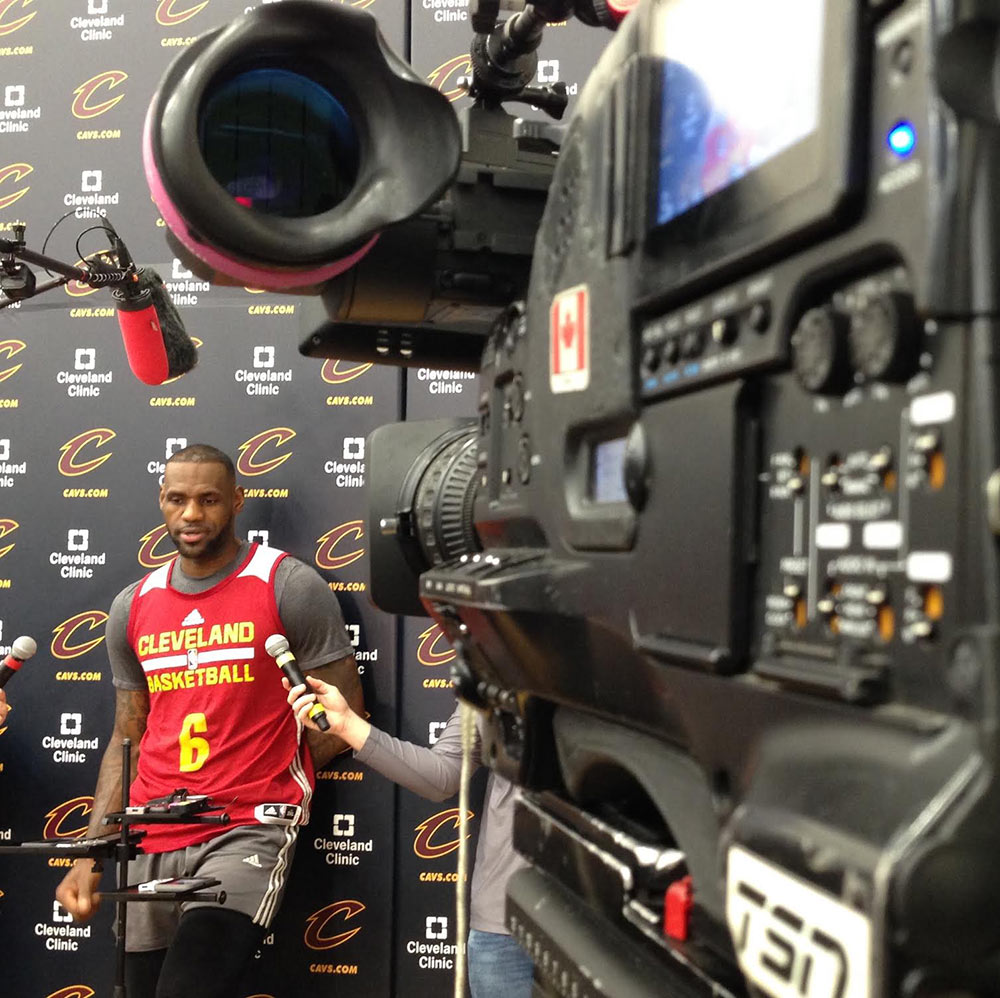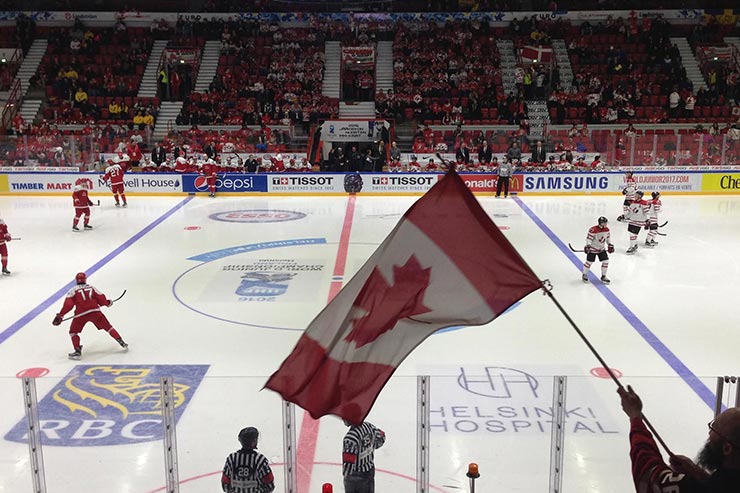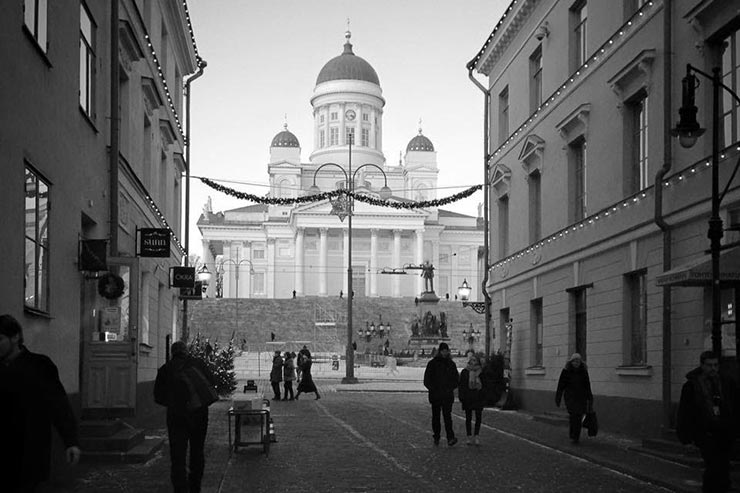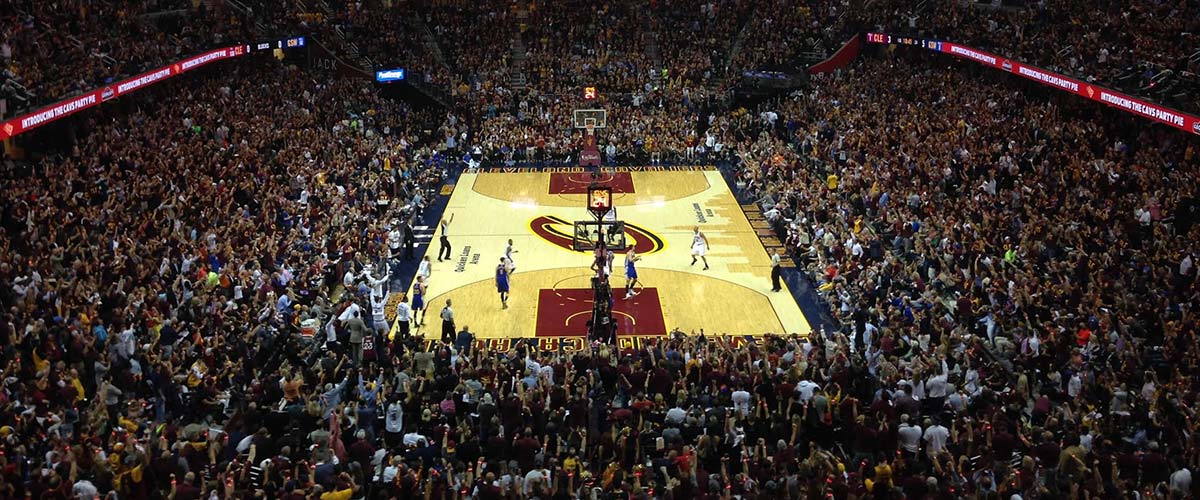 "You have to pull yourself back sometimes," says Varty. "Take the time to realize you are actually here. This is the World Juniors!
"But at the same time, you look back after the fact and it all hits you."
Although in 2015 the group of under-20 Canadians may have disappointed many with their performance on the ice, millions still tuned in each day, unknowingly watching Varty's work.
"I try not to think about it. If you think about it too much, that's when you mess up."
Not only did he not "mess up," he earned a call to cover the NBA Eastern Conference Finals, which set a ratings record for TSN with 2.7 million Canadians tuning in for the contest's fourth quarter. Following that, Varty packed up his equipment and continued his journey of delivering some of the world's most popular television content to avid viewers. Next up were the NBA Finals, which saw 44 million Americans tune in to Game 7.
Even though he does try to take a moment to soak in the incredible experiences, he says the professionalism he learned at Mount Royal allows him to keep his concentration.
Ratushniak recalls Varty as a keen student; one he looked forward to teaching.
"He obviously loves what he's doing. I hope that was sparked when he was taking the program," says Ratushniak.
"He was always willing to work hard and help out with any of the production (tasks)."
"Everyone thinks they are going to get out of school and work a cool job," says Varty, "but it doesn't work like that. Put in the time, keep learning and be good to people.
"I don't know where my career would have ended up if I didn't have that conversation with Irv."
Melissa Renwick
Photographer, Toronto Star
As a staff photographer for the Toronto Star, Melissa Renwick snaps pictures that are seen by more than a million eyeballs every day. In her time with Canada's most-read newspaper, Renwick has completed a dizzying number of assignments that have taken her from One Yonge Street all the way to Bangladesh.
A graduate of Mount Royal's Bachelor of Communication — Journalism program, one of Renwick's first major pieces was a chilling look at Toronto's criminal underworld. Branded "The Game," Renwick and her colleagues investigated and documented sex crimes involving girls as young as 12 years old.
"The women I photographed were really at the heart of the story and showed incredible strength, courage and perseverance despite such traumatic life events," she recalls.
"Their fearlessness was incredible to witness."
Renwick and her colleagues staked out a highway motel known as a popular destination for human trafficking. The motel proved to be a revolving door for johns and they watched several men enter and leave the same room in half-hour intervals.
"It was there that the story became very real, because we saw it happening right in front of us," Renwick says. "It was a deeply troubling scene that really affected my outlook towards men for many months after."
For her efforts in exposing a dark subject, Renwick was awarded with the Picture Story of the Year from the News Photographers Association of Canada. Her photos were chosen from more than 2,000 images submitted by photographers from across the country. And earlier in 2016, Renwick was declared Photojournalist of the Year by the News Photographers Association of Canada for other work.
"It's hugely exciting and a great honour to be recognized by my peers," says Renwick.
Photography instructor Paul Coates taught Renwick in her first two years in Mount Royal's Journalism program and believes providing a raw view of the world motivates people to take action and get involved in finding solutions.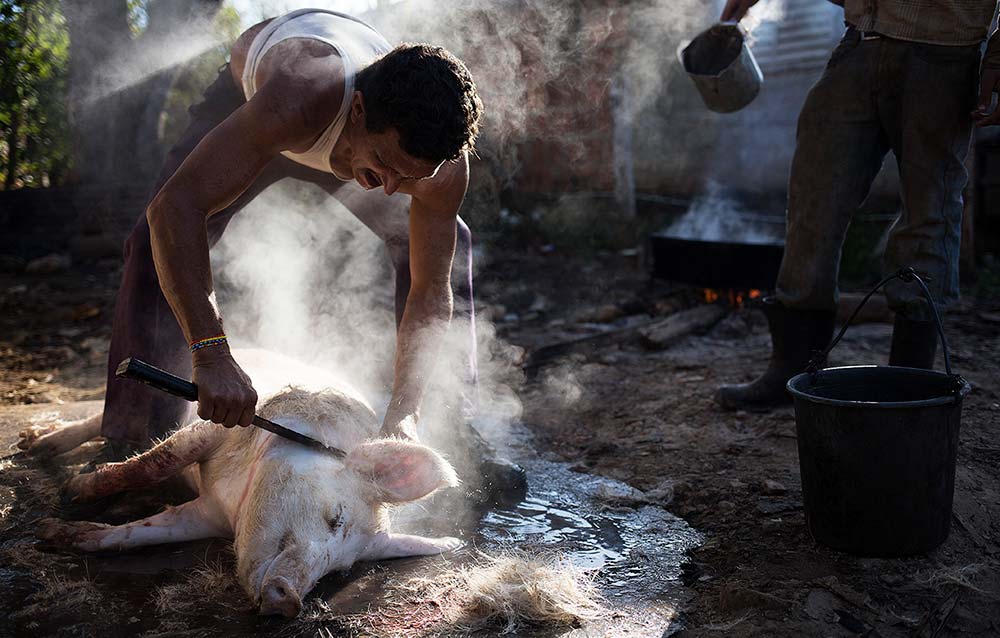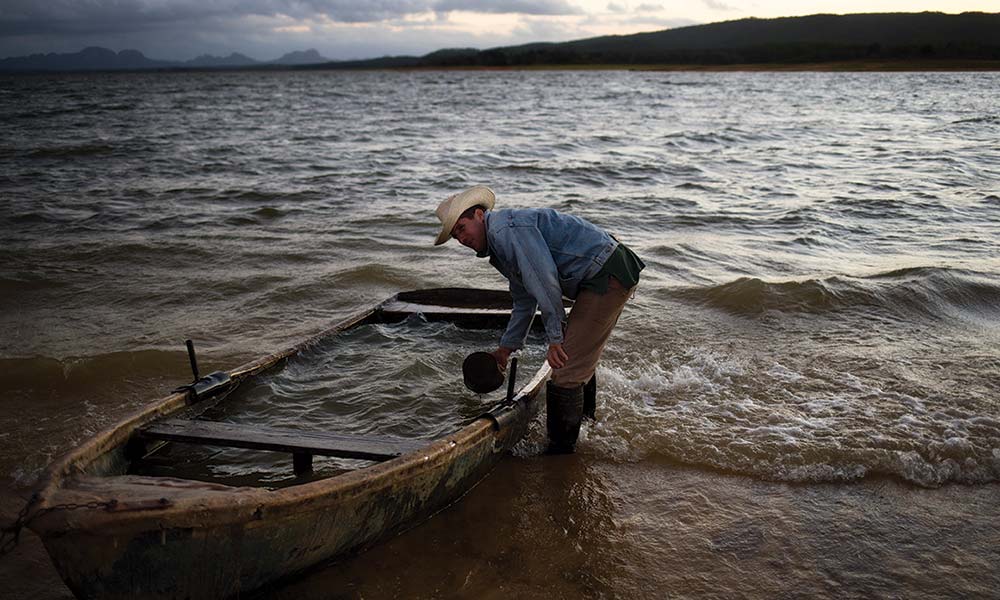 "Readers crave information and insight into people's lives," he says. "For all of the information available on the web, readers still need clear, precise and unbiased glimpses into the darker side of our society."
Coates describes his former pupil as relentlessly driven to tell compelling stories.
"Melissa is fearless in her ability to connect with people and tell their stories," he says. "I think that is her greatest asset, and hence resulted in national recognition for her efforts."
Of her many experiences behind the lens in places around the globe, Renwick acknowledges some assignments stand out more than others.
While travelling in Cuba early last year, she developed a great fondness for the island nation and its people. In her written reflections on the trip, Renwick recalled the adventures of being sandwiched in the back of the '50s-era American cars that are part of the shared taxi system.
"Our bodies would sway into each other like the waves brushing up against the Malecón (seawall). Rear-view mirrors vibrated with the pulse of the car in idle and had to be re-adjusted every time the gears switched into drive.
"Strangers entered the vehicles, greeting everyone with 'Buenos tardes,' like we were old family friends. I can't imagine a Cuba without them roaring through the streets, leaving a trail of black smoke in the salty air."
During an extended stay at a remote island in northern Bangladesh, she joined a team of western doctors to document reconstructive surgeries on burn victims.
Renwick remembers a young woman who suffered severe burns when her dress caught on fire from an outdoor mud stove. In what was said to be an attempt to kill her, her mother-in law doused her with scalding hot water. While she survived the attack, the woman's husband left her with their kids in tow and remarried, collecting another dowry.
"It's the kind of assignment that stays with you," Renwick says. "I just feel incredibly grateful to have the opportunity to tell stories like these, because hopefully it inspires some change."
JEREMY HUNKA
DOCUMENTARIAN, UNION GOSPEL MISSION
Jeremy Hunka creates documentaries to tell the stories happening right now in the hope of creating change in the future. He filters and sorts visuals to raise awareness of both the good and the bad in the world, which often coexist in the same time and place.
After graduating from Mount Royal in 2007 with a Broadcasting diploma, Hunka's experience began in front of the camera, but he now thrives behind it. He says his documentaries are not about abstract issues or policies, rather, something that directly affects the person or people he is filming.
There are profound reactions when you openly introduce a viewer directly to a person being affected by negative circumstances, he explains, and without those reactions the ability to incite action or change is lessened.
"The biggest thing I learned (at Mount Royal) was how to personalize a story and capture an issue through the lens of one person," says Hunka.
As a former broadcaster and videographer with Medicine Hat's CHAT News (his first job after graduation) Hunka produced, filmed, wrote and edited a five-part news series in Uganda and a 30-minute documentary in Kenya, for which he won both the National Radio-Television News Directors Association of Canada (now called the Radio Television Digital News Association), and the Dave Rogers Short and Long Feature Awards, respectively. He also delivered powerful documentaries as a freelance filmmaker with Save the Children Canada. Hunka and his wife, Alejandra Rivera, travelled to Kenya and Uganda, producing multiple short docs for the organization.
"There is this terrible practice in Africa where women and children are in rock quarries, crushing rocks with their bare hands to sell," says Hunka of his time in Uganda. "We were able to get inside and film where the conditions were deplorable."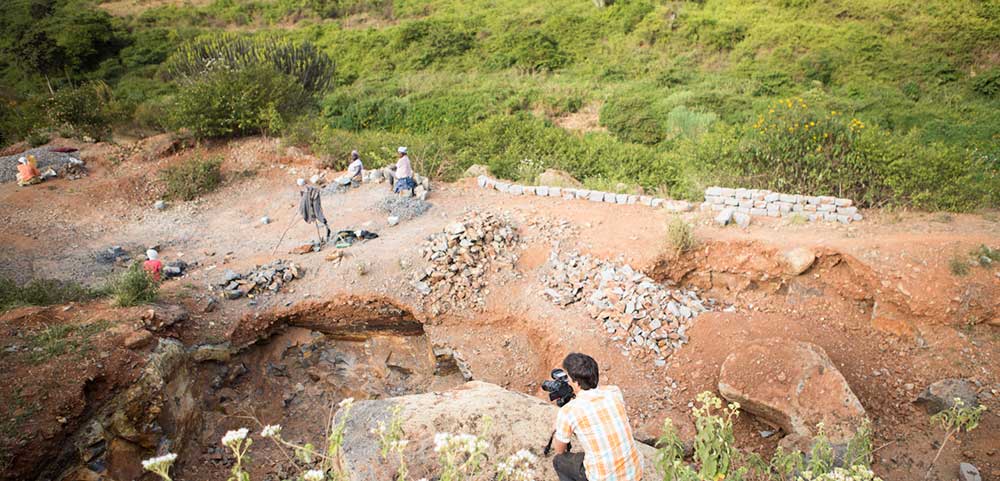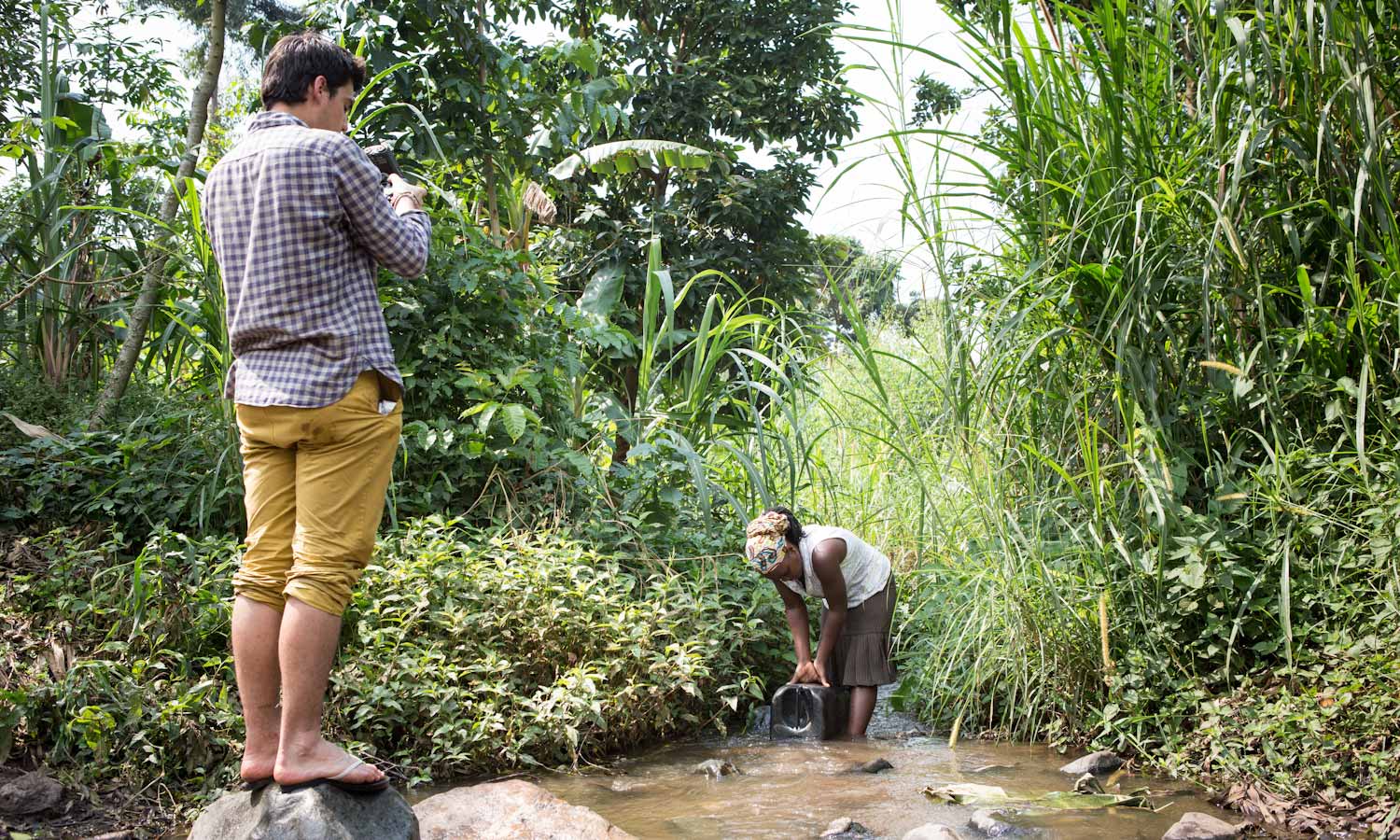 Another practice Hunka captured for this series showed the horrific conditions women and children are forced to endure to harvest miraa crops in Kenya.
"It was eye-opening and really powerful," says Hunka. "It's important to show the world these things are happening."
While he has seen and documented a number of challenging circumstances, Hunka also tries to present the positive in the world. While filming in the Turkana Desert in northern Kenya, a place he describes as nothing but sand and extreme heat, Hunka discovered, and brought to light, the fact that two Medicine Hat residents were building wells for the Turkana people, a semi-nomadic tribe who often must travel for hours to find drinking water.
"It was mind-boggling how many lives this fresh water was saving," says Hunka, who titled that work Too Dry for Tears.
"These are the documentaries I'm most proud of, because they are showing things the world needs to see."
Hunka credits much of his success to long-time Mount Royal professor Irv Ratushniak, who stressed the importance of camera techniques and working in difficult situations. Combined with the mentorship of instructor Rick Castiglione and Marc Chikinda, former dean of the Faculty of Communication Studies, Hunka maintains he will be forever grateful.
"They were invested and cared not just about our success, but about the quality of the work," he says. "They believed that storytelling can really make a difference."
Formerly a popular Calgary reporter, anchor and television news producer, and now a well-known documentarian in his own right, Castiglione is far from shocked when it comes to Hunka's achievements.
"Jeremy was one of those students who was exceptionally fun to teach," says Castiglione.
"From day one, I could tell he was a good storyteller and had the creativity and ambition to be successful in broadcast journalism and video production. He has certainly proved me right."
Read more Summit
Rapid Momentum
Four years into their new conference status, the Cougars are beginning to take a major bite out of the competition.
READ MORE