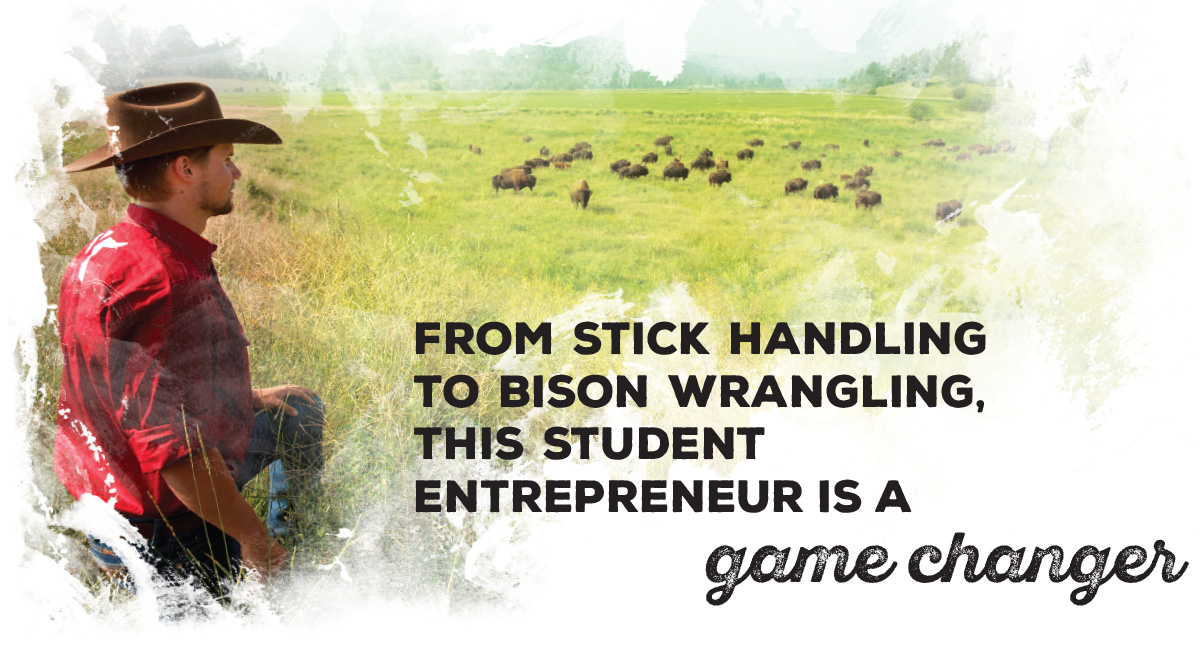 Fall 2015 issue
After suffering a career-ending back injury (2010), most people wouldn't go on to compete in IRONMAN Canada, one of the most physically-grueling triathlons in the world. 
But then, Rudi Schiebel is not like most people.
"When they told me I would never play hockey again, it felt like I was falling into a black hole," says Schiebel, whose lifelong ambition was to play in the National Hockey League. 
"I needed to commit to something and see it through, so I started training for IRONMAN. When I crossed the finish line (2012), I knew I could do anything I set my mind to."
Three years later, Schiebel is again defying expectations.
The fourth-year Bachelor of Business Administration  student is now the president and co-founder of a thriving bison ranch and is spearheading a plan to be the first supplier of Canadian bison to China — all before his 25th birthday.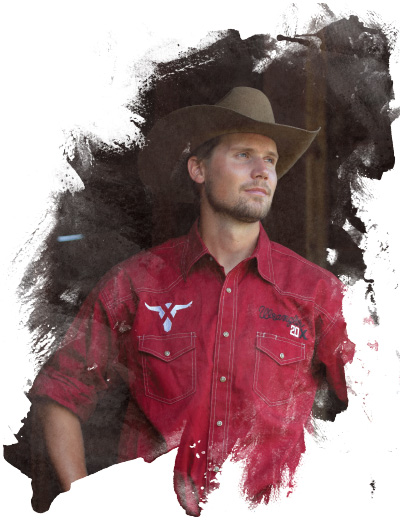 How a city slicker becomes a cowboy
Growing up among a family of doctors and engineers, Schiebel had never set foot on a farm until he met his future business partner, Laine Keyes, in junior hockey. Schiebel began working as a handyman on Keyes' B.C.-based family cattle ranch during the summers. 
"There was a sense of freedom," says Schiebel of working on the farm. "I fell in love with being outside — with working on my own time."
After his hockey career was cut short, Schiebel still didn't have any inkling his future lay in agriculture. Instead, he began studying finance at Mount Royal University with the intention of becoming a corporate lawyer. 
But, as was becoming the norm for Schiebel, something unexpected happened during his first semester. His friend Keyes called with an insider tip that a quarter section of the Keyes' family farm was being sold. 
"While he was talking, I just got the idea that we could buy the land as some kind of investment," says Schiebel. 
Armed only with the belief they would succeed, Schiebel bought half the land with the dream of transforming the farm into a full-service bison ranch with Keyes.
"At that point, I'd only had four months of university, so I was using my textbooks to build financial statements," says Schiebel. "In hindsight,  there were 10 different ways we could have done things better, but I don't think I would have learned it any other way."
Through sheer grit and determination, Schiebel and Keyes launched Turtle Valley Bison Ranch in 2012, with an initial herd of 100 bison. 
"It was a steep learning cliff," says Schiebel of his abrupt entry into agriculture. "I think my family thought I was crazy to start this business. But we had a lot of mentorship and support from others in the industry."
A mysterious illness nearly put an early end to the fledgling business in 2014. Unbeknown to Schiebel and Keyes, a mineral in the soil was creating a copper deficiency for the bison, causing sickness and death. They lost 24 of their 91 animals. While the young entrepreneurs worked desperately with numerous veterinary experts to save the herd, Schiebel's commitment to his business remained steadfast. 
"I knew we were going to find a solution — and that once we did, nothing would stand in our way," he says.
Schiebel's conviction proved correct. A cure was found and the ranch grew into a thriving business poised to enter the global market.  

Farm-raised bison are still considered wild animals
Bison look like lumbering giants, but can actually run up to 65 kms per-hour and jump two vertical metres
At one time there were only a few hundred bison remaining on the planet — without bison ranching, they would probably be extinct
Today there is about 500,000 bison in North America, still only a fraction of what used to roam here 
There are two species of bison in North America — Plains and Woods
There is no genetic link between the African Water Buffalo and the North American "Buffalo"
Bison meat is lower in fat and cholesterol than beef, significantly higher in iron than other red meats and is considered to have the most desirable omega fat ratios in any meat product
Bison are better adapted to the environment than other livestock — in winter these hearty animals use loose snow as a water source
Bison require less feed than cattle because of slower metabolic demands
They are highly disease resistant, with minimal veterinary intervention required (this is because there are no hormones, antibiotics or genetically modified breeding practices used in raising bison)
Their grazing behaviour actually enhances range health, fertilizes soil and enhances biodiversity 
Greater longevity – bison can have at least five more calves than beef cattle
— Courtesy of Rudi Schiebel and Turtle Valley Bison Ranch
Mount Royal helps open doors to China
While Schiebel's fierce drive got his business off the ground, the opportunities and experiences he received through Mount Royal brought him closer to achieving the global vision he holds for
his company. 
In 2014, Schiebel was accepted into LaunchPad Accelerator, an exclusive course that helps student entrepreneurs prepare for Mount Royal's fierce pitch competition. Under the guidance of Ray DePaul, director of the Institute for Innovation and Entrepreneurship, Schiebel refined his business plan and pitch. 
"I can't stress how impactful (Ray) has been," says Schiebel. "To be able to get input from someone who has been there, done that … it's incredibly valuable."
With the help of a JMH Venture LaunchPad Readiness Grant, Schiebel travelled to Hong Kong and China as one of the youngest members of the Calgary delegation to the 2014 Hong Kong Forum. Accompanied by Associate Professor Halia Valladares, chair of International Business and Supply Chain Management, Schiebel networked with other entrepreneurs building a China market strategy and met with Chinese government officials and investors. 
With Valladares's support, Schiebel used the knowledge gained from this trip to prepare for the Hong Kong - Canada Business Association (HKCBA) Calgary Investment Pitch Competition (i-Pic),
a Dragons' Den-style competition open to top student entrepreneurs from Calgary's post-secondary institutions.
On March 26, 2015, Schiebel dominated the competition, taking both first place and audience favourite. In addition to a $4,000 cash prize, he was invited to a dinner with the HKCBA Calgary Chapter Executives. 
Only 13 days later, Schiebel created another sensation — this time at the JMH Venture LaunchPad Pitch Competition, where his passionate presentation earned him $20,000. 
"Going into these competitions, I just believed in our business," says Schiebel. "I knew I could make everyone else see exactly what (Ray) and I see — an opportunity to share worldwide a unique product that embodies Canadian culture."
For DePaul, Schiebel's success speaks to the possibilities open to all Mount Royal student entrepreneurs. 
"The success of (Rudi) and our other student entrepreneurs shows everyone what is possible when you take advantage of all of the great courses and programs available to you," says DePaul. "Entrepreneurship is about taking something you're passionate about and making it a reality."
As for Schiebel, he's not slowing down. Currently, he's meeting with other ranchers and coordinating with his Chinese business partners to implement his China market entry plan. 
"After a success like i-Pic and LaunchPad, it's a quick breath of fresh air and then it's head back down," says Schiebel with a laugh. "There's always something new to achieve – something new to aim for."
While being an international bison rancher is a far cry from the NHL career Schiebel always imagined, he's glad for the unexpected journey. 
"I think bison are a good match for my personality," says Schiebel, noting that at one point bison were nearly extinct across North America. "We've both faced adversity and we've both come back."