Closing the circle
Mount Royal community members are working to change the way we look at food
In any major city, stocks of fresh food in grocery stores are typically limited to a three-day supply. Given the four million meals eaten every day in Calgary alone, it's not a stretch to say we could be in trouble if disaster hit. Because most produce is brought in rather than grown here, it wouldn't take long before we ran out.
In addition, the Calgary Food Action Plan of 2012 notes that in the average North American home, ingredients for a meal usually travel between 1,500 and 4,000 kilometres to get to plates. Sadly, about $27 billion worth of food waste finds its way to landfills and composting outlets annually in Canada. Of that, 30 per cent is lost in the field during transportation and distribution, as well as during packaging and processing.
It's wasteful, pure and simple. So how do we produce food closer to home in a way that creates as little waste as possible? Members of the MRU community are helping to answer this question.
Aquaponics
Sustainable sustenance
Paul Shumlich graduated from Mount Royal with a Bachelor of Business Administration — General Management and a minor in Entrepreneurship in 2017. He is co-founder of Deepwater Farms and one of the Calgary Herald's 20 Compelling Calgarians for 2019. He saw entrepreneurial opportunities to improve the food supply chain and wanted to show people exactly where their food was coming from. The business began taking off when it performed very well at Mount Royal's JMH LaunchPad Pitch Competition, sponsored by JMH & Co., an Alberta accounting firm, earning $30,000 in cash and in-kind services, and enabling Shumlich to focus on Deepwater full time.
Shumlich's state-of-the-art aquaponics operation produces fish, greens and herbs with little to no waste. Deepwater Farms is the first of its kind in Calgary, blazing a trail for local, sustainable food production.
Aquaponics is a system of agriculture that uses the waste from aquaculture (fish farming) to supply nutrients for plants grown hydroponically (in water with no soil). In turn, these plants purify the water, which is fed back into the fish habitat. Plants grow faster because of the biologically active nutrient solution derived from the fish waste and because they are provided with the optimal environment to thrive. Food that is transported (usually taking from three to seven days) loses 25 per cent of its nutritional value within the first four days. Being grown locally, Deepwater's kale, mustard and arugula are also higher in nutrients.
"It's really putting into perspective what it takes to provide food at actual scale and feed into the food system."
Paul Shumlich, co-founder, Deepwater Farms
"Essentially what we're doing is raising fish more sustainably, completely using all of the fish waste," Shumlich says. "Typically, fish waste is just discharged into the environment and that's where you start to see eutrophication in water systems causing the death of a lot of animal life." Eutrophication happens when water becomes nutrient-rich and the resulting dense plant growth uses up oxygen fish and other animals need.
Deepwater is one of the first in Canada to raise the Australian barramundi fish. "We chose the barramundi because they're friendly, we liked the accent and they think they're still in Australia, so they swim upside down," Shumlich laughs. In fact, the fish are high in omega-3 fatty acids and are marketed as upscale sea bass, making it more attractive to restaurants. More practically, barramundi are a naturally schooling fish and are faster growing and less sensitive to water quality changes than trout or salmon.
"As first-time fish farmers, we needed something a little more forgiving."
In fact, Shumlich and Deepwater co-founder Kevin Daniels have encountered a lot of "first times" as they continue to build their business, which germinated while Shumlich was attending Mount Royal. He built teams to analyze the idea in classes, creating initial traction for his venture.
"Getting into the mindset that nothing ever works the first time has been important for us," Shumlich says. "We're problem-solving and this farm is the first of its kind, so there's no set path for us to follow."
Shumlich credits Ray DePaul, director of Mount Royal's Institute for Innovation and Entrepreneurship, with instilling in him the enterprising spirit he needed to get going.
"Ray asked me at the inception of it all, 'What is your greatest assumption?' I said, 'That people are going to buy this,'" Shumlich explains. "He challenged me to find one person that was going to buy our product. I decided grocery stores are too big and I didn't have distribution to consumers door to door, so I had to go to restaurants because they were going to buy just the right amount at just the right price for our scale."
Shumlich also realized that change had to be spearheaded by chefs and restaurants. As they are market influencers, "that's where we'll see the trickle-down effects in the greater economy and the choices people make."
Since then, Deepwater Farms has signed up the likes of local Calgary restaurant Ten Foot Henry, which offers a vegetable-anchored menu. The alignment between the two businesses was clear from the start and Ten Foot Henry became one of Deepwater Farms' first customers.
"Paul just did a cold call one day. He was looking for restaurants that were going to be important for his brand," Ten Foot Henry's chef and part owner Steve Smee says. "And ours kind of hit the mark."
Deepwater Farms hopes to continue scaling up to a point where they can export the business to major cities across Canada and, eventually, the world.
"The interesting thing is, in Calgary, we're solving year-round growth and extreme cold climate issues, whereas in somewhere like the Persian Gulf we'd be solving water shortage and extreme heat issues," Shumlich says.
It appears that Deepwater Farms is more than just a business — it's a business that has the potential to change the world.
"We're seeing what it takes to actually feed thousands of people and what goes into that — the energy, the inputs, all the human labour — and then what the output is. It's really putting into perspective what it takes to provide food at actual scale and feed into the food system."
The power of aquaponics
Requires only one-tenth of the water used in soil-based gardening
Creates a natural ecosystem
Uses no harmful chemicals
Is scalable and adaptable
Harvests both plants and fish
Can be created in facilities anywhere, no matter the climate
From theaquaponicsource.com.
Aquaponics cycle
Hover to enlarge
Solids are filtered out of the waste
Water is converted to fertilizer for plants
Plants grow on beds of water
Plants clean water and water returns to fish

Permaculture
A comfortable co‑existence
Permaculture was founded in Australia in 1974 and originally stood for "permanent sustainable agriculture." Today, the concept has expanded. "The task set out by permaculture is to meet our needs (including food, shelter, water, waste recycling, energy, community, health, justice and livelihood) while preserving ecosystem health," according to the Permaculture Calgary Guild. Put more simply, permaculture is caring for people while also caring for the Earth.
Alumnus Jeremy Zoller created Sunshine Earth Works as a way to "connect people with soil." He says the education he received while earning his Recreation Management Diploma gave him the necessary groundwork to create his own business. He's been back on campus leading the development of two permaculture gardens, one near the East Residence and the other at the MRU Child Care Centre.
Over the past two years, as part of Mount Royal's TD Friends of the Environment Foundation grant, Zoller's "food forests" have grown plants and vegetables that work in concert, rather than competing for resources. "There's a way to garden where you are also building soil," he says, adding that many Calgarians aren't aware of the food growing opportunities available to them. Zoller plants several strong species that are native to Alberta, and has consulted with elders on campus to include plants traditionally used by Indigenous Peoples.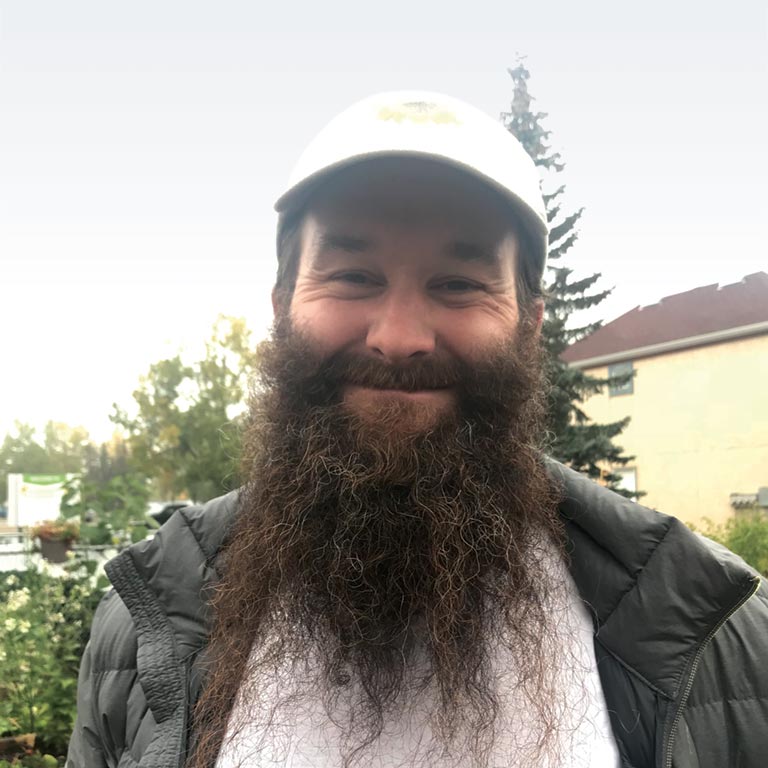 Jeremy Zoller
Recreation Management Diploma, 1998
Community gardens taking root
"As a disaster researcher, it's my job to constantly ask, 'What if?'" says Tim Haney, PhD, director of Mount Royal's Centre for Community Disaster Research. "The saying is that, 'Things that have never happened before, happen all the time.' So, could there be things we're having trouble conceiving of that would interrupt our food supply?"
In Haney's time as a risk researcher, he has become deeply aware of his individual role in helping his community become more nimble in the case of a disaster.
"We know communities that grow their own food are more resilient to external shocks, ranging from natural and economic disasters to interruptions in the food supply. When you're able to shelter in place during a disaster, even for a week, it helps first responders focus on those who are really in danger."
Disaster preparation is one reason Haney's family adopted the practice of permaculture, converting their backyard into a garden that grows around 100 varieties of produce every summer. What they don't eat or give away, they preserve for winter by dehydrating, canning or freezing.
It cost the family less than $600 to set up their garden, which has produced food for nine seasons. The total cost included seeds, a greenhouse, building supplies and renting a saw to remove a concrete pad. While this may sound like a lot of work, Haney sees it from a different perspective.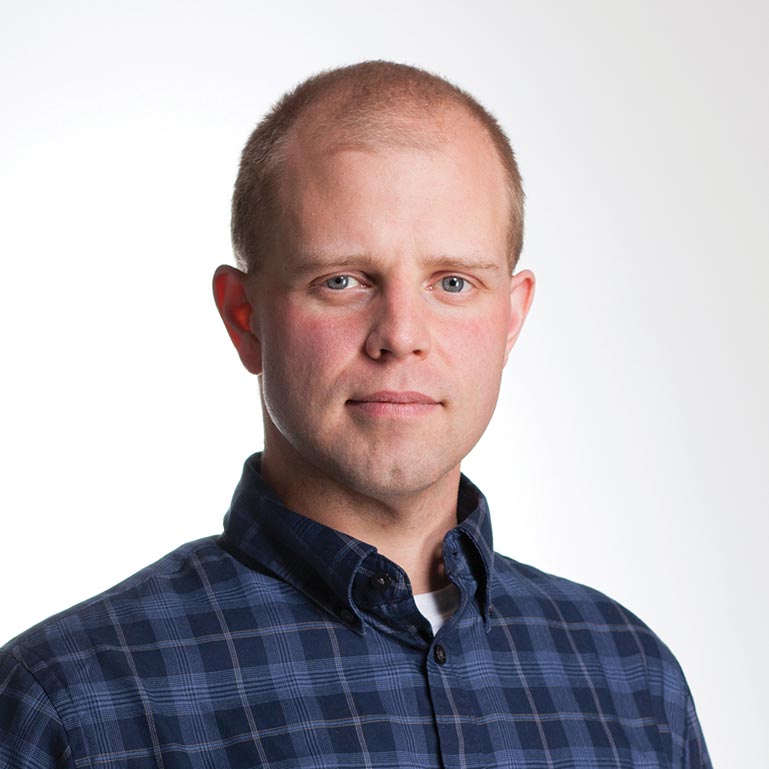 "We know communities that grow their own food are more resilient to external shocks ranging from natural and economic disasters, to interruptions in the food supply."
Tim Haney, PhD, professor, Department of Sociology and Anthropology
"When you mow grass, you put in a huge amount of labour, time and fossil fuels to grow a crop you can't even eat. With permaculture, you pack the same space with crops you want to grow. And there's no such thing as weeds — even dandelions can be used for salads, syrup and tea."
While adopting permaculture has helped prepare the Haney family for disaster, Haney says the most rewarding part has been seeing how the garden has brought their community together.
"When we see people in our backyard picking produce, we want them to take it because they're using it to make themselves healthier and we're happy about that," Haney says.
The family also trades produce with other neighbours who grow their own, and gives it away to an older couple down the street who spends time with their children. The community children, including their five-year-old son Evan, run from garden to garden in the summer.
"Our kids are playing and spending time in these gardens, growing up engaged in growing food," Haney says. "These things reverberate and have impacts."
Haney insists that permaculture can be adapted for most climates.
"There's this pervasive idea that you can't grow food in Calgary. I think that's an excuse to be complacent and not try. Even if all you can do is grow lettuce on your patio, the permaculture community is so supportive of that."
The Haneys are inspired to see how, over the past 10 years, Calgary has gone from having almost no community gardens (a notable exception is the Hillhurst Sunnyside Community Garden, which started in 1989) to being home to hundreds.
"Local food is really catching on," Haney says.
Read more Summit
Journalism: Decelerated
Alumnus Jeremy Klaszus is crowdfunding his journalism outlet, The Sprawl as a return to in-depth, investigative storytelling and a reaction against the prevalent "churnalism" of today.
READ MORE